Do you only look at aggregated data when analyzing your funnels? Without data segmentation it is incredibly difficult to get the results you are aiming for. What works for one person might not work for others.
On a regular basis I receive questions from clients about funnels in Google Analytics. And more specifically, aimed at segmenting these funnels. Thanks to all for inspiring me to write an article about three solutions for segmenting your funnel data.
As you can see below I have left out the goal flow report in this article. These flow reports deliver results that are a bit different from the funnel reports. Here is a good article on the difference between funnels and goal flows in Google Analytics.
I will explain three different methods to analyze your funnels on a deeper level: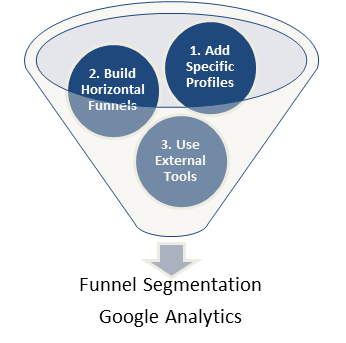 Importance of Google Analytics Funnels
It is important to not only look at your conversion or transactions numbers. The path that leads to a conversion can make or break your conversion rate.
Take the time to correctly set up funnels if you are running an ecommerce site, dealing with forms or having any other conversion path that consists of a couple of logical steps.
Let's start with the first, basic method to segment your funnel data.
Add Specific Profiles
Google Analytics allows you to show funnel data with regards to one specific profile. This means by installing different profiles for different segments, you can analyze funnel data for each unique segment.
Although this is probably not the most efficient solution, it might work for you if you only need to analyze a few different segments.
For example, you might like to see how your overall traffic is doing and want to compare it to AdWords and organic search. You could set up three unique profiles to make this work.
This article about useful filters in Google Analytics will help you to make this to work.
Build Horizontal Google Analytics Funnels
A method that I love to gain funnel insights is by building horizontal funnels that show up in the All Traffic Sources report.
Google Analytics allows you to store 20 goals in four different goal sets. This is great since you can add each funnel step and the conversion page as a unique goal to Google Analytics. An example is shown below: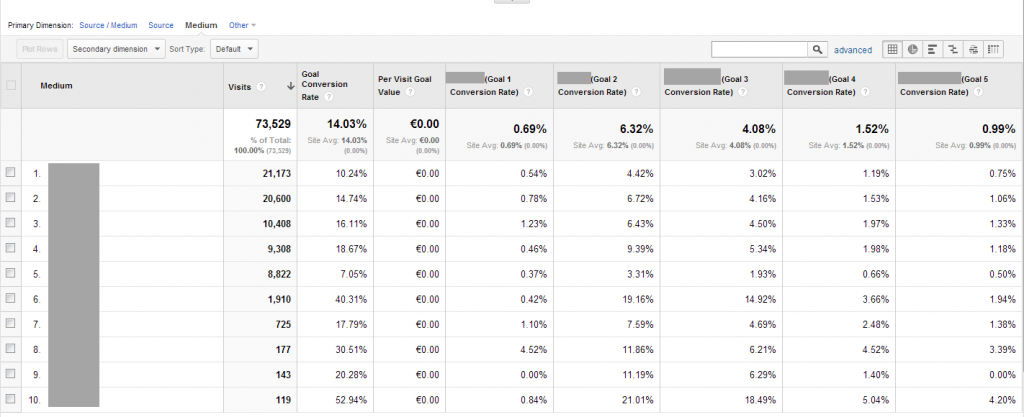 For this specific example:
Goal 1 (Conversion Rate) = Conversion Rate overall

Goal 2 (Conversion Rate) = Conversion Rate funnel step 1

Goal 3 (Conversion Rate) = Conversion Rate funnel step 2
Goal 4 (Conversion Rate) = Conversion Rate funnel step 3
Goal 5 (Conversion Rate) = Conversion Rate funnel step 4
You are not limited to analyze these Conversion Rate stats on the medium level. Think about analyzing your sources, campaigns, keywords or any other segment that comes in mind.
Besides that you can derive absolute goal numbers instead of percentages or simply build custom reports to make this happen.
This allows you to quickly analyze how your different segments are "flowing" through your funnels. And it will eventually help you to personalize your funnels for different traffic segments for maximum conversions.
Use External Tools
Another method that I am a huge fan of, is using external tools to analyze Google Analytics funnels. Two suggestions:
Use Paditrack if you have a limited amount of data and don't mind to analyze things manually (a great advantage is that you can analyze funnels retroactively)
Use tools like NextAnalytics if you have huge amounts of data and like to set up everything on the automatic pilot (be aware that it might take some time to become familiar with this tool)
Let me know what you think. Do you segment funnel data and if so what methods do work for you?
One last thing... Make sure to get my extensive checklist for your Google Analytics setup. It contains 50+ crucial things to take into account when setting up Google Analytics.
Download My Google Analytics Setup Cheat Sheet

(Visited 1,721 times, 1 visits today)