There are many different factors that influence the Conversion Rate and long-term success of your website. You need to attract a vast amount of visitors who act in a desired way. And you want them to come back and convert again.
Acquiring new customers is much more difficult and expensive than keeping your current ones happy and stay in business with you.
You need to find a good balance on acquisition, conversion and retention tactics. Read my post on how to achieve online success if this topic is of high interest to you.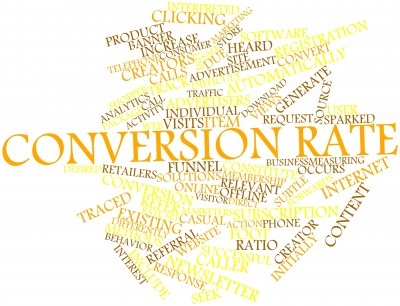 In this post I guide you through 10 easy to apply strategies to enhance your Conversion Rate (CR).
How to Increase Your Conversion Rate
The Conversion Rate is defined by the number of visitors who take a desired action divided by the number of visitors that come to your site.
There are different ways to look at Conversion Rate Optimization: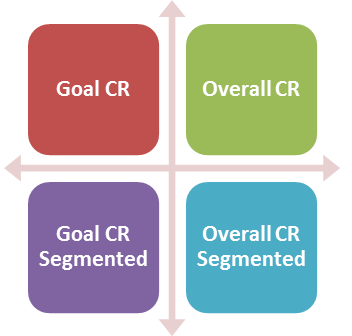 This means you can optimize the Conversion Rates on different levels:
Overall CR; CR on all defined conversions for all website visitors.
Overall CR Segmented; CR on all defined conversions for a target group of visitors.
Goal CR; CR on a specific macro or micro conversion for all website visitors.
Goal CR Segmented; CR on a specific macro or micro conversion for a target group of visitors.
Strategies might vary a bit based on your approach. However, in this article I give you practical tips that work on all levels.
1. Improve Landing Pages
Within a single second people decide to stay on your website or move on. They don't scroll down if their first impression is bad.
Do what it takes to improve your landing pages and make them fit your marketing messages.
This 101 landing page optimization tips article is a great place to start!
2. Create Compelling Content
Content is king. Your content is and will always be one of the most important assets to drive your Conversion Rate.
Is there enough copy on your landing page? Is it persuading the visitor to buy your products or not?
I give you one hint: Copyblogger.com. This is an amazing learning place if you want to get the most out of your web content.
3. Optimize Ad Copy
Are you running AdWords campaigns? How often do you see ads with a 50% discount promotion that is not reflected on the landing page.
Any offers promised in ads need to be reflected on your website. Not only on the landing page, but throughout the entire conversion funnel.
High bounce rates and exit rates occur if there is no match at all.
I like to repeat Avinash Kaushik: "They came, they puked, they left."
4. Provide Flawless Forms Instead of Useless Fields
Your website forms have a huge impact on Conversion Rate levels. A few best practices to take into account:
More is less; useless, extra questions lead to higher exit rates.

Explain; give examples on how to fill in the form fields.
Double check; are there any technical difficulties? Make sure that the form functions well.
# of steps; sign up flows don't need five or even more steps.
Form type; test with different form types and stay with the best.
5. Show Forms on Homepage
Let's assume you are running a blog and your main conversion is a newsletter sign-up. You don't want your visitors to search for a form. It should be directly visible to them.
My friend Daniel Waisberg at Online-Behavior.com does an excellent job here: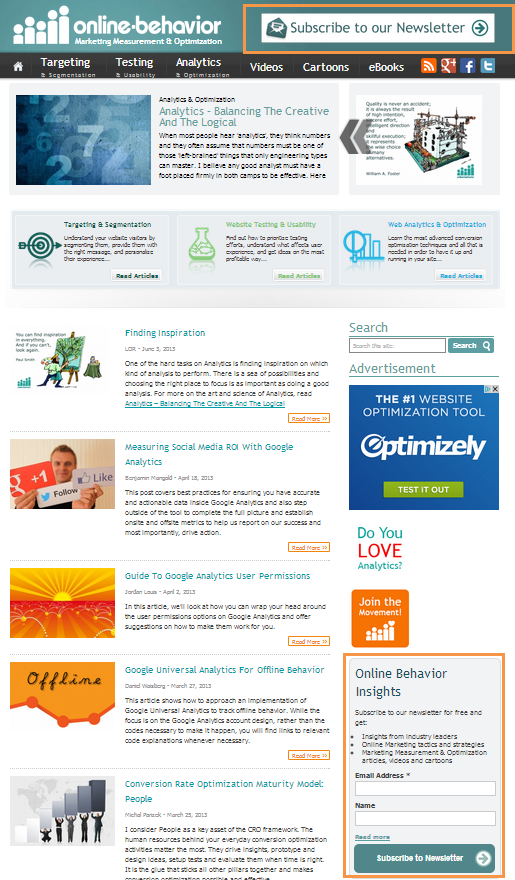 The orange blocks clearly guide you towards the newsletter sign-up. And in this case, he promotes it on every page via the website header.
6. Add Call-to-Actions / Money Phrases
For SEO and PPC it is important to include specific words at the right time.
The words you want to use depend on the type of search queries people are using:
Navigational search
Informational search
Transactional search
You don't want to use terms like "buy", "cheap" or "for sale" in case of a navigational or informational search.
However, if someone already has decided which product to buy, it it extra useful to include terms that indicate searchers are in buying mode.
To improve your Conversion Rate you need to be using terms like:
Buy

Cheap
For sale
Discount
Only today
Lowest price guarantee
Once again, make sure to only include these phrases when appropriate.
7. Expand Negative Keyword List
Too often I come across PPC ads where companies show up on highly irrelevant terms.
Build and expand your negative keyword list to assure you will only be visible on relevant searches from your target audience.
Less budget wasted means more budget for high probability conversion terms.
8. Optimize Purchase Process
Use tools like Qualaroo or ClickTale to improve your purchase process. Are there any technical issues that prevent people from buying your products? Or are your prices simply too high compared to your competition.
This and other conversion blocks need to be resolved to drive your conversions to a higher level.
In need of more tips? I recommend to check out these 10 tips to reduce your shopping cart abandonment rate.
9. Improve Credibility
Why should I decide to do business with you? Trust and credibility are two closely related terms.
8 Tips for improving your online credibility:
Professional design

Real case studies
Certificates and privacy policy
Customer testimonials
Social proof
Contact details on every screen
No grammar mistakes
Proof of "real" organization
10. Be Competitive
Operating in a market where you offer the same products as your competitors at the most expensive price doesn't work in most cases.
Closely research your competitors and be unique to attract more customers. Whether it is price, products or simply delivery time.
You need a well-balanced marketing mix to stay ahead of the pack and boost your Conversion Rate.
Let me know what you think. What kind of strategies do you use for Conversion Rate Optimization?
One last thing... Make sure to get my extensive checklist for your Google Analytics setup. It contains 50+ crucial things to take into account when setting up Google Analytics.