For a lot of companies the conversion rate is one of the key metrics to monitor and optimize. Heart rates go up and down when online shop owners see their CR is dropping.
It's important to realize that a drop is often caused because of more than one reason.
In my experience people often argue about why a conversion drop actually happens.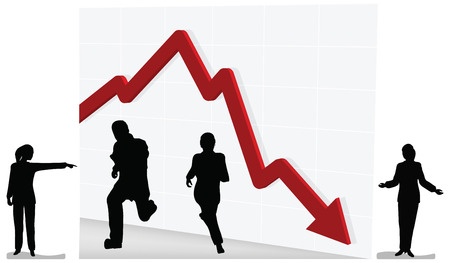 This article helps you to effectively analyze a conversion rate drop. Step 0, stay calm and keep on breathing! :-)
Step 1: Check Your Tracking
Let's assume you are using Google Analytics to monitor and analyze website traffic. A minor change to the tracking code can already lead to tracking and data issues.
It's important to learn how to effectively troubleshoot your tracking code.
Check in with your IT department if you can't access the code by yourself. Next step is to verify whether your GA is still active on the "thank you" page.
Test with a couple of conversions to make sure everything is working properly.
Step 2: Check Your Configuration
Very often more than one person can "edit" configuration settings. If this is the case, check whether the goal settings are still correct. Did the URL of the "thank you" page change? You need to change the goal settings as well then.
Tip: take a quick look at the "Change History" page:

This page shows you when and what changes have been made to the account settings.
Step 3: Do Your Seasonality Research
Are you in a business with fluctuating conversion rates? For example, many ecommerce shop owners will notice a spike at the end of each year. In January the conversion rate naturally drops.
Look back at your traffic, conversion and conversion rate data over the past few years. Your drop might be partially due to seasonality effects.
Learn more about optimizing for seasonality in PPC.
Step 4: Map Technical and Design Changes
Technical and design changes can definitely effect your conversion rates. Make sure to check whether any changes to your website occurred over the last few months.
Maybe you need to work together with other departments to retrieve this data.
I recommend to use annotations in Google Analytics to keep up with these changes.
Step 5: Dig Through Intelligence Events
Intelligence events help you to better understand what segments might be causing the conversion drop. Is one traffic source causing an overall conversion rate drop? Is your website not yet mobile responsive?
These events are also known as automatic alerts.
It is a good idea to set up your own custom alerts as well. Follow these instructions to get this to work:
Navigate to your admin page
Select the view for which you like to set up your custom alert
Click on custom alerts (it is located under personal tools & assets)
Click on new alert
Fill in the alert details
Please see an example below: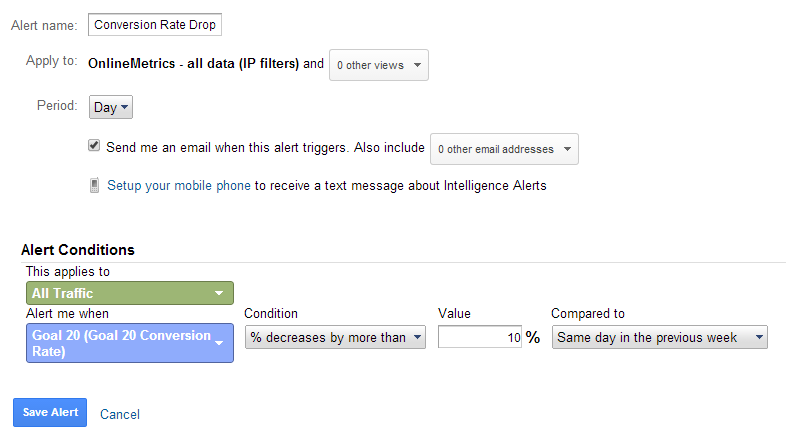 You have many different options. Let's look at each of them:
Custom alerts for one or more views simultaneously
Period: day, week or month
Email trigger: email address for login and others if desired
Text message (United States only)
Custom alert for all traffic or specific segment
Six different condition settings
Compare data for different periods: day, week, month and year
Step 6: Analyze Your Traffic Channels
Is there a huge decline in the number of visitors coming from one channel? If this channel brings highly targeted visitors, it could lead to a drop in conversion rate.
Pay close attention to your traffic sources. And find out whether there is an overall conversion rate drop or not.
It might work well to set up custom reports or intelligence events to easily monitor these conversion rate changes by channel.
Step 7: Segment Your Conversion Rate
Like mentioned before, always drill down and look at a deeper level when a conversion rate suddenly drops.
I tend to look at these reports first:
Conversion rate and traffic per traffic source
Conversion rate and traffic for three main devices: mobile, tablet and desktop
Conversion rate and traffic for top landing pages
Conversion rate and traffic for top browsers
Conversion rate and traffic for regions (for international campaigns)
There are several ways to segment your data.
This post might come in handy:
Step 8: Look at Stock Levels
This step is very important if you are running an ecommerce shop. Sending traffic to sold out products is not going to help your conversion rate.
Take a look at your stock levels and see if there is a problem with your stock.
Two ways to deal with this issue:
Redirect this product page to a similar product page if your product is out of stock for a longer time
Stop sending paid traffic to this page (organic traffic is more difficult to control)
This is it! I am sure that these steps help you uncover any conversion rate drops. And even more important, the information helps you to get back on track!
How do you deal with a conversion rate drop? Any tips to share?
One last thing... Make sure to get my extensive checklist for your Google Analytics setup. It contains 50+ crucial things to take into account when setting up Google Analytics.
Download My Google Analytics Setup Cheat Sheet

(Visited 2,245 times, 3 visits today)