In order to optimize your online ROI, you really need to segment data in Google Analytics. By simply looking at aggregate data instead of the behaviour of a particular traffic source or segment, you lose a big part of your optimization potential. Therefore it is very important to understand how segmentation works and how you can apply it to your own web business.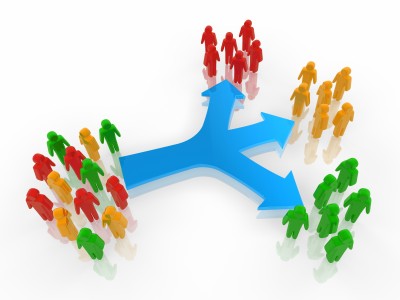 In this article I will describe three ways to segment data in Google Analytics:
Drilling down in a specific report
Making use of predefined advanced segments
Making use of custom segments
If you ask me, custom segments are one of the most powerful features available in Google Analytics.
1. Drilling Down In A Specific Google Analytics Report
In Google Analytics you can drill down in a report for a particular segment.
As an example I will guide you through the "Landing Pages Report". The first step is to select the report you want to look more closely at:

As a result an overview of the Top 10 Landing Pages appears on my screen. So it shows me what are my most important "home pages".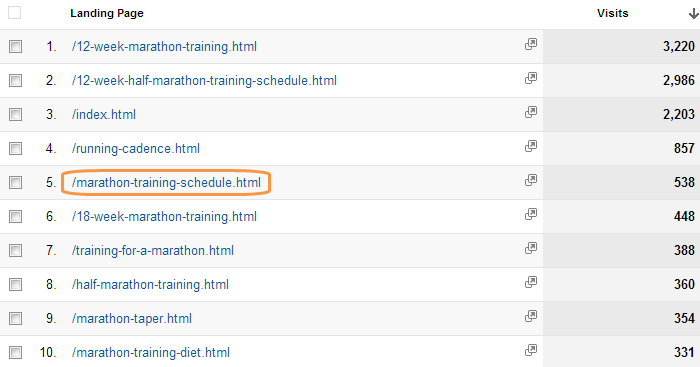 Yes, since Search Engines are dominating you have many more pages you need to take care of, not only your actual home page!
This report doesn't deliver deep insights.
I am interested in knowing what traffic sources and keywords actually drive traffic to /marathon-training-schedule.html.
In order to get these insights I need to click on the Landing Page link of the desired page and select the Keyword tab. For a complete overview I did select Medium as my secondary dimension. Now the report looks as follows: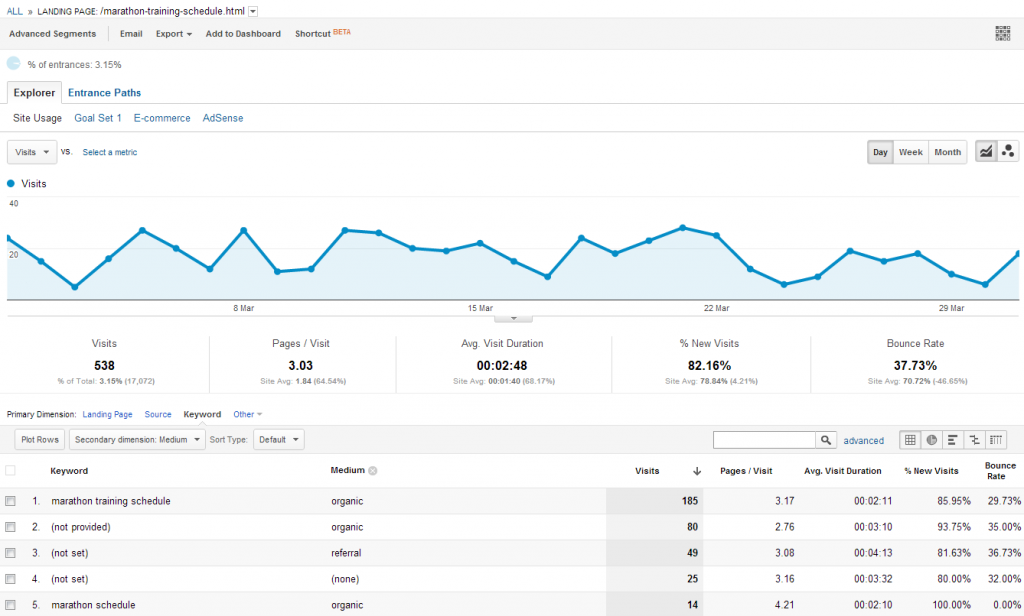 I can extract a lot of information from this report. A few insights:
In total this landing page drives 538 visits

The keyword "marathon training schedule" delivers 34% of the total traffic; the behaviour in terms of pages/visit, bounce rate etc. is slightly better than the average values for this page
Around 15% of the keywords are registered as (not provided): visitors who were logged into their Google Account when they arrived on this page
The keyword "marathon schedule" delivers a small percentage of the visitors, but the visitors that arrive via this keyword are highly engaging on my website (no bounces and more than four pages seen on average!)
Compare this report with the standard top 10 Landing Pages overview and you can see the tremendous value you get if you segment data by drilling down.
2. Using Predefined Advanced Segments
The most powerful method to segment data in Google Analytics is hidden in advanced segments. On top of almost every report you can select an advanced segment you want to apply to a particular report:

It is possible to compare four segments at once. In the example below I compared three different traffic sources on the Visits metric:

Wow! On this particular website I am highly dependent on Search Traffic. With the use of Excel I can trend this data over time and see how the share of visits develops for every traffic source included in the comparison.
An advantage of using advanced segments is that you can directly apply the selected advanced segments on any other report in Google Analytics.
Note: if you want to segment your funnel report you need to setup different profiles. Unfortunately advanced segments cannot be applied to this report.
Every business is different so standard, predefined segments won't do in all circumstances.
That's when custom advanced segments really come in handy! Read my last paragraph if you want to become a true Analysis Ninja :-) (famous word introduced by Avinash Kaushik).
3. Using Custom Advanced Segments
Custom advanced segments are so powerful since they allow you to segment data on any combination of dimensions and metrics. Based on your business objectives and the type of traffic that comes to your website, you might want to use different segments.
In the example of my marathon website I am interested in more details about my organic traffic (more than 80% of my traffic comes from organic search!). So I have built three segments in addition to the predefined non-paid search segment:
2 keyword phrases
3 keyword phrases
3+ keyword phrases
Phrases that consist of just one keyword account for less than 0,50% of the search traffic so I will leave this part out of the equation.
The following graph I can easily create after defining the segments: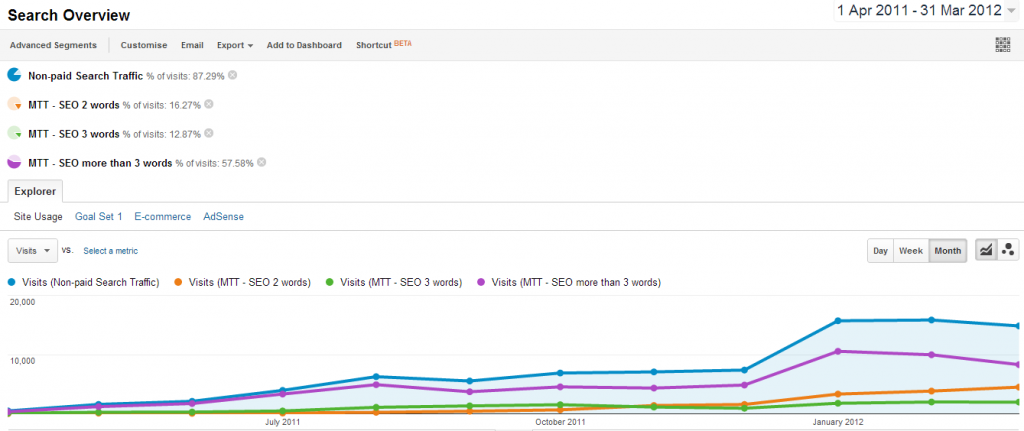 So what can I learn in this case:
My longtail traffic is a very important stream of traffic for my marathon website

2 keyword phrases are slowly winning terrain since the beginning of 2012. Two reasons for this: my optimisation efforts pay off (start to rank better on competitive terms) and the part of (not provided) organic traffic is growing
If I segment deeper I can learn which keywords drive more visits in this period and which keywords are losing
Don't wait and bring your imagination and business knowledge together and define your most powerful segments in Google Analytics.
I am sure you will better understand your visitors needs and improve your website conversions.
Good luck on your segmentation journey!
One last thing... Make sure to get my extensive checklist for your Google Analytics setup. It contains 50+ crucial things to take into account when setting up Google Analytics.
Download My Google Analytics Setup Cheat Sheet

(Visited 350 times, 1 visits today)