Do you have a "site search box" on your website? Listen to your site visitors by correctly setting up internal site search in Google Analytics. The insights you are about to gather are simply amazing.
Before explaining five key benefits of this neat feature, I like to shortly explain about how to get this to work.
Note: the insights that are presented in this article are not limited to Google Analytics, but can be applied to other web analytics packages as well.
Quick Guide on Implementing Site Search
I use Amazon.com here as an example.

As you can see, the site search navigation is very prominent on their website. With millions of different products sold, it's a must that people can find their products fast via smart navigational methods.
Let's assume Amazon use Google Analytics on their website. I pretend that I am looking for products related to Google Analytics integrations. That's why I decide to type in the term "google analytics integrations".
The search result page for this term is shown below:

Full URL:
http://www.amazon.com/s/ref=nb_sb_noss_1?url=search-alias%3Daps&field-keywords=google+analytics+integrations
Query parameters:
url=search-alias%3Daps&field-keywords=google+analytics+integrations
In this case "field-keywords" is connected to the search term. Site search is very easy to implement if the query parameter is rightly available.
It is required that you have Edit rights for the Google Analytics view where you want to implement site search.
Head over to Google Analytics:
Click on Admin
Select the right View
Click on View Settings
Scroll down to Site Search Settings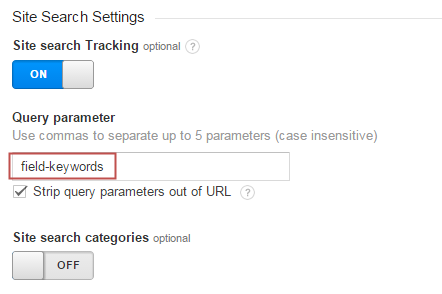 Here is what I did:
Add the query parameter "field-keywords" to the appropriate field
Allow to strip query parameters out of URL
In most cases I recommend to strip the query parameters from the search URL unless you have a good reason not to do so.
If available you can add site search categories as well.
There are cases when there is no query parameter available in the URL. Two good ways to deal with this situation:
Ask you webdeveloper to add a query parameter to the URL (this can be anything varying from one character to a term).
Force a dynamic virtual pageview – that contains your query parameter – to load on the search results page; ask your webdeveloper to assist with this.
Let's head over to the amazing insights that lie ahead of you!
1. Discover Great Keywords for SEO
Do you see a lot of keywords in your site search reports you haven't targeted yet via SEO? And even better, do they convert pretty well?
Consider to add these keywords and long tail variations to:
Your SEO content strategy
Keyword focused and search query solving content pages
Elements of your navigation structure
It's a great way to boost your visibility and bottom line!
2. Discover Great Keywords for PPC
If these keywords turn out to be really important for your business, you can choose to target them via a PPC campaign as well.
Just make the trade-off between costs, time to rank organically and ROI from a proposed advertising campaign point of view.
No matter what you decide, make sure to target important keywords in a proper way!
Note: in order to determine the real value of a certain keyword, you might want to set up a short PPC campaign first.
3. Expand Your Product Assortment
The insights you might get through your site search results reports are likely to amaze you!
I have seen and heard tons of examples where website owners find out that a lot of their site visitors are interested in a new range of products.
As an example, let's take a look at Big Fish Games: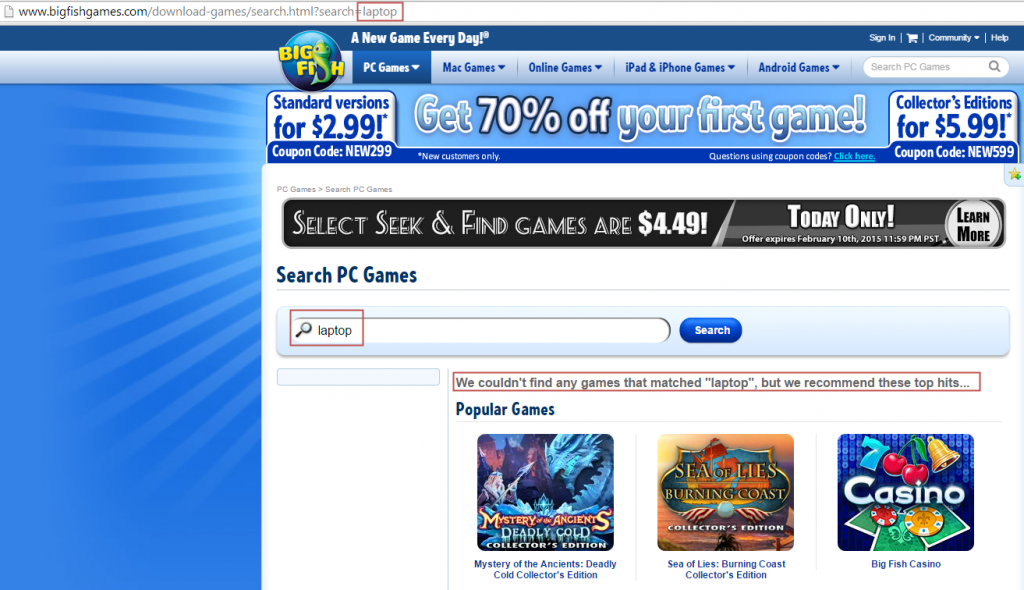 It is very clear from the start that they position themselves as a computer games seller.
Price is an important USP.
You wouldn't expect it, but let's say a lot of website visitors search for a laptop on their website.
There are different ways on how this company could react; three examples:
Do nothing because it doesn't fit their proposition // most often this is not the best option
Talk to other companies for a possible partnership; offer a few different gaming laptops through partnerships
Add laptops to their product assortment
If the demand is really high, this company might go for option 2. Option 3 would probably not be in line with their proposition, strategy etc.
Imagine that a lot of companies can expand their product line simply through applying the insights from this feature!
In addition you could set up qualitative surveys for collecting additional, relevant data.
4. Optimize Performance of Site Search Visitors
People who use the internal site search box tend to convert better than people who don't.
The question is:
"Do site searchers buy more or do buyers search more?"
Brian Massey – Conversion Scientist – has revealed some interesting results. He has found a few cases where persuading more site visitors to search led to a higher overall conversion rate.
Read my post on 31 Insights from Conversion Hotel to get extra tips about Conversion Optimization.
My advice: incorporate some A/B tests around site search in your overall testing strategy and see what works the best for you.
5. Optimize Technical Site Search Perfomance
Take a look at the popular search terms and connected search result pages? Is there a high exit percentage on these terms and pages?
Try to optimize the search result pages at least for the most popular queries. Even better, optimize the site search as a whole.
Very often companies implement a site search, but don't spend the necessary time to set it up properly.
This could lead to a possible loss of thousands – and in some cases millions – of dollars!
A lot of "no results pages" indicate there is something wrong:
User intent and search queries are not in line with your website and content
You site search functionality is lacking
Spend enough time on optimizing the technical side as well!
BONUS: Extra Input for A/B Testing
The site search module in Google Analytics shows you on what pages people search for what terms.
Let's assume you are running an Ecommerce site and are busy optimizing your product pages and buying funnel.
It's dramatic if 90% of the visitors leave your funnel without buying. It's even more dramatic if you have no clue why this is happening.
The combination of data, insights in your customers and market, persuasion elements and A/B testing can boost your Conversion Rate.
Your site search results – on specific pages – might deliver extra input to create a strong hypothesis to power up your optimization efforts.
What is your experience with site search? Do you apply different techniques to optimize from there?
One last thing... Make sure to get my extensive checklist for your Google Analytics setup. It contains 50+ crucial things to take into account when setting up Google Analytics.
Download My Google Analytics Setup Cheat Sheet

(Visited 1,773 times, 1 visits today)