Do you sometimes feel stuck when optimizing organic search efforts via Google Analytics? Happily Google recently revamped the search console reporting section which makes these reports much more valuable. 
For most websites and companies organic search is a very important channel and it delivers substantial value to the bottom line.

In this article I dive into organic search from a Google Analytics data perspective.
And I will answer the question:
"How to most effectively use your search console reports for optimizing organic search?"
Prerequisites
On default, Google Analytics doesn't store Search Console data in Google Analytics.
However, you can already derive insights by looking at:
Source/Medium report (Acquision >> All Traffic >> Source/Medium) -> select "medium=organic".
Channel Report (Acquisition >> All Traffic >> Channels) -> select "channel=Organic Search".
You can already uncover interesting insights via drilling down into your landing pages. And cross-segmenting the data with appropriate dimensions (characteristics of your audience).
Read this article to get a better understanding of different techniques and tools you should use to boost your SEO performance.
Search Console Account
You need to set up a Search Console account first. This environment provides a wealth of data:
Website crawling information
Indexing information
Traffic and search appearance data
It is a very useful app for a wide audience: analysts, marketers, developers and site owners.
For now we will focus on traffic and search appearance data. This since we want to use the organic search data today for better organic visibility and results in the future.
Step 1: Set up a Search Console account.
Note that there are four ways to verify your Search Console account:
Upload a file to your server
Add a meta tag to your website's HTML
Add a new DNS record
Use your Google Analytics or Google Tag Manager account
I recommend to go for option four if you don't have direct access to your website's source code or don't want to bother your IT department.
Two situations:
Use Google Analytics verification if you have implemented the script hardcoded on your site.
Use Google Tag Manager verification if you have GTM installed. You need to have account level access to get this done (container access is insufficient).
Integration with Google Analytics
I assume you are already collecting data in your Google Analytics account. And if not, you will find your way on how to set it up.
In order to link the accounts you need to have edit user level permissions in Google Analytics and be an owner of the Search Console account of the site you want to import the data from.
You need to link your Search Console account on the property level.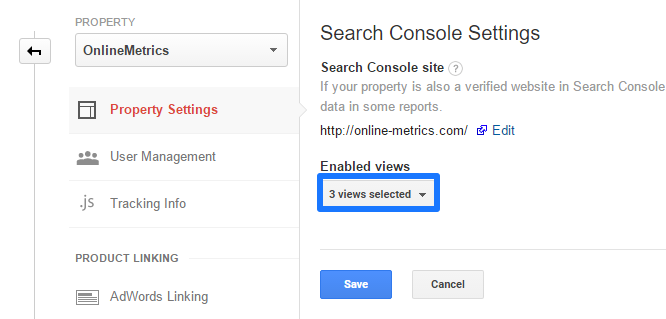 Please note that you can link your Search Console account to one property and multiple views.
If you prefer not to share this data with certain parties you can give them access to a view where no linking to Search Console is enabled.
Keep in mind:
Search Console keeps data for the last 90 days. As a result, SEO reports in Analytics also include a maximum of 90 days of data.
Search Console data is available in Search Console and in Analytics approximately 48 hours after it is collected by Search Console. (unfortunately every now and then you will experience delays in Google processing the data)
Search Console Reports
It's time to look at the report section once you've got the setup right and collected a sufficient amount of data.
Therefore you need to go to the Acquisition section in Google Analytics.
Acquisition >> Search Console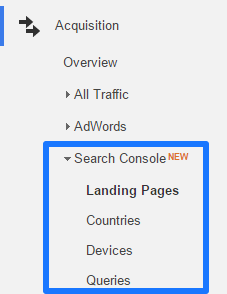 As you can see, there are four different reports for organic search.
Landing Page Performance
The first report provides insights on the landing page level: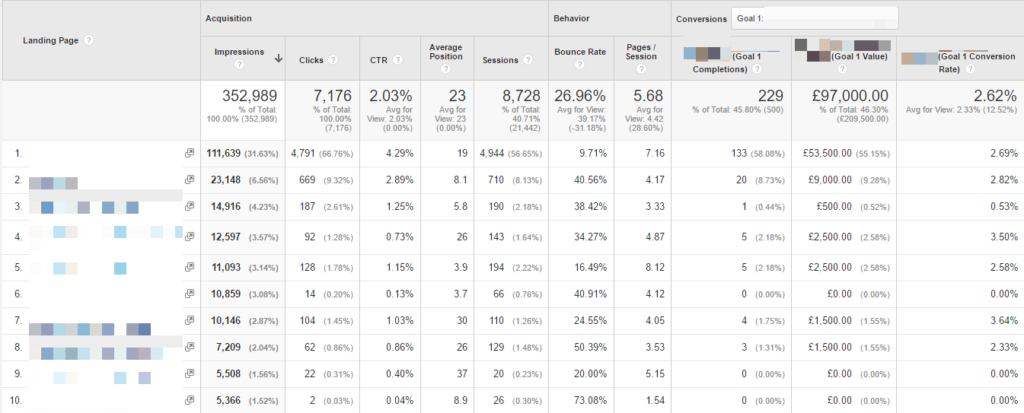 Google has done a tremendous job in combining off-site (Search Console) metrics (impressions, clicks, CTR and average position) with on-site (behavior and conversion) metrics.
It enables you to examine your organic search data end-to-end so that you can obtain unique and actionable insights.
Observation:
This particular website has lots of potential (search volume), but a relatively low CTR. Many pages in the top 10 have a CTR even below 1%. However, the people that click through see six pages per session on average and the conversion value is pretty high! 
Conclusion:
Deeper research is needed to find out why the CTR is low and how it can be improved. One of the pages to start with, is page number six. High position, but very low CTR. This might be indicative for many more pages on the website. Improving this number and keeping the website stats in good shape, might increase conversions.
Another thing you should know, is that you can apply secondary dimensions to this overview. Device, country and date dimensions are the most appealing to use here.
Note: Search Console data is incompatible with Google Analytics segments. If you apply segments to the Search Console reports, the Analytics metrics are segmented, but the Search Console returns values of 0.
Dive Deeper on Landing Page
Another option is to dive deeper on a specific landing page URL by clicking on it.
Now you will see the queries that drive impressions and clicks:

It this overview you have only access to Search Console metrics for the specific queries. And there is quite a huge portion of (not set) on the Search Query level.
This is Google's response:
"To protect user privacy, queries made a very small number of times or containing personal or sensitive information are grouped as "(not set)"."
It means that landing pages with a lot of longtail traffic (search terms that drive just a few clicks) will have a relatively high percentage of (not set) appearing in there reports.
Country Performance
The next subsection deals with the country performance.

It is very clear that this website has a strong presence in the UK, both in terms of visibility and conversions.
The CTR on the landing page level was indeed a bit misleading. It was caused by the lower average visibility (position and CTR) in secondary countries. This again shows how important it is to segment data for greater insights.
The question is:
"Should we fully concentrate on growing our organic visibility in the United Kingdom or is it worthwhile to put significant effort in improving our search positions in countries outside the UK? 40% of the impressions are in the UK and 60% in other countries."
The majority of impressions in other countries reside from the US, but the CTR is terrible. Well, an interesting topic to think about at a later time!
This reports allows you to apply secondary dimensions as well. Very helpful to get a better understanding about what's going on in different countries and how you should divide your attention.
Device Performance
The third report sheds light on how your website organically performs on the different devices.

For this website mobile is a very important channel. Although the impressions are less than 50% of those on desktop, the number of conversions is almost the same as on desktop.
This is great additional data as it could influence a lot of your marketing activities. You might adjust your bids in paid search for specific devices based on this report.
Search Query Performance
The search query performance report is useful, but it doesn't connect all the dots:

Unfortunately Google doesn't show:
How off-site search query metrics influence on-site behavior and conversion.
Search query information for longtail searches (50% of queries are measured as (not set)).
Organic Search Analysis Techniques
By now you have set up your Search Console reporting and you know what reports and data is available and how to use it.
In my opinion, the main benefits of these new reports are:
Increased ability to analyze and optimize your landing pages for organic search.
Increased insights in organic keyword performance per landing page.
Increased insights in organic performance per device.
I recommend to review these reports in addition to all the organic search data that is already available in your reports. And to make sure to combine this data with other tools like SEMrush and Long Tail Pro.
A few limitations of the Search Console reports:
You cannot segment the Search Console data.
Reports are based on the top 1.000 landing pages (daily basis).
You cannot apply content groupings within the Search Console reporting environment.
You cannot make an end-to-end analysis on the search query level.
But, hey, let's think about all the opportunities that are out there!
Here is a good support article from Google that describes a few SEO analysis techniques using Google Analytics:
Landing page analysis that focuses on google/organic traffic
Segment analysis of google/organic traffic
Multi-Channel Funnels and attribution analysis
Keyword analysis with Search Console data
Generating content ideas
An end-to-end analysis on a few key dimensions is what makes the Search Console Data integration really valuable for me!
I hope you will take another serious look at the Search Console reports after reading this article! These reports empower you to further improve your search (both paid and non-paid) strategy!
What are your thoughts? Do you already use this new set of reports and how? I am happy to hear your opinion.
One last thing... Make sure to get my extensive checklist for your Google Analytics setup. It contains 50+ crucial things to take into account when setting up Google Analytics.
Download My Google Analytics Setup Cheat Sheet

(Visited 3,495 times, 2 visits today)