Do you analyze your traffic channels by source/medium or via channel groupings? You have to carefully read this article if you evaluate referral traffic by medium. There is simply so much wrong in this report!
The funny thing is, when I started my outline for this article, I thought:
"Three things wrong, no four, no five, wow even six!"

And probably there are even more things that need to be optimized.
On default Google Analytics measures direct traffic, referrals, organic traffic and AdWords (if AdWords is connected to Google Analytics).
The difficulty is that the default settings are in most cases not good enough.
In this blogpost I am going to reveal six things you need to take care of before analyzing your referrals in Google Analytics.
Table of Contents
1. Social Referrals
Google Analytics doesn't come up with a "social" medium on default.
Social traffic is put into the same bucket as the rest of traffic in the referrals report.
We will take a look at the Google Analytics Demo Account:
Navigate to Acquisition >> All Traffic >> Referrals.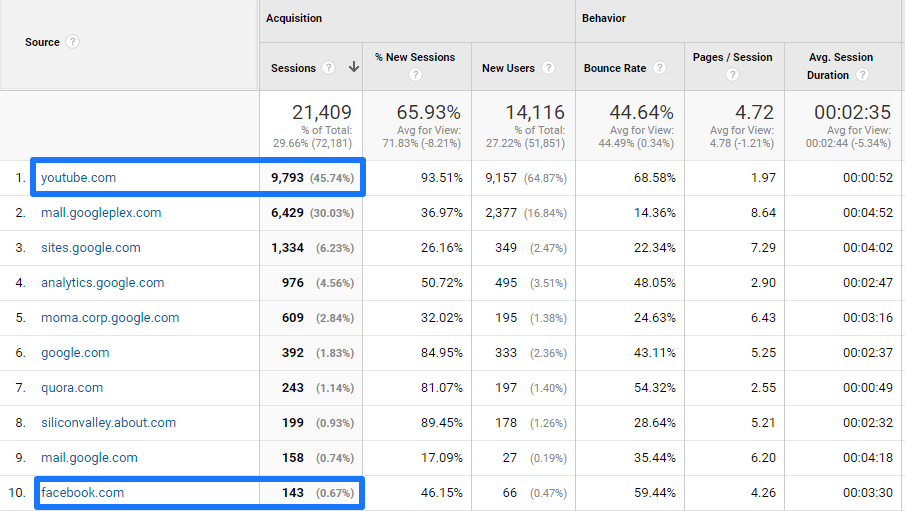 Let's keep it easy here and assume that we just have two referrals that should be grouped under "social":
youtube.com (45,8% of total referral traffic)
facebook.com (0,7% of total referral traffic)
Now, let's apply some Google Analytics filter magic: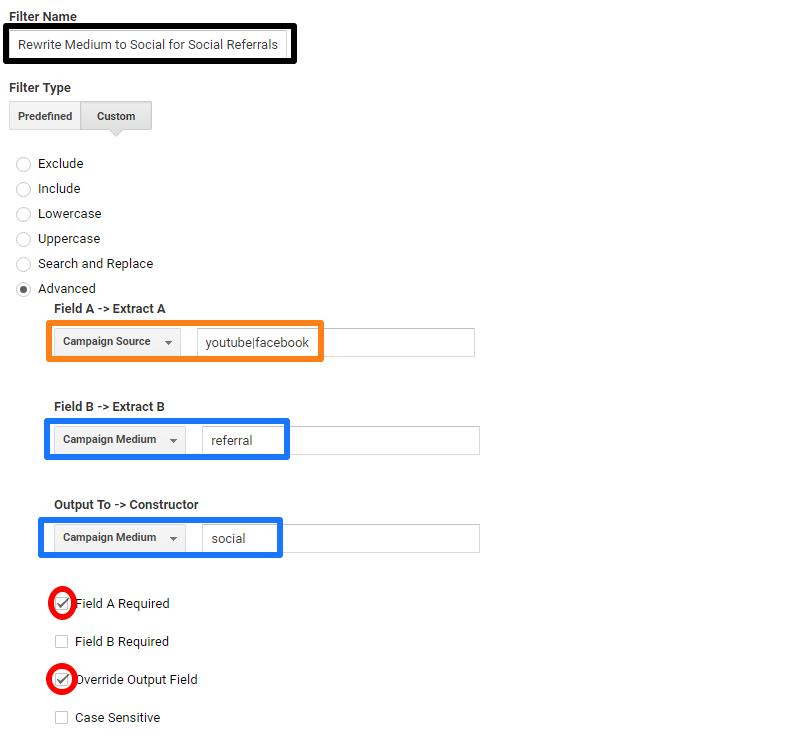 This would results in grouping Facebook and Youtube traffic under "social" instead of "referral" within the source/medium section.
And the great thing is that referral path and full referrer remain available to you!
Full List of Social Referrals
Here is one additional tip to quickly gather all Social referrals for the filter above:
Step 1: Navigate to Acquistion >> All Traffic >> Channels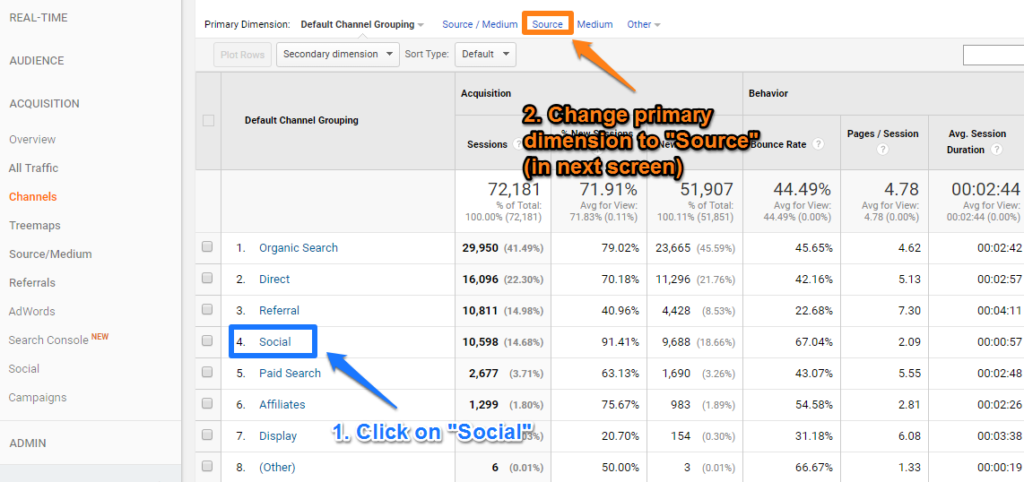 Step 2: Export all sources and aggregate them via a regular expression.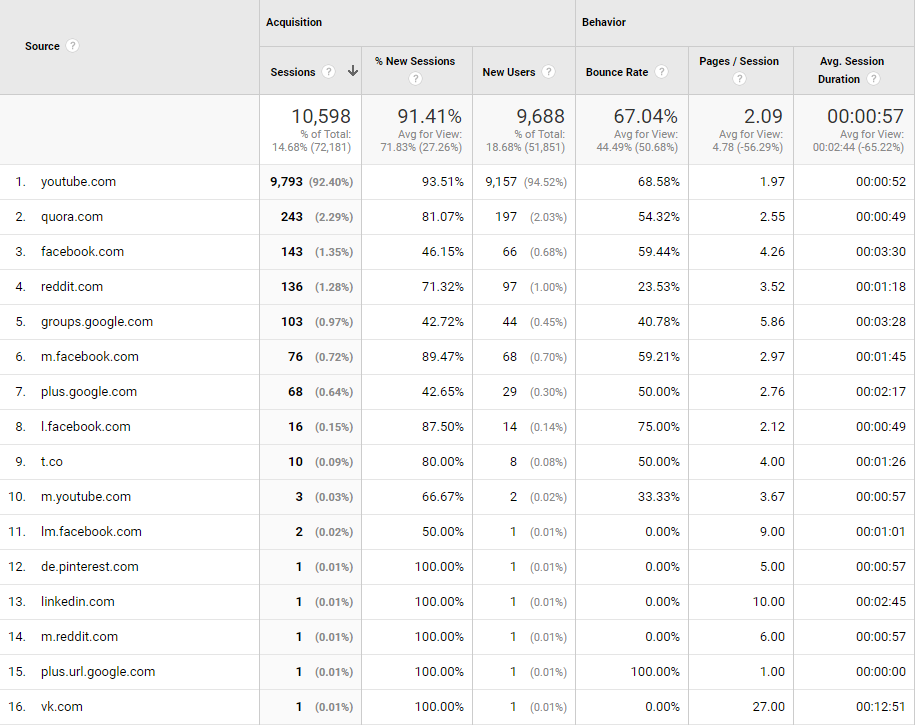 Here is an example of how the "Campaign Source" field could look like:
youtube|wikipedia|stumbleupon|netvibes|groups\.google|weebly\.com|groups\.yahoo|linkedin|
lnkd\.in|facebook|del\.icio\.us|digg|feedburner|twitter|blog|faves\.com|wordpress|t\.co|
plus\..*google|disqus|instagram|reddit|buzzfeed\.com|answers\.yahoo\.com
One thing to keep in mind that the number of characters in a single filter field is limited to 255 characters.

Feel free to set up multiple advanced filters if needed to! Most often there are just a few sources (e.g. Facebook, LinkedIn and Twitter) that sent the most referral traffic.
And after you have done everything correctly, it should look like this:
Medium = social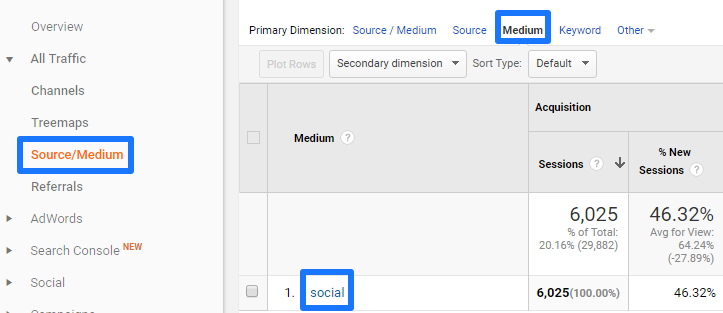 Default Channel Grouping = Social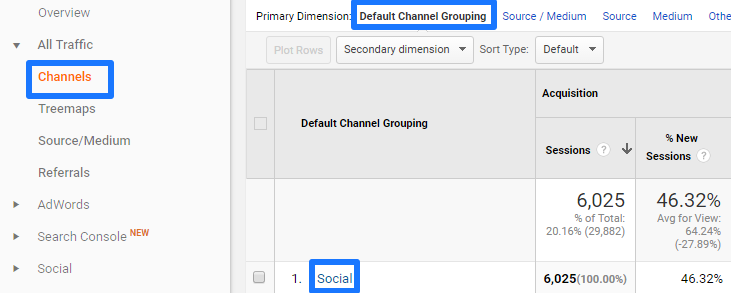 As you can see, in both cases the numbers are the same!
2. Email Referrals
You have not tagged your emails correctly if you see a huge percentage of email referral traffic coming in.
Here is what I suggest you to check:
Are all links that point back to your site tagged with campaign tagging, including links in templated areas, such as the footer? These are commonly overlooked, which will cause email to under-report.
Also, check to see if you're tagging all emails as utm_medium=email. This is a 

must

 as this tagging is in line with Google's default channel groupings definitions.
If you haven't tagged all your emails, these referral numbers might not look like a significant amount of traffic. However, keep in mind that it only includes traffic from webmail providers that don't use a secure server.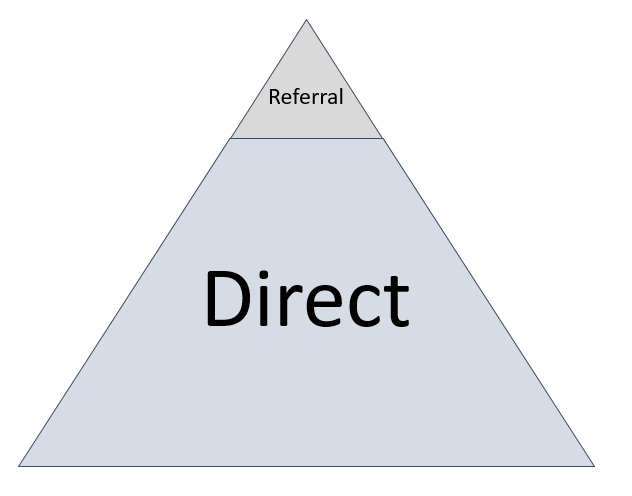 So if you would log in to your webmail and see http instead of https, those referrals get into Google Analytics. On the other hand all traffic from webmail providers that default to a secure server (e.g. Gmail) show up as direct, as do visits from desktop apps, such as Outlook and Apple's Mail, and most mobile devices because no referral data gets passed through them.
Direct traffic is in many cases the junk drawer of your traffic and should typically not exceed 15 – 20%. If it is like 25% or even a lot more, you know something is wrong!
3. Spam/Bot Referrals
There has already been a lot been said and written about spam referrals.
I can highly recommend to read this "getting rid of all spam" guide written by Carlos Escalera. It get's updated all the time!
For now, I will give you two tips to get rid of most of your spam traffic and referrals:
1. Select the Bot Filter Option in View Settings.

2. Add a Hostname Filter to only Include Your Domain(s).
You can always use a custom filter and regular expression if you wish: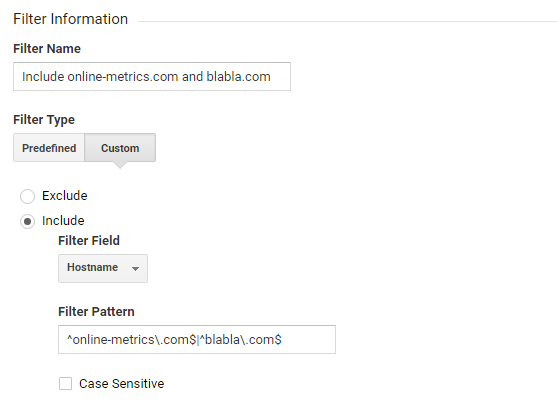 Review your traffic reports in Google Analytics and change the primary dimension to "hostname" to learn more about the hostnames in your case.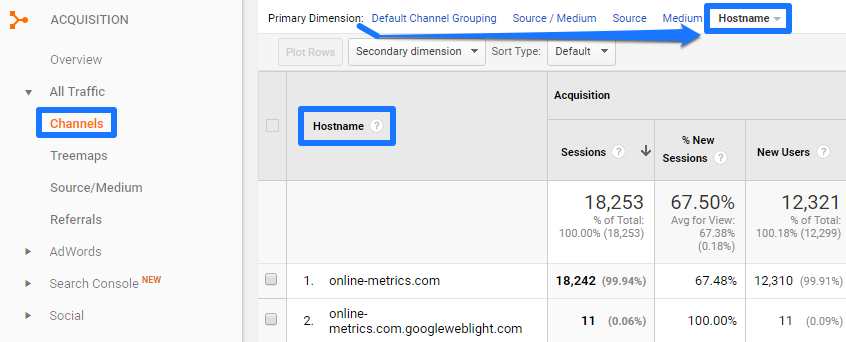 I have explained about filters and best practices many times before, but keep this in mind:
Always keep a raw data view where you don't modify the setting that affect traffic measurements.
Always test your filters and new settings first in a test view before applying them to your main view.
4. Paid Referrals
All too often I see a lot of paid traffic showing up in the Google Analytics referrals report. Again, this has a huge negative impact on the usefulness of your numbers.
Here is a very simple rule:
Tag every link on external domains that link to your domain unless:

You have earned this link without doing/paying anything (e.g. a deeplink to one of your blogposts).
This website is automatically covered with autmated utm links (e.g. display network Google).
You can't control the link for some reason.
You are not there yet if you just follow these rules.
For each unique paid traffic source you should use:
A source/medium utm tag that is in line with one of the default channel groupings.
OR
Getting this wrong can lead to numbers as shown below: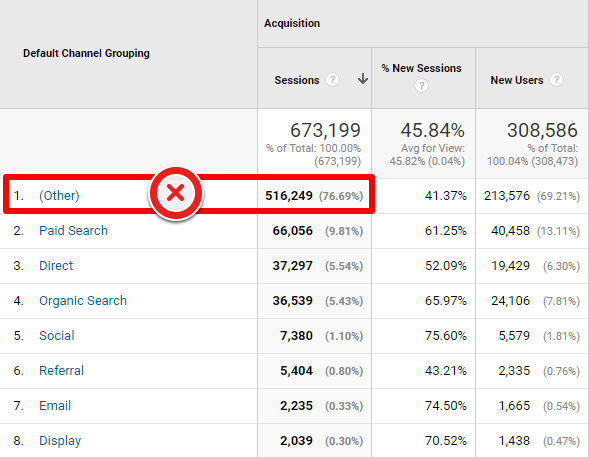 Whoops, over 3/4 of all traffic is grouped under (Other) in this case. You should try to keep this bucket as low as possible. 5% is already too high!
5. Payment Processors
A common use for the referral exclusion feature is to prevent third-party shopping carts from starting second sessions on your website.
When the third-party shopping cart URL is in the exclusion list, a user will no longer initiate a new session, and won't be counted as a referral when they return to your order-confirmation page after checking out on the third-party site.
Here is an example of a Paypal integration: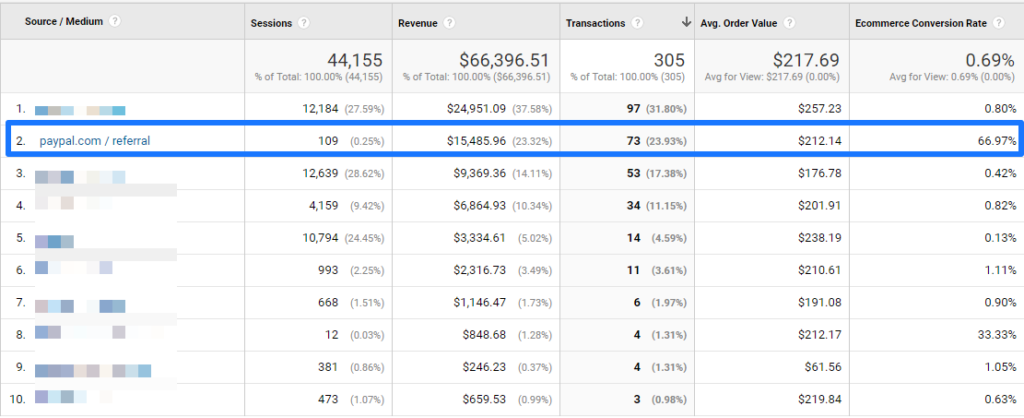 And this is how to solve it:

Review your current list of referrals and pay special attention to referrals with high ecommerce conversion rates. Keep in mind that you don't have to include subdomains here; all subdomains associated with that domain will be automatically included. 
6. Self-Referrals
I have written an in-depth article on self-referrals quite a while ago.
This might be another problem occuring in your account, so I highly recommend to review this article about self-referrals in Google Analytics.
One additional remark: you need to account for cross-domain tracking as well:
According to Google, you still need to set up your Referral Exclusion list, and they recommend doing it before setting up cross-domain tracking.

By now you will understand that correctly setting up Google Analytics isn't easy at all. That's why my Google Analytics audits are so popular!
It takes a ton of knowledge and experience to get your setup right. And I hope this article helps you in that directon.
Make sure to leave a comment and share your thoughts or ask questions!
One last thing... Make sure to get my extensive checklist for your Google Analytics setup. It contains 50+ crucial things to take into account when setting up Google Analytics.
Download My Google Analytics Setup Cheat Sheet

(Visited 7,682 times, 1 visits today)