Do you waste hours on Social Networks without getting actual results? Today I will reveal a new LinkedIn Case Study on how to skyrocket your traffic and conversions from LinkedIn.
I have never been a big favorite of spending tons of hours in the online social world. Simply because other activities had a far better ROI and felt more meaningful to me.
Your Facebook group or page can disappear overnight…
And think about Twitter, will our blue-birded social network still be around in two years from now?
However, there are still many reasons why you want to invest in social. Just keep these things in mind.
The actual results you get will depend on your market and the actual strategy you put in place.
I am thrilled to share my recent results on LinkedIn, the biggest professional network currently out there.

In this brand new LinkedIn case study, I will share a 10-steps framework that you can apply to your business as well to leverage the real power of LinkedIn.
It's all based on growing your personal profile and network to leverage it for your business.
I promise that you will learn a ton about how to smartly use LinkedIn and data analysis at the same time!
Table of Contents
Step 1: Pick Your Niche
I can remember that Avinash recently wrote in his newsletter:
"Focus 80% of your time on your strengths and 20% on developing your weaknesses."
The same is true here. Back in 2006 I started my career in Online Marketing. The first few years I learned a ton about every aspect of Marketing, but then I realized I needed to make a decision.
Where can I really stand out?
What do I love the most doing?
What is going to serve me well both now and in the future?
So I ended up specializing myself in SEO and Web Analytics.
And a few years ago I decided to leave SEO as a hobby and further concentrate on Analytics since I love everything in that area. Still I can learn a ton like all of us!
What's my point here?
If you want to establish yourself as an authority, you need to concentrate on where you are good at and become great! This is where you can really contribute and add value in every single way.
So before you even start worrying about how to grow your LinkedIn followers, get 100% clear about the market you are after! This applies both to you as a person and the company you are working at.
Step 2: Brush up Your Profile
Be serious if you want to be taken seriously.
A profile without a profile picture is probably not the best way to go.
Here are 16 tips you might want to follow:
Make sure that every section of your profile has been completed.
Create your vanity url (with your name included).
Get written recommendations.
And skills and get endorsements.
Create custom links for online properties.
Rearrange your profile to show most important items on top.
Search engine optimize your profile.
Incorporate branding into your profile background image.
Use keywords in your headline.
Add projects.
Join groups.
Expand your network.
Use LinkedIn as a CRM tool.
Add media to your profile.
Jazz up your profile with symbols and bullets.
Showcase awards, volunteer experience, organizations and causes you care about.
Read more and get the most out of your LinkedIn profile.
Step 3: Formulate Your Business Goals
Putting time in any social network is never going to be useful if your business goals aren't crystal clear.
What do you want to achieve? An example:
I want to have more followers on LinkedIn.
Why?
I want to get more targeted traffic to our website.
Why?
I want to get more leads on our website.
Why?
I want to earn more money from our online business.
Why?
I want to quit working when I am 50.
Why?
I want to spend as much time as possible with my family and friends.
You get the point here. Simply growing the number of followers or connections on LinkedIn is not a business goal.
In the example above I shared about setting business and intrinsic goals that might motivate you even more to do the work needed.
In short, be completely clear about your business goals before your continue to step 4.
Step 4: Produce Great Content
By now you exactly know what you want to achieve and who your target audience actually is.
How do you convince them to do business with you?
Content is the key here. You need to show your audience that you really know where you are talking about before putting in front any products and services.
Your market and/or personality might thrive best with written content, podcasts, video or maybe another medium.
Simply find out what resonates best with you and your audience and take it from there. Just make sure to write epic content.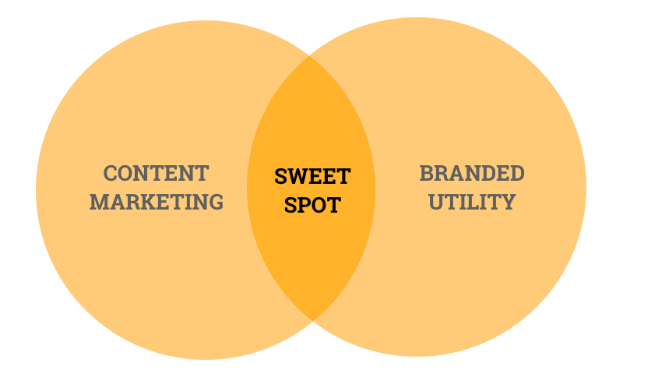 Lucky you if you have already a lot of evergreen content available. This will put you in a great position!
Step 5: Share Your Content
Ok, you have some content ready and how can you really take advantage of it?
You have at least three options here:
Leverage your LinkedIn network and presence on the platform itself.
Leverage your presence indirectly on your own website or other platforms.
A combination of both.
Since I have already created a ton of content for my website I decided to leverage my LinkedIn network both on LinkedIn as well as via my own website.
The two methods that I successfully use:
1. LinkedIn Pulse
I share abstracts that I've already published and link to my website or I create new articles directly on LinkedIn.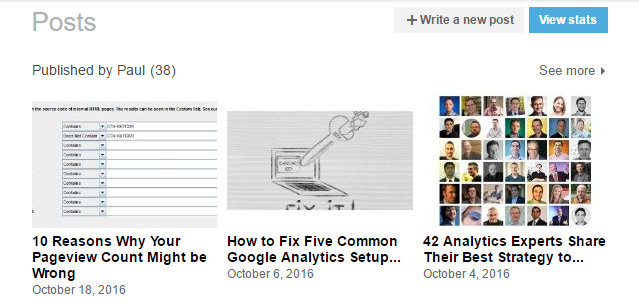 The great thing is that people that are connected with me get a message about a new post that I publish. It's extremely powerful to get yourself on the radar. Always make sure to add extraordinary value.
And LinkedIn is a great platform for having discussions as well: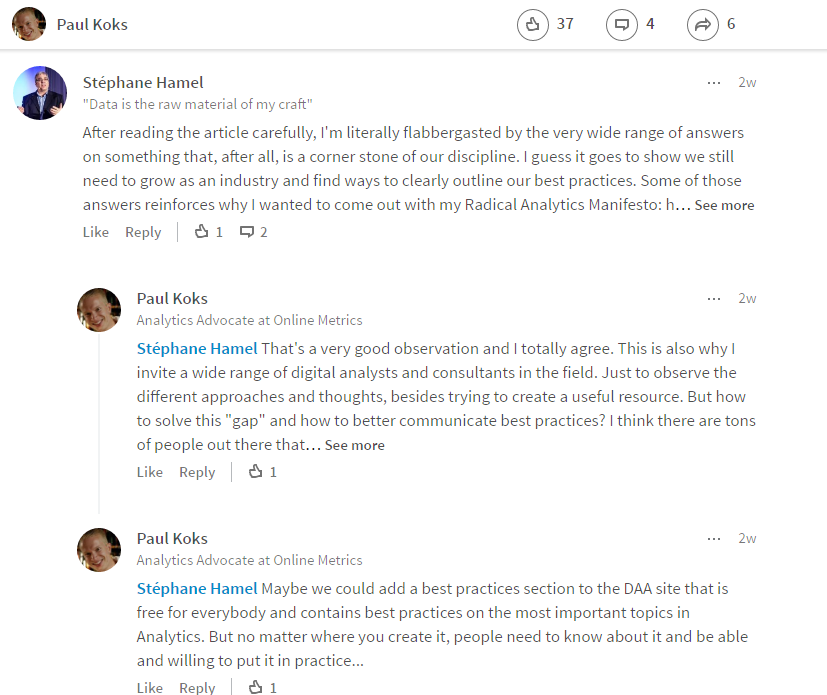 2. LinkedIn Groups
You have two options here:
Create a LinkedIn Group in your market.
Join multiple LinkedIn Groups in your market (max 50).
When I decide to further narrow my niche in the future, I might create a LinkedIn Group myself. But for the moment I can leverage other LinkedIn Groups to build my presence.
Make sure to join other groups first, judge the engagement etc. before you decide to start you own LinkedIn Group! And think twice if there are already 5000 related groups in your niche.
And how to share your content?
Here is my strategy:
Write very compelling articles that people will like. No fluff.
Refurbish older, evergreen content and reshare it on the platform.
I simply keep track of what I share and when via an Excel document:

No rocket science and this document can easily be updated with new posts that I have written. You can upload it to Google docs and even keep track on the actual results of your campaign.
This will ensure that you put out great content on a consistent basis and you won't publish the same article twice a week. As you can see, I share my guest posts as well.
Oh, and it will only take a few minutes a day. You could automate it with tools like Buffer as well; I prefer to do it manually on LinkedIn.
"It's all about getting yourself in front of your target audience and building up your authority."
Make sure to not directly promote your services in LinkedIn Groups as this won't be appreciated.
Note:
There are quite a few people out there that recommend to just publish / promote content from so-called authorities.
Well, I don't agree here. It's great to mix in these types of content every now and then, but sharing your own voice is what will stay in their memories.
Step 6: Participate in Discussions
Two things to keep in mind:
Always respond to comments on your posts, be genuinely helpful to everyone.
Don't expect great results from the start, consistency is really key here.
Another useful activity (if you have the time) is to respond to other posts and comments in there as well.
This will boost your authority and the positive association people will have with you and your brand.
Step 7: Expand Your LinkedIn Network
"Hey Paul, but what if I only have 100 connections?"
Yes, and that's why you should reserve 15 minutes a day to connect with new people in your niche.
It's all about consistency, remember that.
The two strategies that I use most often:
1. Connect with new people that like or share your content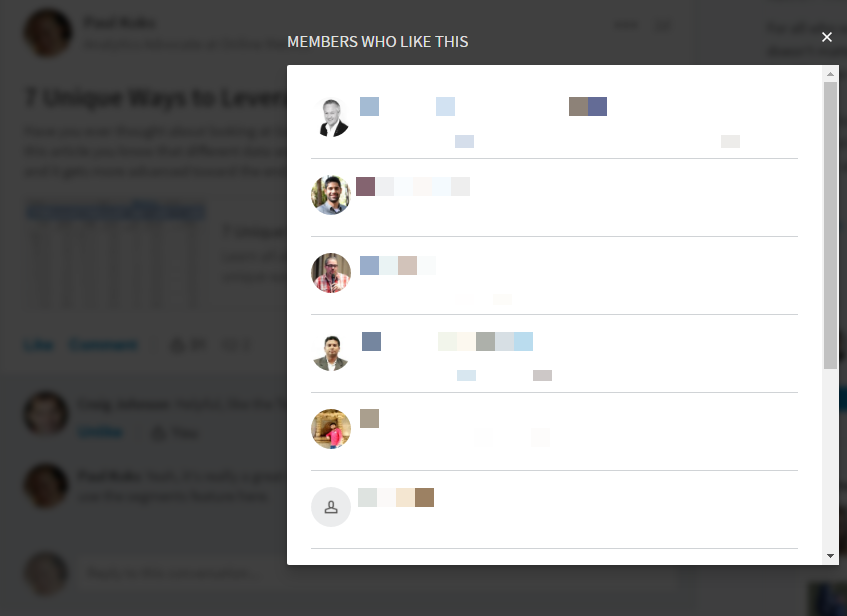 You have a high chance that people are willing to connect if you say something like:
"Hey John, glad to see you enjoyed my recent post about filters in Google Analytics. Would you like to connect so we can share more?"
In these cases you can expect the acceptance rate of your requests to be anywhere between 50 and 80%. Just experiment and find out what your numbers are and how you can improve them.
2. Connect with new people that are in your niche
This is one of reasons why I have recently upgraded to LinkedIn Premium.
The "advanced search"  module is gold when you want to connect with specific people in your market: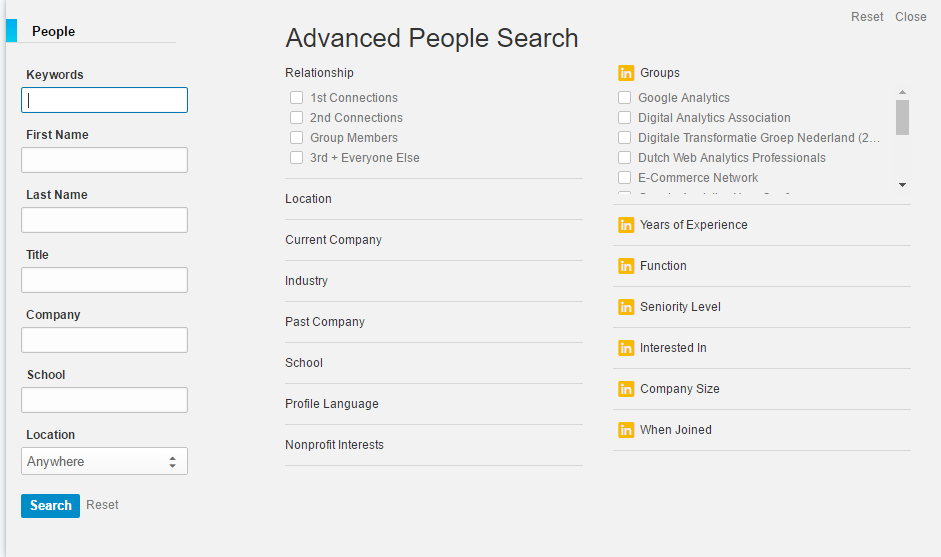 You can search on many different parameters to find people or companies in your niche.
Step 1: search for people and/or companies you want to connect with.
Step 2: send an invitation.
Step 3: follow up after you are connected.
Don't send out a ton of invitations at once. Your account can be suspended if people don't know you and make a "spam" complaint.
Be genuine about your willingness to connect and personalize your invitation.
You can expect acceptance rates between 30 and 60%. Your numbers will depend on your authority, market and personal message. Please don't use this standard LinkedIn message ok!
Step 8: Analyze LinkedIn Data
This LinkedIn case study wouldn't be complete without the data analysis.
There are at least three metrics you want to keep track of.
1. LinkedIn Followers Growth
Very important metric because your content reach and success will greatly depend on your followers base.
It's not useful to have 10.000 followers that are outside your target market. But having at least 500 targeted followers will help you spread your message. Simply try to (slowly) grow this number over time.
2. Profile Views
You can review your profile views per week over the last 90 days.
In addition you can compare your rank with members in your network:

It's obvious that a higher ranking brings a ton of advantages in building up your authority.
3. LinkedIn Post Engagement
Many people add useless or inappropriate content to LinkedIn Groups or LinkedIn Pulse. This is only a waste of time.
You can expect quite a few shares and links if you add relevant content to a targeted group. You need to stand out from your competition!
The example below might be an exception, but trust me, you can get great results if you put in the efforts: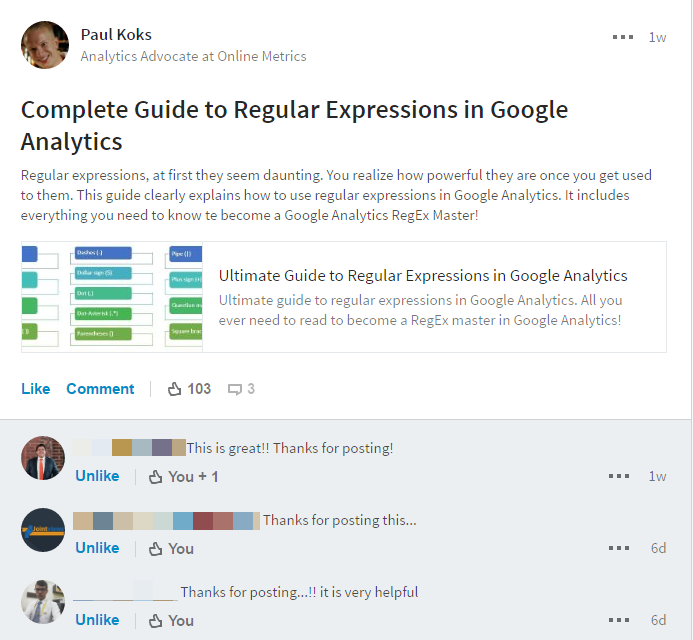 Step 9: Analyze Google Analytics Data
I assume that you run an online business and you want to measure the effects on your website traffic and conversion.
You have two options regarding your measurement strategy:
I feel the default GA tracking is good enough for now.
Your LinkedIn traffic will show up under two sources: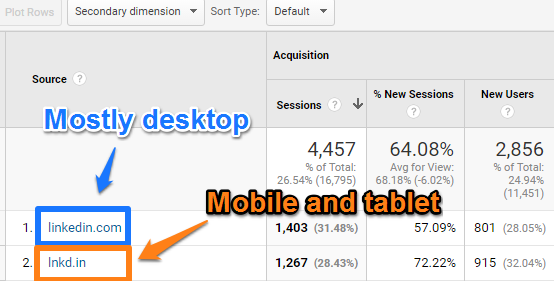 Keep in mind that LinkedIn traffic is grouped under default channel grouping "social" and medium "referral".
So if you want to have an accurate overview of your social traffic, use the default channel grouping report instead of medium dimension.
Side note:
You can also add a filter to rewrite your Social medium from referral to social.
Filter name
Rewrite Medium to Social for Social Referrals
Filter type
Custom and Advanced
Field A -> Extract A
Campaign Source:
youtube|wikipedia|stumbleupon|netvibes|groups\.google|bloglines|groups\.yahoo|linkedin|
lnkd\.in|facebook|webmasterworld|del\.icio\.us|digg|feedburner|twitter|technorati|blog|
faves\.com|wordpress|t\.co|plus\..*google|disqus
Field B -> Extract B
Campaign Medium:
referral|twitter|twitterfeed
Output To -> Constructor
Campaign Medium:
social
And as always, add this filter to a test view first. You might need to tweak it a bit or add another filter to catch all social sources.
There are many metrics you could monitor. You probably want to take a conversion related metric if you want to set just one KPI.
Let's dive into four metrics.
1. LinkedIn Sessions
You can drill down to get this data or simply build a LinkedIn traffic segment.

Transfer this data to a dashboard in or outside of Google Analytics to automatically monitor your stats.
2. LinkedIn Sessions Percentage
A bit of slicing and dicing your data can easily give you insights in the relative traffic of LinkedIn: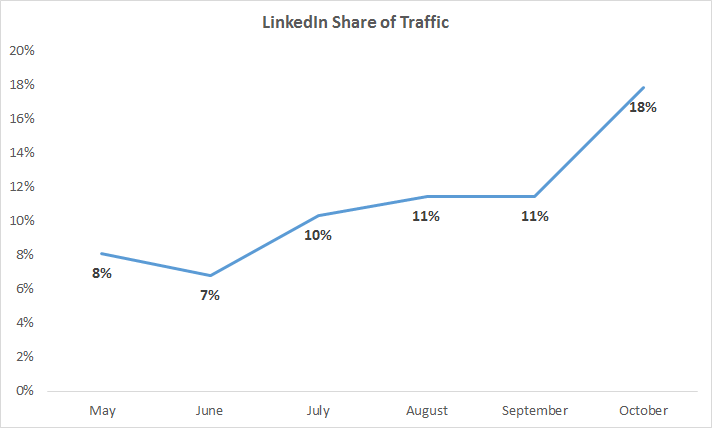 Guess when I started my new LinkedIn strategy! :-)
3. LinkedIn Sessions Per Post
You will also want to monitor the effectiveness of each of the posts you put out on LinkedIn.
Here is an example:

This post (originally published in 2013) just gets a few visitors per day. It is still valuable to share this post since it is evergreen content.
In just a minute I wrote an abstract of this post in a LinkedIn Group and it boosted my traffic to this page to a few hundred pageviews and quite a few new, happy fans of Online Metrics. Quite powerful I think!
4. LinkedIn Conversions
It doesn't matter what your exact goal is, you will always want to place your efforts in context of your conversions.

Absolute numbers are great, but how is this channel relatively performing?
5. LinkedIn Conversion Rate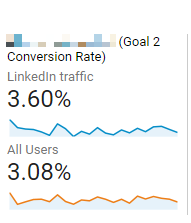 This looks great. LinkedIn is performing really well!
There are a lot of other metrics and dimensions to look into, but that is something I will leave up to you!
Step 10: Optimize Your Strategy
Analyzing numbers is not a goal by itself. You should use this data and turn it into actionable insights.
A couple of questions to answer:
What is the (relative) ROI of my LinkedIn efforts?
What content seems to resonate the best with my audience?
What is the value of doubling my connections?
Does getting more profile views exponentially increase connections?
How does mobile LinkedIn traffic convert vs. visitors on desktop?
Does LinkedIn traffic turn into loyal visitors and fans or just a pool of one-time visitors?
Well, this is it. I hope that you have picked up a few new tips on leveraging LinkedIn and your data for better results.
What did I miss in this LinkedIn case study? Is there anything that I should add to the article? Happy to hear your thoughts in the comment section!
One last thing... Make sure to get my extensive checklist for your Google Analytics setup. It contains 50+ crucial things to take into account when setting up Google Analytics.
Download My Google Analytics Setup Cheat Sheet

(Visited 843 times, 1 visits today)