Do you like to become a Google Analytics Power User? Google Analytics offers a wide range of possibilities to integrate data from other Google and non-Google products. If applied in the correct way, you can make better informed decisions in relation to your business objectives.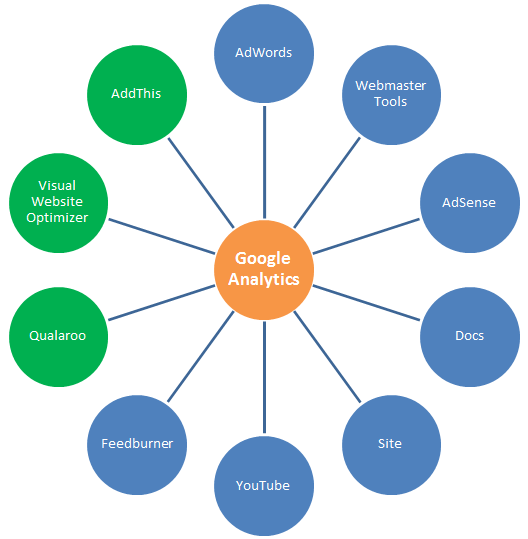 In this in-depth guide you will learn why and how to integrate different products with Google Analytics.
You can discover greater insights from your data when applying the tips and tricks from this Google Analytics Integrations guide.
Google Analytics Integrations – Google Products
In the first part of this article you will read about seven Google Analytics Integrations with other Google Products. I can assure you that these integrations will be a great help for you in optimizing your business. Have fun reading and applying my tips!
AdWords
Most businesses use Google AdWords to drive targeted traffic to their websites. In order to view your AdWords metrics in Google Analytics, you need to follow a few steps.
Learn more about why you should connect AdWords to Analytics by watching this video:
You need to set up a Google Analytics and AdWords account to get started. 
Follow these steps
and start optimizing your AdWords campaigns in Analytics today!
Webmaster Tools
By now everybody will have noticed that the number of (not provied) organic searches in Google Analytics has skyrocketed!
Many posts are already written about how to get new insights by looking at:
Internal search phrases
AdWords campaign data
Landing page data
Content groups around related data
Webmaster Tools data
Since January 2014, the Webmaster Tools data is more accurate than before.
Top Landing Pages

Top Search Queries

The data above provides you with insights on how your top landing pages and search queries are performing. It also illustrates whether things are getting better over the last few months or not.
Do you want to integrate your Webmaster data with Google Analytics? Watch this simple video to connect your data in the right way.
AdSense
Are you a regular content publisher or simply trying to earn some extra money? Google AdSense might be a great option.
The AdSense account by itself gives you a few options to optimize your AdSense income. However, if integrated with Google Analytics, the number of ways to optimize your income will rise.
Here are the necessary steps to connect AdSense to Google Analytics:
Login to your AdSense account
Click on the settings icon
On the left side, click on Access and authorization
Click on Google Analytics integration
From here you can link to your Google Analytics account
Well done, you are there!
Remember that you can only link your AdSense account to one Google Analytics account at a time.
These new reports are added to your Analytics interface: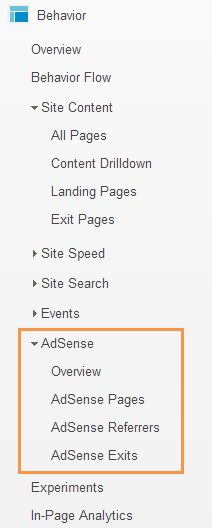 These reports give you basic information on how your website is performing with regards to AdSense.
However, if you dive deeper you can find very valuable information like:
Which channel generates the most AdSense clicks?
What are the top performing countries?
Do visitors on mobile convert as well?
Are new visitors converting better than returning visitors?
How much can I earn by investing more time in social channels?
These and many more questions can be answered by taking a detailed look at your AdSense reports.
Read this AdSense post from Daniel Waisberg if you need more help or ideas to get started.
YouTube
Traffic from YouTube channels itself is automatically measured in Google Analytics. However, monitoring and optimizing video activity on your website requires extra coding.
Most often you see a video being embedded via an iframe. Iframes and Google Analytics might sound like a daunting combination.
It is more than worth it to invest some time to measure these videos. This blogpost on integrating YouTube and Google Analytics will put you on the right track.
LunaMetrics has made things more easy for you with this recent .js script for measuring YouTube activity in Google Analytics.
I recommend to closely work together with your developer to get this to work.
FeedBurner
Back in 2007 Google acquired FeedBurner. Nowadays many bloggers still use FeedBurner to deliver new content to their readers.
It is important to know – for content optimization purposes – which content performs well and which doesn't.
If you use Google Analytics to monitor website traffic, you can integrate these FeedBurner visits in an easy way.
Select the "Item Link Clicks" field on the Analyze tab in FeedBurner and you are done: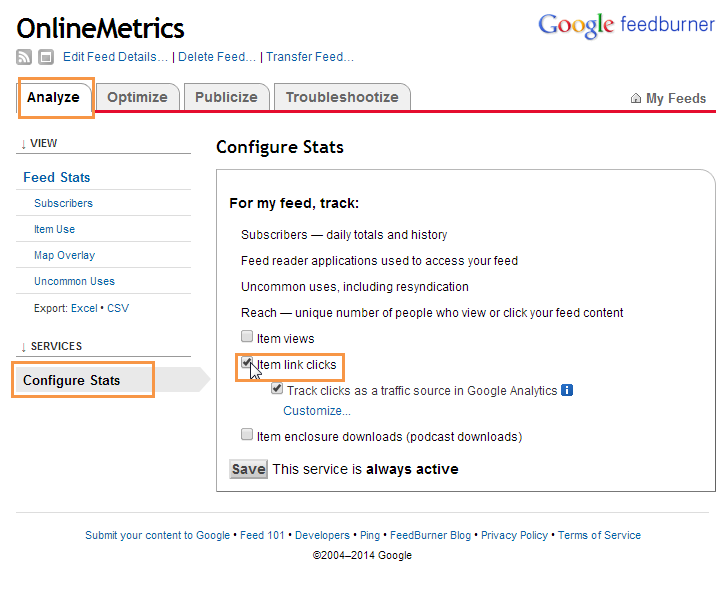 For more advanced settings, click on the "Customize" link. Here you can exactly specify how FeedBurner clicks show up in Google Analytics.
A basic FeedBurner report in Google Analytics is shown below:

It is a good practice to cross segment you FeedBurner traffic by landing page. This way you get a good view on how your content efforts are judged by your readers.
Google Docs / Spreadsheet and Google Site
I love to automate reporting for as far as possible. Why spend hours building reports again and again, instead of analyzing and optimizing a website's performance?
API's help you to automate this process. The Google Analytics API makes Google Analytics integrations a breeze. Well, it might take some time for figuring things out.
If you haven't worked with the Google Analytics API before, I recommend to play with Google Analytics Query Explorer 2 for a while. This helps you to understand which combinations from metrics and dimensions you could use when extracting data.
There is a great video tutorial available that clearly explains how to set up an automated connection between Google Analytics and Google Spreadsheets. And how to push your data to a Google Site.
Grab a cup of coffee and watch this video by Nick Mihailovski:
Read this article
to get more background information on this topic.
You are just 30 minutes away from building your own Google Site! And you know what, it is totally free!
Two other tools I like to mention are Klipfolio and NextAnalytics. Both are great products to build powerful dashboards as well.
Give Klipfolio a try if you are looking for a real-time webbased solution. Do you prefer building dashboards in Excel? NextAnalytics might do the job!
These tools do cost some money, but aren't expensive either.
Google Analytics Integrations – Non-Google Products
I hope you learned a lot so far. Are you ready for three more powerful integrations? From experience I can say they provide a lot of value and insights!
Qualaroo
As far as qualitative data, Qualaroo can be your very best friend. It's a non-invasive survey tool which can provide great insights. I have seen response rates varying from 2% to over 25%!
Integrating Qualaroo and Google Analytics is like combining the "why" (qualitative) and "what" (quantitave); you are close to nirvana! :-) Incredibly powerful: you will better understand the behaviour of specific visitors/segments.
Since a couple of weeks you can integrate Qualaroo data in both Google Analytics and Universal Analytics.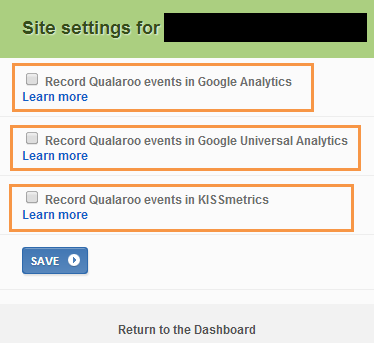 All the questions and answers are monitored in Google Analytics. You can cross segment events and conversions and definitely act upon it!
Learn more about:
Visual Website Optimizer
For testing purposes, I recommend using Visual Website Optimizer. It is relatively easy to set up A/B and MultiVariate tests in VWO. If you run into any issues, know that their support desk is awesome!
The integration of Visual Website Optimizer and Google Analytics opens a new range of optimization possibilities.
Why? Visual Website Optimizer helps you to select the optimal variant of a webpage with regards to conversions. However, it doesn't give a direct option to segment the results.
Maybe you want to find out whether there is a different testing result within a specific segment. Think about browser performance, demographics, paid search keywords and many more segmentation options.
You need to take the following steps to set up this integration on the account level:
Login to "Visual Website Optimizer"
Navigate to "Account Settings" in the right hand corner
Click on "Test Settings"
Here you can see where to enable this integration:

The Slot position corresponds with your CustomVar field in Google Analytics.
One of the reports you could use in Google Analytics is shown below: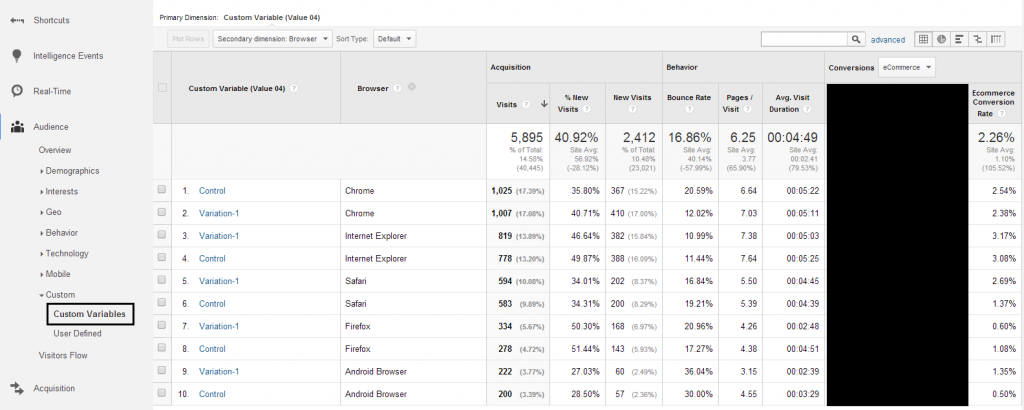 A few interesting insights for this A/B test:
Control variant is perfoming better in Chrome (highest traffic browser)
Variation 1 is performing better in IE, Safari, Firefox and Android
When taking into account segments / secondary dimensions, you derive greater insights from your Visual Website Optimizer experiment. You could decide to show different pages for different segments to improve your overall conversions.
Two recommended readings:
AddThis
AddThis makes Social Media sharing very easy. Are you unsure about what plugin to use or how to integrate social icons on your website? You might want to look into AddThis.
This help article on integrating Google Analytics and AddThis helps you to get this to work.
Until today they haven't updated the code for Universal Analytics. So I recommend to go for another solution if you are already migrated to Universal Analytics.
In this case AddToAny.com might help you out!
We are there! I hope this article – full of Google Analytics integrations – empowers you to derive greater insights from your data. Don't hesitate to contact me if you have any questions. I am more than happy to help you out.
One last thing... Make sure to get my extensive checklist for your Google Analytics setup. It contains 50+ crucial things to take into account when setting up Google Analytics.
Download My Google Analytics Setup Cheat Sheet

(Visited 1,131 times, 1 visits today)