Booking.com, a great example of an online company that really knows how to play the online marketing game!
With conversion rates far above market averages, they easily turn an ordinary website visitor into a customer.
Tons of A/B tests every year. A great team of online minded professionals. It's time to show you how Booking.com actually persuades you to book!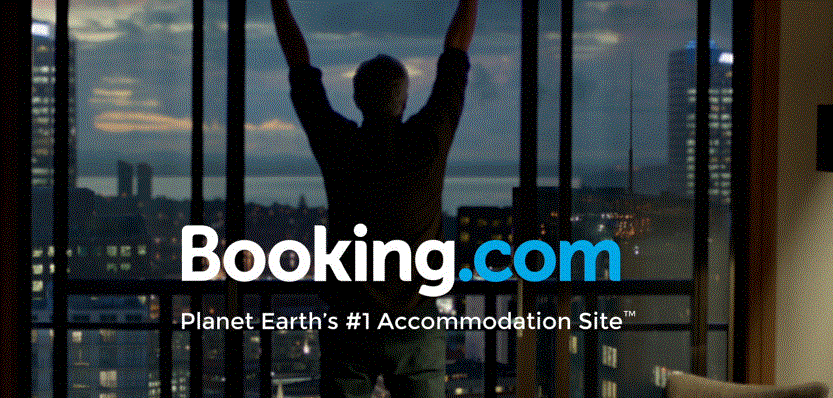 Image: Booking.com
In this post I will guide your through my Booking.com journey and reveal 33 great persuasion and optimization insights you really love to read.
I will stay away from explaining the theories behind (difficult persuasion terminology).
Practical insights is what you will get! 
It might drive you crazy if you find out with your own real eyes how they are persuading you to book.
Test and replicate one or more of these persuasive elements on your own website(s) and your business will grow.
My focus is on the following areas/pages on their website: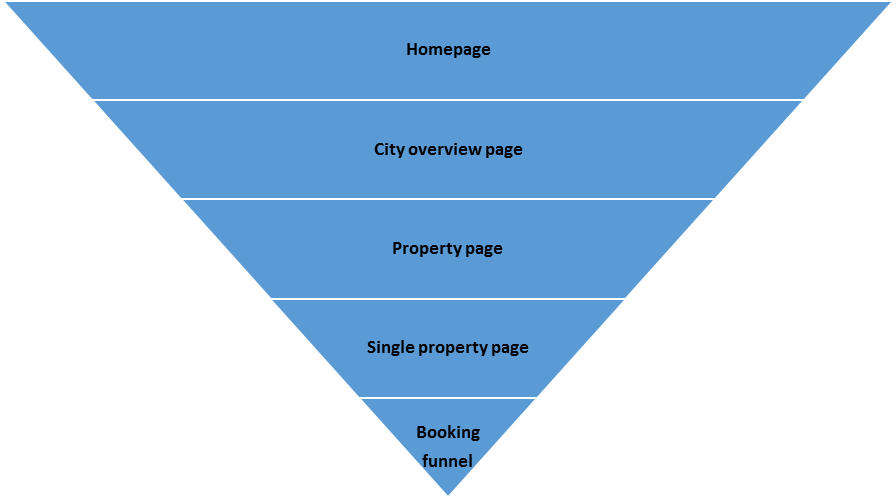 Your actual journey/experience might be a bit different from mine.
Booking.com are masters at applying behavioral targeting based on the elements/drivers that work the best to make you book.
I recommend you to read the entire article. This way you derive the greatest learnings and test ideas for your own business.
However, simply click on one of the links below if you are only interested in specific areas. You will automatically navigate to that specific part.
Note: I have booked here before but I am in no way affiliated with Booking.com.
Enjoy the journey!
Homepage Booking.com
Here we go (what do I see above the fold):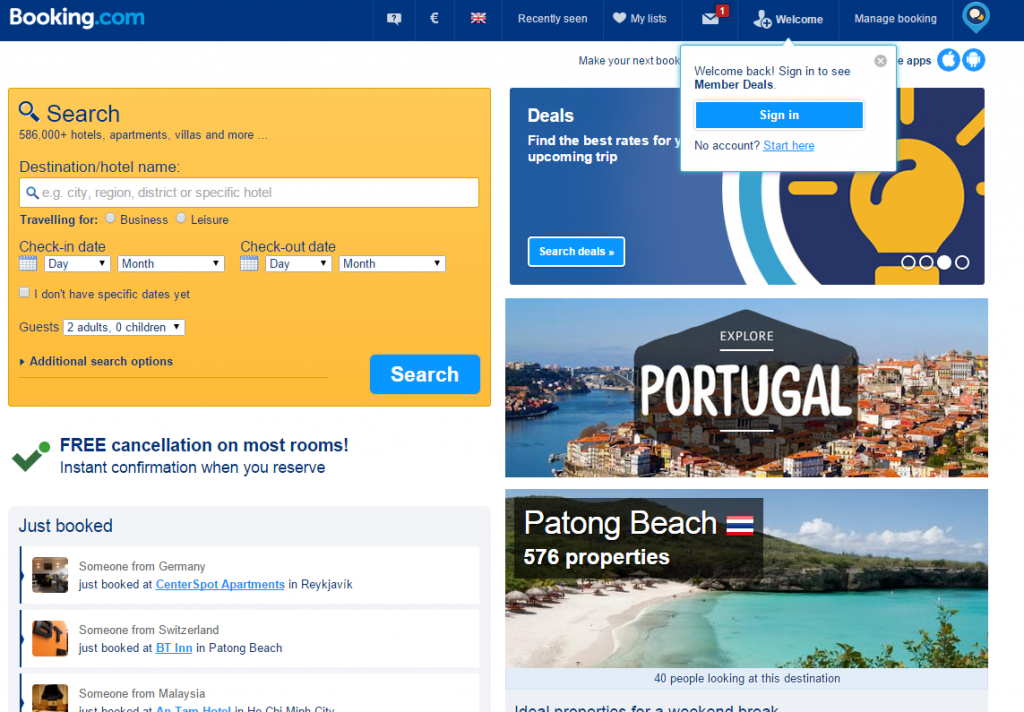 At a glance I can see they serve new as well as returning visitors in a smart way.
New Visitors
1. Half a Million Hotels
At the upper left corner you can read: 586.000+ hotels, apartments, villas and more …
If their "assortment" is so big, it won't be difficult to find a great place to stay.
In my eyes, this makes it easy to compare and make a rational decision in where and what to book.
The beautiful pictures on the right trigger my emotional part of the brain. I simply get in the mood to book by looking at those nice views.
2. Message: FREE cancellation on most rooms!
No need to worry here. I am not 100% sure whether I can make it on that date. Who cares?
I can always cancel my booking. It sounds so easy.
This helps me (and Booking.com) in two ways:
I don't have to worry about things coming up in the meantime after I book
I am more willing to book directly (feel less need to compare with competitor sites)
Based on experience I can say this is a great USP to place on the homepage. In most cases it works with real products as well.
3. Just booked Widget
They are smart over there! This is fantastic.
This widget refreshes real-time and shows the country of origin of the person who has booked and to what destination.
I can say, at least it refreshes every few seconds. If this contains all of their bookings your can even calculate how many bookings they have on a day!
More importantly, it brings trust. If so many people book and from a lot of different countries, why would I …
4. Secret Deals (upper right corner, second window)
People simply love great deals, so this grabs my attention. If I hit the button, this pop-up appears: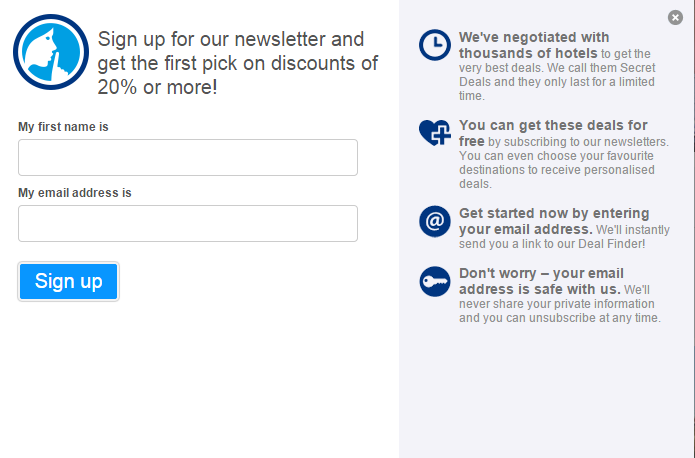 Another newsletter? But hey, wait. Discounts of 20% or more! That sounds quite interesting. Let's take a look at the right side.
Very best deals, negotiated with thousands of hotel
Free deals and personalized
Instantly get a link to our Deal Finder
Email address is safe
I don't say everybody will subscribe here, but they apply smart words to persuade me to subscribe. This is great, since potential customers are more easily caught if they subscribe. Well done guys!
5. Search Box
Both for new as well as returning customer the search box definitely appeals.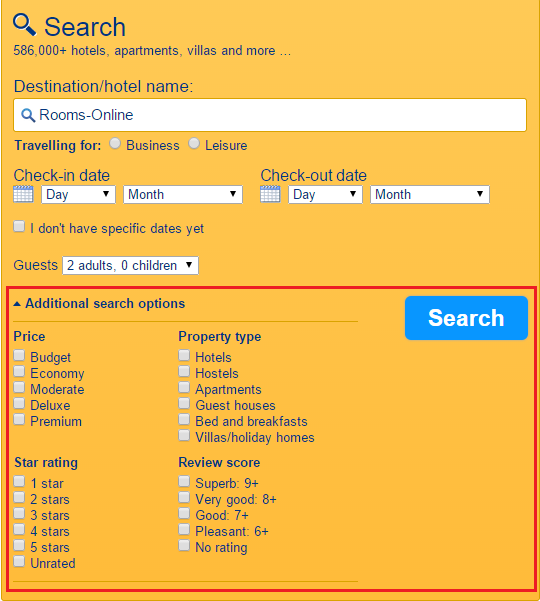 Very simple, I need to fill in a few basic things and can choose additional search options if I like.
And the big Search button cannot be missed. I am sure on "deeper" pages they will try to persuade me to book.
Five features/messages that pull new visitors into their website.
Returning Visitors
Booking.com does a great job as well for returning visitors. There are a few things I like to show you here.
6. Message: Welcome Back! Sign in to See Member Deals
Yeah, they recognize me again! Member deals, I can't wait to see what they have to offer me.
It's a great way to motivate returning visitors (customers) to find another great deal and book (again).
Booking hotels, vacations etc. does have a rational part, but an emotial part as well.
7. My Lists
I was just browsing yesterday and today I want to book!
So it's great I could save my list of favourite destinations and make my booking today.

Another great way to help returning (but also new visitors) with their booking.
On the other hand (persuasive side) it might deplete my rational part of the brain. I don't want a list, come on, let's book.
8. The Envelope: One Message

The envelope persuades me to click and to sign in as a member or to make an account as a potential customer.
It is smart; they might persuade you to book again or get information of potential new customers.
And when you are logged in, they have more information (because they will recognize you) to persuade you with specific elements that have worked in the past.
9. Welcome
A big welcome to new as well as returning visitors. With a main focus on members, they also target new customers: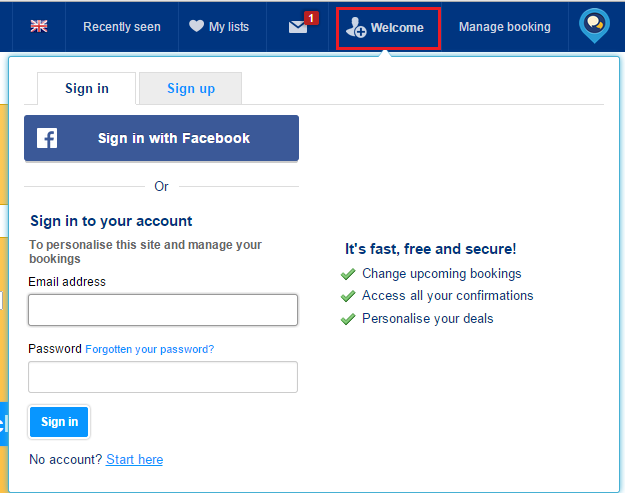 Sign in or sign up. They simply want to pull you into there persuasion/buying funnel as soon as possible.
And even two call to actions for new customers: sign up or Start here (at the bottom).
I could go on for a while, but I think these nine points give you a lot of stuff to think about.
What can you implement on your website to attract and convert more new and returning visitors?
One more important thing: make sure to test every strategy that you want to implement on your website. What works on Booking.com, doesn't have to work on your website.
Test everything!
Here is a great article you should read: When Conversion Optimization Best Practices Fail.
City Overview Page
Booking.com owns great positons in Google. Their ads often show up at # 1. On the organic side they have nice positions as well.
This causes you to land deeper on their website if you do a relevant search in Google.
I have used the following query in Google.com: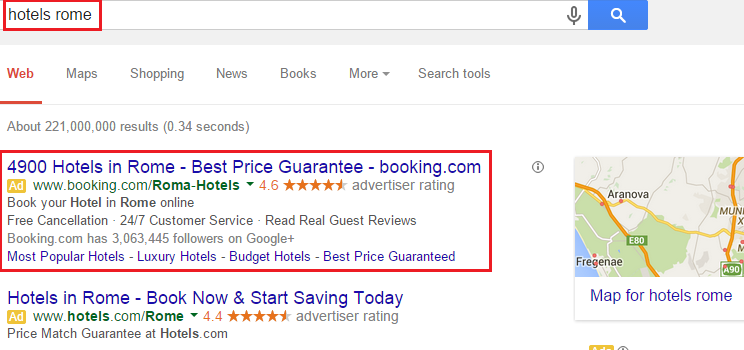 Here is the corresponding landing page: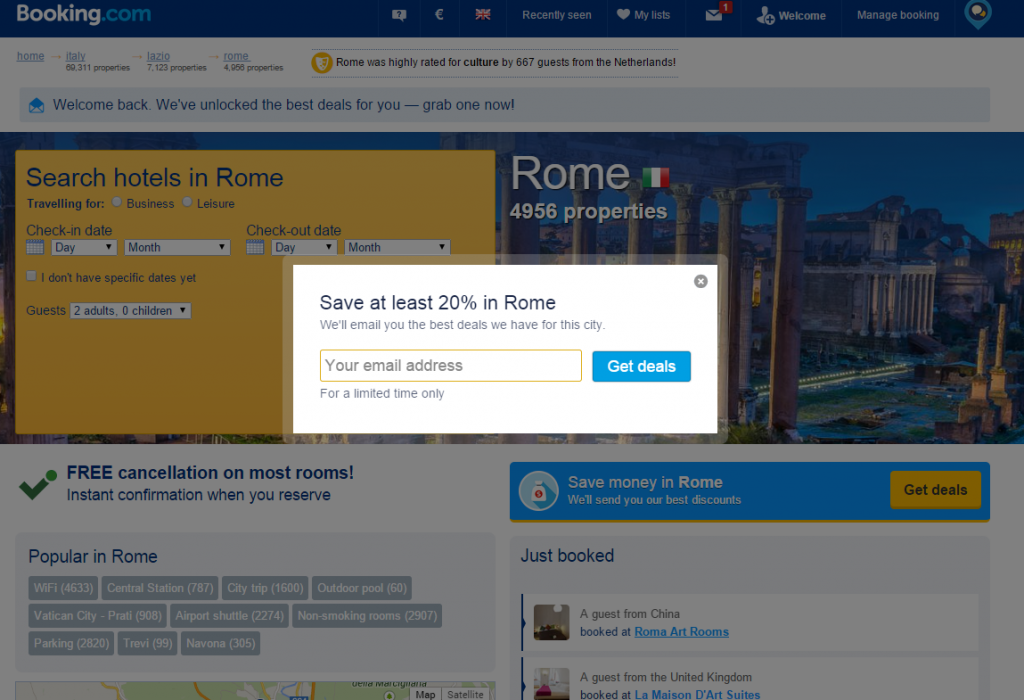 We have talked about a lot of things already so I will only concentrate on the new elements here.
10. The Number of Properties (4956)
Again they show that they have a lot of accommodations to offer.
It actually corresponds very well with their ad message which says: "4900 Hotels in Rome". I am sure they have automated this part of their advertising business.
The most important thing is that people have a choice. It will be rather easy to find a nice place to stay in a desired price range.
11. Search Box Rome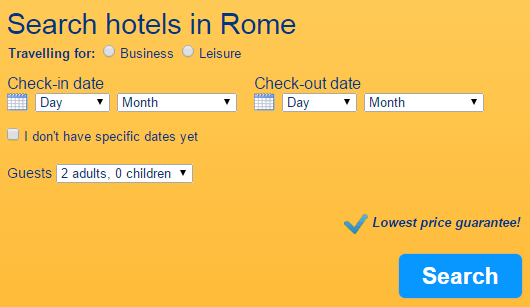 It seems they have two target groups: business and leisure. I can understand it is a good way to split your (potential) customers.
In general, business people have other standards than others.
Besides that there is a Lowest price guarantee statement! Ok, this is nice.
I would recommend to show a link to an underlying page / pop-up that back-ups this claim. And of course they do: here is the link.
12. Popular in Rome
This is another great feature.
They made a list with the most popular elements attached to specific accommodations. So it aids in finding my accommodation quicker.

Example: if I want to stay very close to the Central Station, I can hit that button to directly go to suitable places.
13. Deals, Deals, Deals
What do I see here, three great deal messages:
Welcome back. We've unlocked the best deals for you – grab one now!
Save money in Rome with Get deals button
Save at least 20% in Rome pop-up (it is shown on mouse exit)
Price is such an important consideration for people to book.
I can understand that this message (repeating at a few spots) helps them to convert more visitors into bookers.
Property Overview Page
Here is the Rome property overview page (filtered on Central Station accommodations):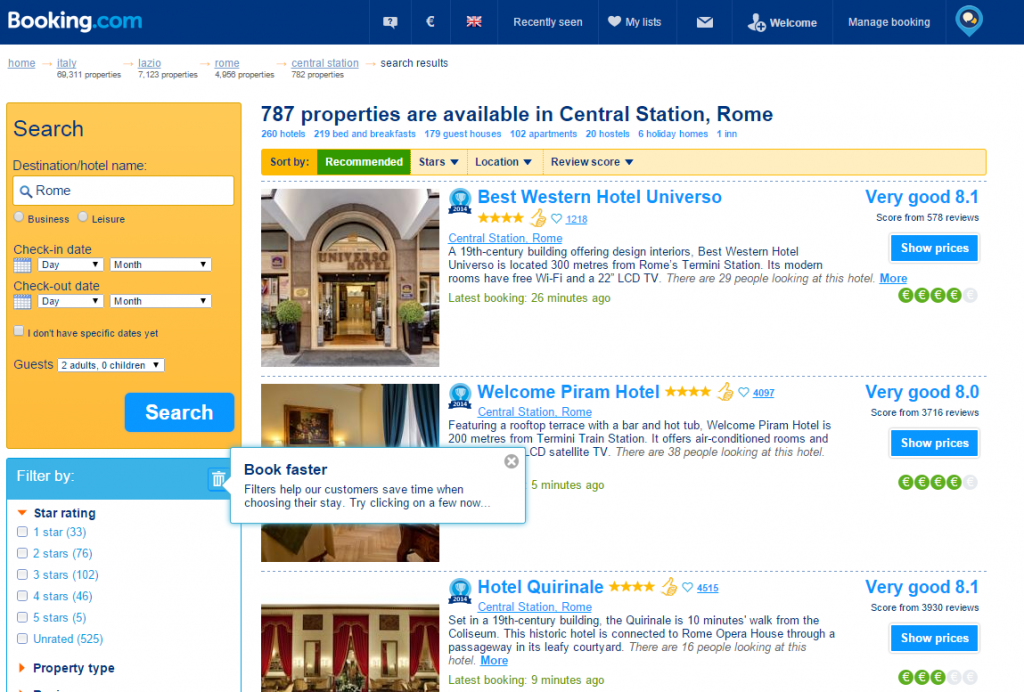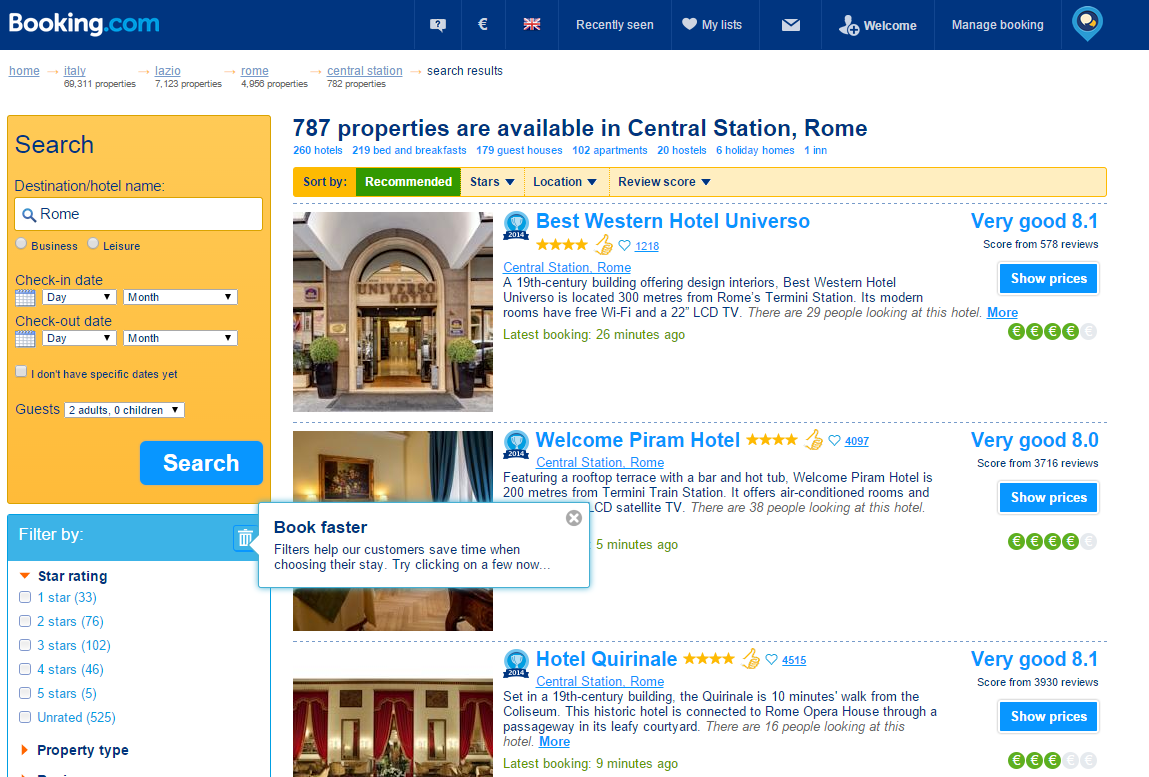 14. Filter by:
The "filter by" area is a great option for those who know what kind of property they like and it helps to easily drill down to just a few suitable options.
15. Great List of Filter Criteria
First of all they have added a clickable overview of the property types and the numbers of properties available in each category.
Then they have separate filter criteria:
Actually, a lot of aspects are connected to social proof elements.
And they know how to play with scarcity as well.
16. Hurry, Hurry (Scarcity)
Do you see the message: "There are X people looking at this hotel."
Accompanied by: "Latest booking: X minutes ago."
This works so well in making us want to book instead of waiting.
Please note that it doesn't tell us that the bookings took place in the same period you are looking to book. Smart guys. ;-)
I won't mention it as a separate point, but the "love numbers" do well I think (social trust):
17. Trust Labels
There is difference between people that quickly book and people that need more time and information before they book.
In general I belong to the first category since I am a quick decision maker. :-)
For those that need more trust, Booking.com puts a few smart features on the left side: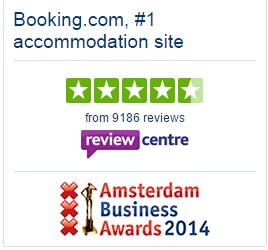 Awards and a lot of good reviews bring trust. They do a good job here to also help people that need more trust signs.
In general, these messages are placed a bit lower on the page.
We are getting closer to the actual booking funnel. but let's take a look at the single property page first.
Single Property Page (First Part of Booking Funnel)
Let's assume I am interested in one property called Best Western Hotel Universo:
18. Hurry, Hurry (Scarcity)
And again, we see this message: "There are X people looking at this hotel."
Accompanied by: "Most recent booking for this property was X minutes ago from X."
19. Credibility and Trust
At the upper left corner we see a trust symbol. Always good to make us feel comfortable by showing trust signs.
20. Social Proof
There is a carousel-like overview of testimonials. Very handy to find out what people think about a specific hotel. What is good about this place and what are the concerns?
You can click-through to see more reviews and to read them per target group (e.g. couple, family, group of friends).
On the social side they allow you to share this hotel on Google+, Facebook and Twitter. In this industry it is rather common that people share so it's a good thing to add.
Above the fold it is easy to get an impression of the hotel and whether it might suit your needs.
Big, beautiful pictures attract your emotional brain part.
You have the option to scroll down yourself or to click on the "Reserve" button. By doing so you will automatically scroll down to the rooms that are available: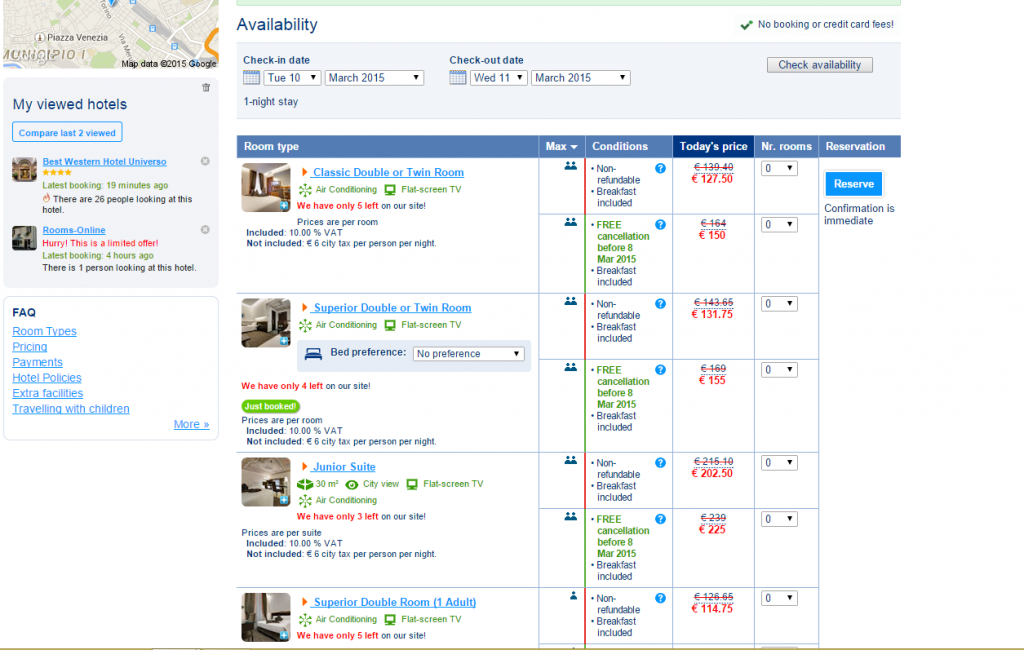 And again, lots of different elements here. FREE cancellation in green, nice!
21. Message: No booking or credit card fees
Prices play an important role in the booking decision. So this definitely adds value here. And good to tell this upfront so people don't have to worry about added costs later on.
We all want to book the best hotel for the lowest price.
Then they advertise with Today's price and put a discount in place. It makes you think the prices might be higher tomorrow.
Again, it keeps you in the mood to quickly book your favourite destination.
22. Scarcity Messages
"We have only X left" and "Just booked". Again, this helps to persuade people in a quick way and make them book at the first visit.
You don't want your favourite hotel to be fully booked so please hurry up.
23. Message: Confirmation is immediate
Next to the important call-to-action "Reserve" you see the "Confirmation is immediate" text.
It brings some comfort, because then I know for sure that the hotel will be mine!
For the rest they do a great job with colors to show you the difference between the rooms that are available and for what prices.
There is another important element to share with you.
24. Why to Choose Best Western Hotel Universo

It is common and a best practice to place persuasive elements on top of each page. These three reasons help people who hesitate still to convert.
Three extra reasons to book: great prices, easy communication and reviews that matter. It will help to convince some of the hesitators that are among us.
Let's assume you want to book and you select one of their accommodations: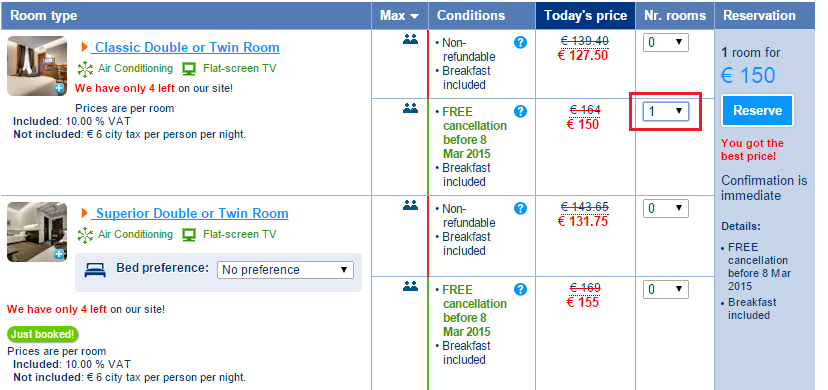 Oh man, here we go again. Please see the right side:
You got the best price! -> it makes me think I am great
Confirmation is immediate
FREE cancellation before 8 mar 2015 (just one or two days before my departure, no worries)
Breakfast included (yeah!)
A complete package, why shouldn't I book?
So this page has many "triggers" that improve the chances that you will book.
As you can see, they do a great job to completely persuade you to book in an early stage.
If I take a look at the next steps, we could conclude that they see "Room selection" as the first step in the booking funnel.
Booking Funnel
By now you are probably already persuaded to make a booking. Let's continue with the last part of our booking journey.
Step 2: Enter Your Details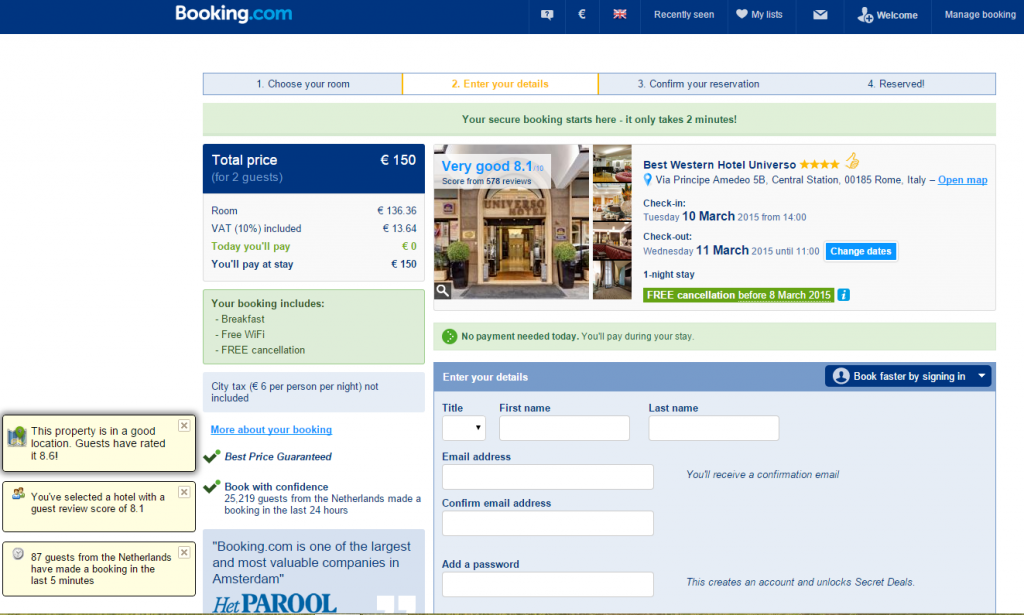 This page is full of persuading messages to make you convert. I will summarize the main points here.
25. Three Messages on The Left
This property is in a good location. Guests have rated it 8.6!
You've selected a hotel with a guest review score of 8.1
87 guests from the Netherlands have made a booking in the last 5 minutes
These messages are really convincing for a lot of people. Reviews are great, a lot of people from my home country do book via this website. It makes me feel good. It looks like I make the right choice if I book.
The chances that you will book are growing…
26. Message: No payment needed today.
It is great to know that today you don't have to pay any money. On purpose they show this message in green. It lowers the possible friction level.
27. Your Booking Includes:
Three main USPs from this hotel:
Breakfast
Free WIFI
FREE cancellation
If you can cancel (until the day before departure) for free, there are no worries. People are more easy to make the booking decision.
Of course Booking.com knows that in general the percentage of cancellations is below X percent. I don't know the exact numbers, but I am sure it is on the lower end.
28. Few More Convincing Lines
Your secure booking starts here – it only takes 2 minutes! // convenience and feeling secure
No payment needed today. You'll pay during your stay. // this is what a lot of people like
FREE cancellation before 8 March 2015 // I am really at ease now
29. Exit Pop-Up
Even if I dare to leave they do their utmost to keep me in the funnel. This message appears if I hover to the navigation bar:

Another smart action here to keep me in the booking funnel. These 33 people are probably not looking to book in the same period. But does everybody know this? ;-)
It creates urgency.
So this message in combination with the last two lines causes anxiety for people that hesitate. What if I don't book today? Is there still a chance tomorrow?
A few more things:
You can sign in if you already have an account or sign up
Sign up: they give you a reason to leave your email address and a password
Online access to your booking for FREE -> easy way to change or cancel your booking
Step 3: Confirm Your Reservation
This is the final page. It looks almost the same as step 2. This part is different and very important: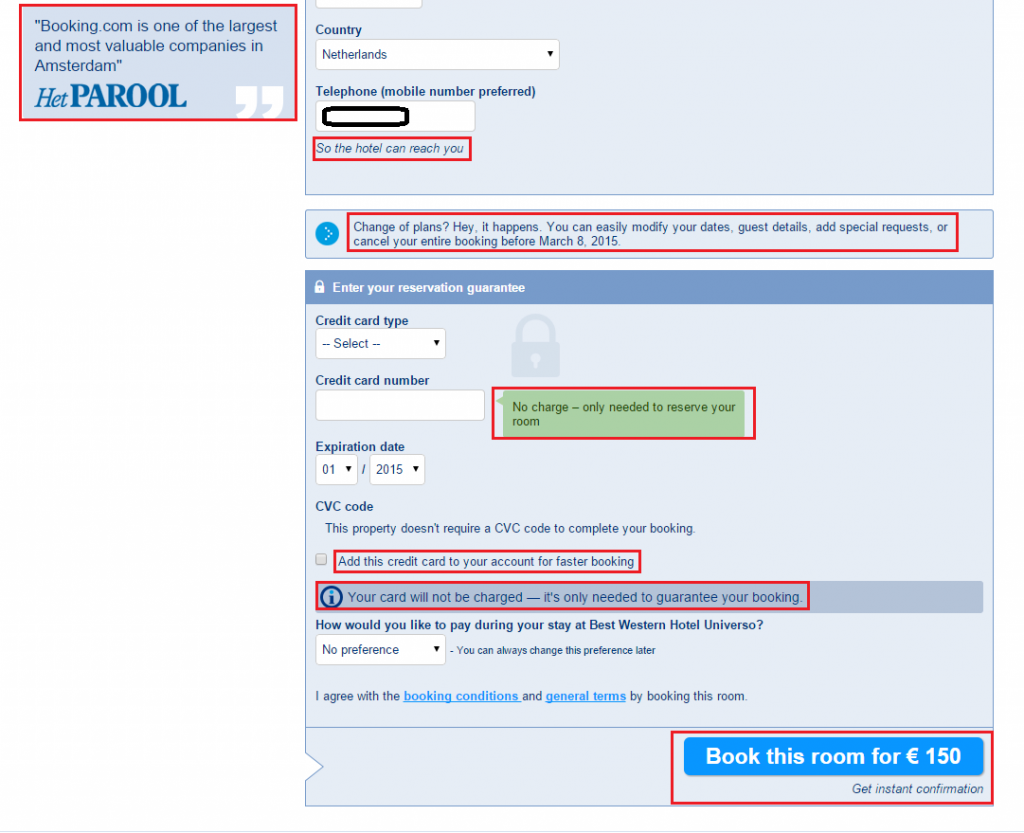 It's worth checking out these new elements.
30. Authority
"Booking.com is one of the largest and most valuable companies in Amsterdam." – Het PAROOL.
Authority can definitely be a great persuasion technique.
31. Change of Plans?
Again, Booking.com puts you at ease. You can modify your booking or even cancel it at no cost. Why should I worry, right.
32. No Charge of Your Credit Card
There are two similar messages here: they need your CC information to secure the booking.
And your card will not be charged.
33. Faster Future Bookings
They like you to add the CC information to your account. Of course, they tell you it is for your convenience.
On the other hand, they just know there is less friction the next time when you want to book.
There is simply no problem if you left your Credit Card at another place. Still possible to book then.
By people ticking this box, they will improve the CR of returning customers. I am sure about that!
And finally you hit:

Go ahead to make your booking if you want to see the "thank you page".
One more happy customer! :-)
This is my experience on the Booking.com website. I hope you have enjoyed my journey as much as I did.
10 Important Learnings
Booking.com does a tremendous job in persuading you to book.
Their homepage combines attractive elements for both new as well as returning visitors/customers.
No matter where you enter the website, they know which persuasive elements work and which don't.
They build up a profile of all their customers and use it for future targeting efforts.
Behavioural targeting on the individual level requires you to "recognize" your website visitors -> learn how to implement user IDs in Google Analytics).
Additionally, they make effective use of on exit pop-ups to keep you on the website / in the funnel.
Attractive prices in combination with FREE cancellation are the most prominent persuasive elements they use on the website.
The most important elements are repeated on almost every page in the booking process.
You never have the best version of your website live; always keep on testing!
Don't overly concentrate on investing in traffic, optimize your website and conversions as well.
In short, Booking.com provides you with valuable lessons on what to optimize, why, where and how.
Remember to test everything and don't simply replicate what another company does.
One last thing... Make sure to get my extensive checklist for your Google Analytics setup. It contains 50+ crucial things to take into account when setting up Google Analytics.
Download My Google Analytics Setup Cheat Sheet

(Visited 7,180 times, 1 visits today)