The road to online success is not easy and there are no shortcuts. You can get a huge amount of visitors on your website in short time, but this is just one piece of the puzzle. What happens next?
Without a reasonable amount of website visitors you can't survive online. On the other hand you will run out of money if the conversion rate and retention rate are dramatically low. Online success is roughly determined by three factors.
The picture below shows how to grow your business online: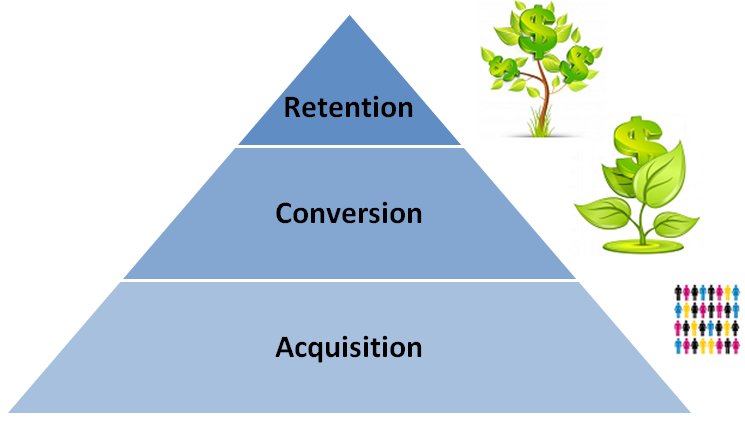 In order to succeed online, a company needs:
A highly efficient acquisition process; attract website visitors from different channels for a reasonable price
A good conversion rate; a great deal of website visitors taking a desired action on your website
A high enough retention rate; a good share of visitors convert again after their initial conversion (newsletter signup, brochure download, purchase etc.)
The Conversion Optimization process often goes wrong. Conversion rates vary enormously across websites. Within a specific market, conversion rates may vary between close to 0% to above 10%! And it doesn't only come down to having a great brand name. There is a lot more you can do to improve!
Where to Start
Don't start directly with huge investments in PPC or Affiliate campaigns. Your website comes first. You need to help your website visitors reach their goal.
Three resources that may aid you on your way:
In the following paragraphs more information is provided on the key activities: acquisiton, conversion and retention.
Acquisition
Acquiring visitors is the first step towards online success. Acquisition methods can be grouped in online and offline acquisition methods. They are often interrelated.
A list of popular online acquisition channels is given below:
PPC campaigns

SEO
Display ads
Affiliate campaigns
Social
Blogs
Email marketing
Video campaigns
A short overview of offline acquisition channels is shown here:
TV advertising
Radio advertising
Events
Direct marketing
PR
Brand awareness
Some channels might be more effective than others. It is always good to experiment with a mixture of different channels. This not only triggers the best results, but also lowers your dependence on one or a few channels.
Conversion
The second pillar of the online journey to success is conversion. The conversion rate on your website is not only affected by online factors. A few other things to take into account:
Brand strength; a strong brand tends to have higher conversion rates
Actual season; you might experience spikes in your conversion rate due to seasonalities
Competition; very competitive markets where people decide mainly on price are hard to win
Intention; the reasons why people visit your website are different. Buying your product is not always the primary reason for a visit
A bit more about intention. There are three types of website visitors:
Noes – Those that won't ever take the desired action
Yesses – Those that will always take the desired action
Maybes – Thoese that may take the desired action
Ignore group 1 and 2 and focus on group 3. That will help you to drive more conversions.
Read more about The Myth of Perfect Conversion by Tim Ash.
Retention
Retention is the third, but very important part of building online success. Each organization should balance their focus on acquisition, conversion and retention. The costs of acquiring a new customer are much higher than the costs of retaining one.
This Fastest Way to Lose Customers infographic from KISSmetrics is worth a view.
The financial crisis should bring extra focus on retaining customers. Nowadays it is more difficult to bring in new customers than ever before.
Five things to focus your attention on:
Your employees are your customers; 

the chances of retaining your customers are much higher when you have a great team to support them

Offer great products and services; your customers want the best and they tend to switch easily
Make your customers more important; ask them regularly how to improve your products and services
Reward your customers; the best customers should be rewarded with free products, a coupon, a great trip etc.
Have a formal and informal relationship with your customers at the same time; stay professional, but act funny now and then
Great, by now you probably have a deeper understanding of the three factors that contribute to your online success.
In the last part of this article the online measurement part is discussed.
How to Measure Online Success
It is very important to setup an online measurement environment that fits the trinity of acquisition, conversion and retention.
I assume here that you are using Google Analytics for the measurement part.
A simplified online measurement model is shown below: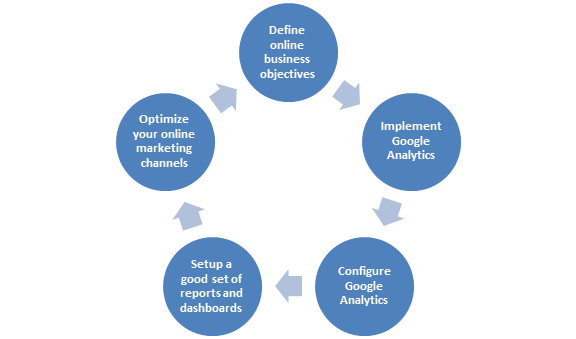 Define your online business objectives; think about what you want to achieve with your website. Define your website KPI's and conversion goals, segments to target and targets for each segment

Implement Google Analytics; install the Web Analytics codes with your online business objectives in mind. Make sure that you measure everything that is related to your business objectives
Configure Google Analytics; setup the basics in the right way and use the right set of filters to derive greater insights.
Setup your reporting; it is highly effective to include KPI's on acquisition, conversion and retention within the same reporting environment
Optimize your budget allocation model on on- and offline traffic sources; incorporate A/B and Multivariate testing
I hope this overview helps you on your way to online success!
One last thing... Make sure to get my extensive checklist for your Google Analytics setup. It contains 50+ crucial things to take into account when setting up Google Analytics.