Do you spend more than 90% of your budget in traffic and less than 10% in real optimization efforts? Well, you are not the only one.
I recommend you to re-evaluate your budget for upcoming year if you fall in this group.
Investing time and money in conversion optimization can definitely pay off big, especially in the long run.
That's why I recommend working on your knowledge and skills in the CRO field as a top priority.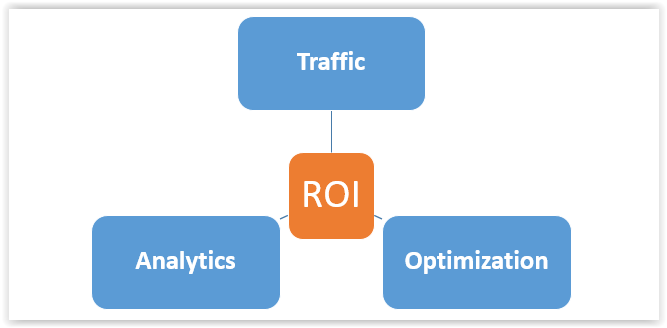 "You need to acquire the right type of traffic, use your data wisely, combine it with psychology and transform it into smart experiments to ultimately lift your ROI."
I have evaluated the best conversion optimization blogs that are currently out there and distilled my top 15 favorites list.

1. Bryan Eisenberg
The Eisenberg brothers, well-known in the CRO field.
Bryan and Jeffrey are recognized authorities and pioneers in online marketing, improving online conversion rates, Persuasion Architecture, marketing tools, web analytics,  big data and persona marketing.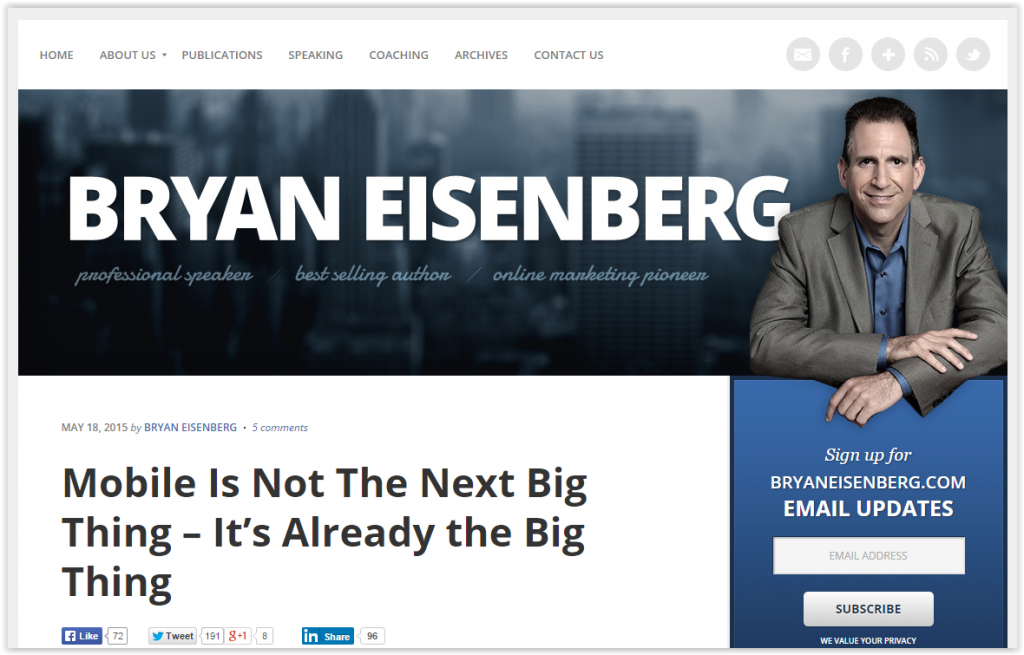 Although they don't publish every week, their articles are pure gold. Make sure to subscribe to their blog.
Here are a few additional books you might want to check out as well.
2. Conversion Rate Experts
Conversion Rate Experts is one of the global companies in the conversion optimization field.
Consultants are active from all over the world.
Every now and then they add new interesting articles to their article base. It's good to stay in touch with them!
3. Conversioner
Are you not only interested in conversion tips, but also in emotional/psychological persuasion tactics? This is the blog to visit!
Talia Wolf is owner of Conversioner and does a great job in spreading her knowledge.
You can meet her at international conferences where she is often invited to speak.
She and her colleagues provide you with actionable, in-depth articles that are definitely worth to read.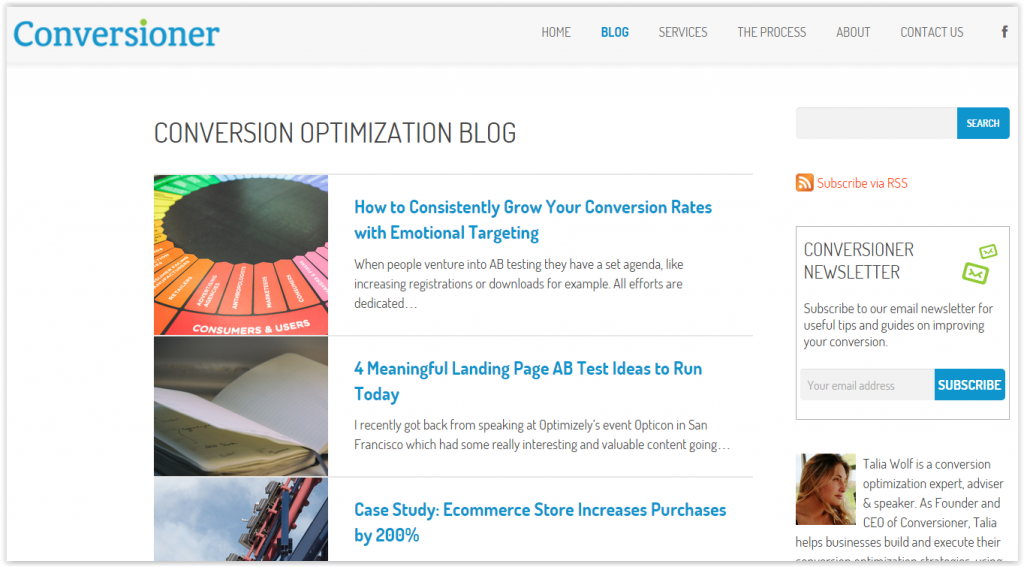 4. ConversionXL
ConversionXL is judged by many as the best CRO blog that is out there today and I have to admit they publish great content.
In the early days Peep Laja wrote most content by himself. By today many other top notch CRO specialists attribute to the ConversionXL blog.
Subscribe to his newsletter if you want to learn a lot of new things about CRO.
5. Convert
Convert is known as an affordable A/B testing tool. Although I cannot say anything about the quality of their product (never used it), their blog contains quite interesting posts every now and then.
I would advice to scan through their posts and to find some valuable tips on your conversion rate optimization journey!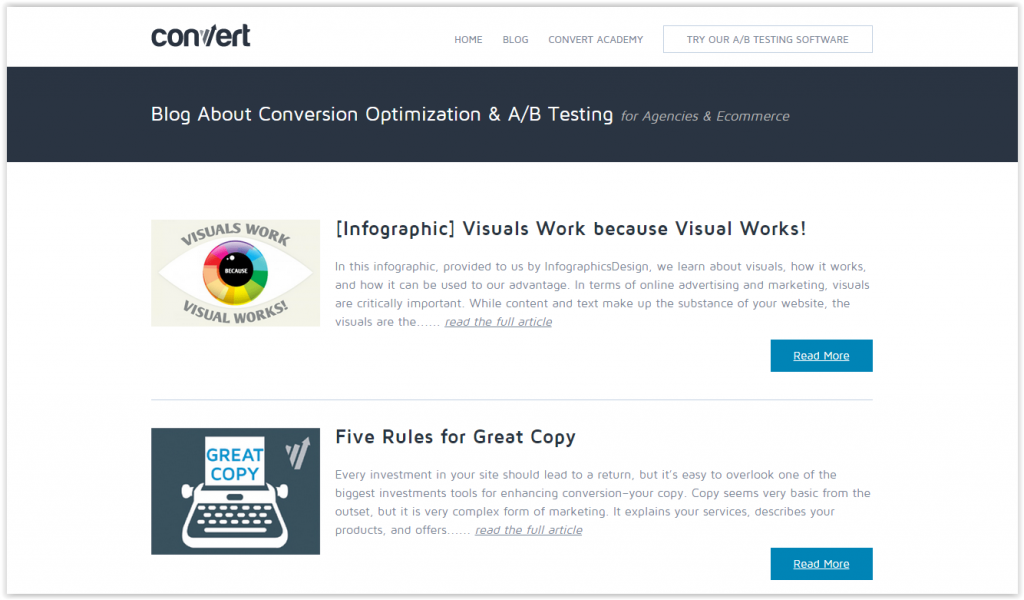 6. Invesp
With more than 10.000 subscribers and a solid blog, Invesp is definitely worth to pay a visit.
On top of their blog posts, there are interesting webinars on topics related to CRO.
7. KISSmetrics
Neil Patel, co-founder of KISSmetrics (until the end of 2014) is the driving force behind the growth of the KISSmetrics product.
They effectively use content marketing (great quality content) to further increase their customer base.
And you can find great in-depth posts on conversion and related topics. I have found real gems on their blog: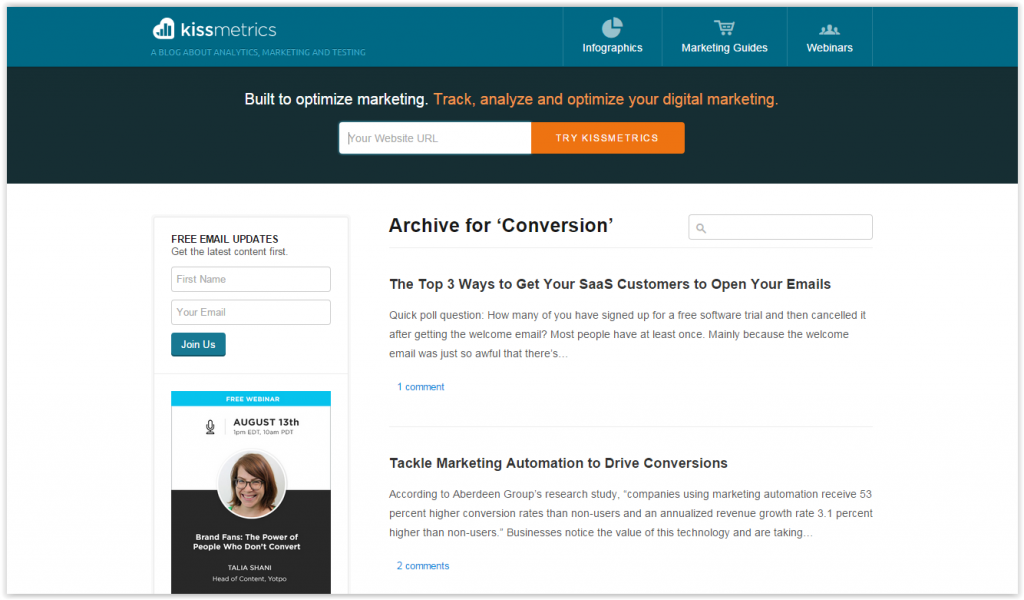 Here is an extra link to KISSmetrics' testing related blog posts.
8. Marketing Experiments
It's not the typical blog you would expect in this list. They write posts on many different topics.
On average your will find two to three new articles in their analytics & testing category each month.
And it's definitely worth it to check it out.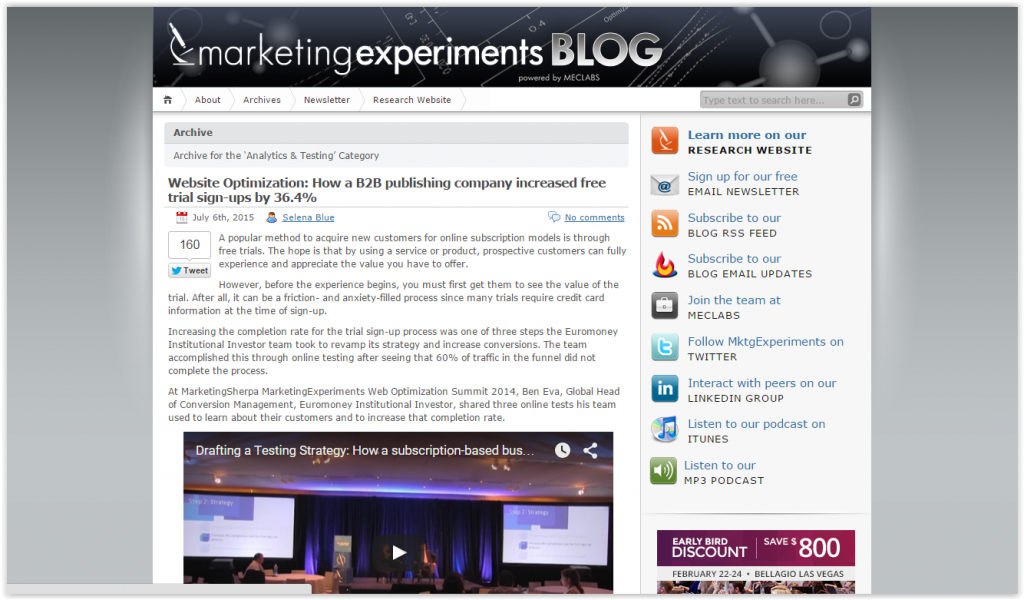 I really like how well researched most blog posts are, just judge by yourself!
9. Neuromarketing
CRO, Psychology and Neuromarketing are closely related. And one doesn't go without the other.
Roger Dooley does a tremendous job bringing these disciplines together on his popular blog.
That's one of the reasons why I have added this one to my list: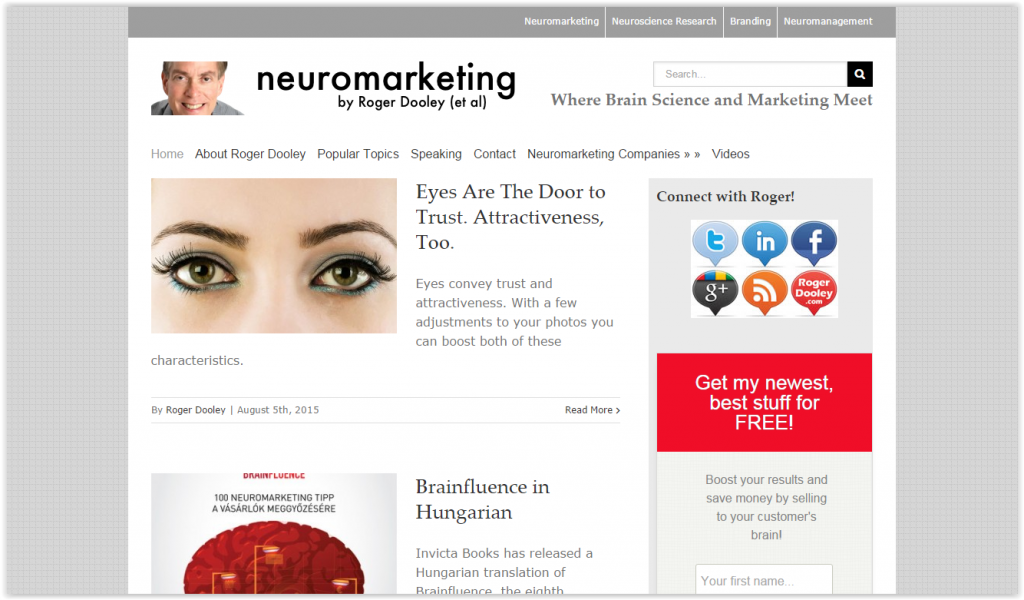 If you aim to get a broader understanding of conversion rate optimization, you should definitely check this one out.
10. Optimizely
Optimizely is one of the most popular testing tools that is available on the market today.
In addition to that they run a very popular blog. Both focused on items related to testing with Optimizely, as well as fresh evergreen content in the field of conversion optimization.
That's why they deserve a spot in my top 15 conversion optimization blog list.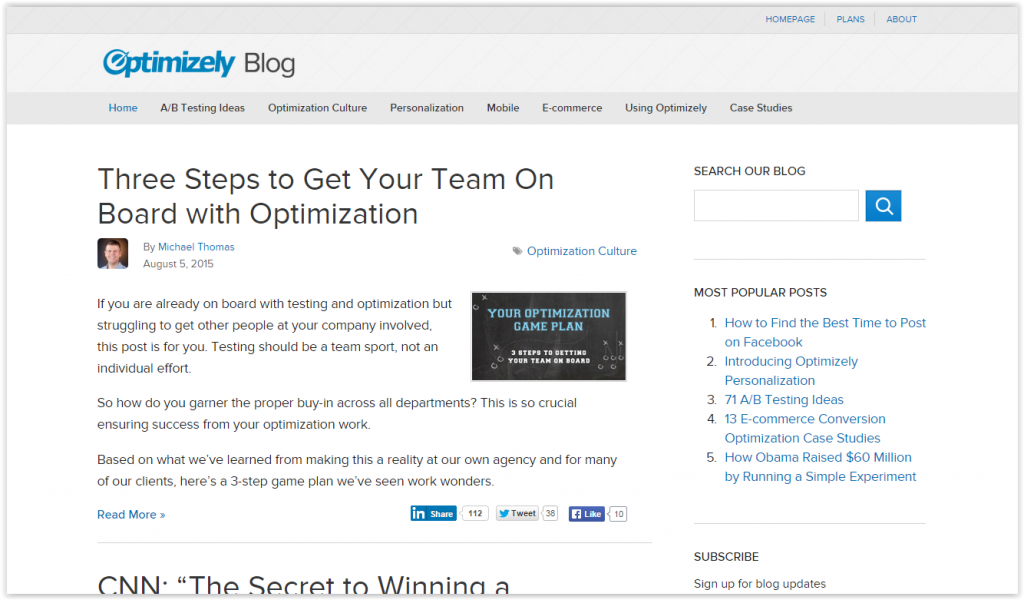 11. Rich Page
Rich Page, who is this guy? A question some or even many of you might ask.
Already back in 2012 he wrote a book named "Website Optimization: An Hour a Day".
A book filled with information on CRO related topics. With a foreword written by Bryan Eisenberg, it's one the books that should be on your bookshelves.
Although he doesn't write that often, I definitely recommend to consider reading his posts.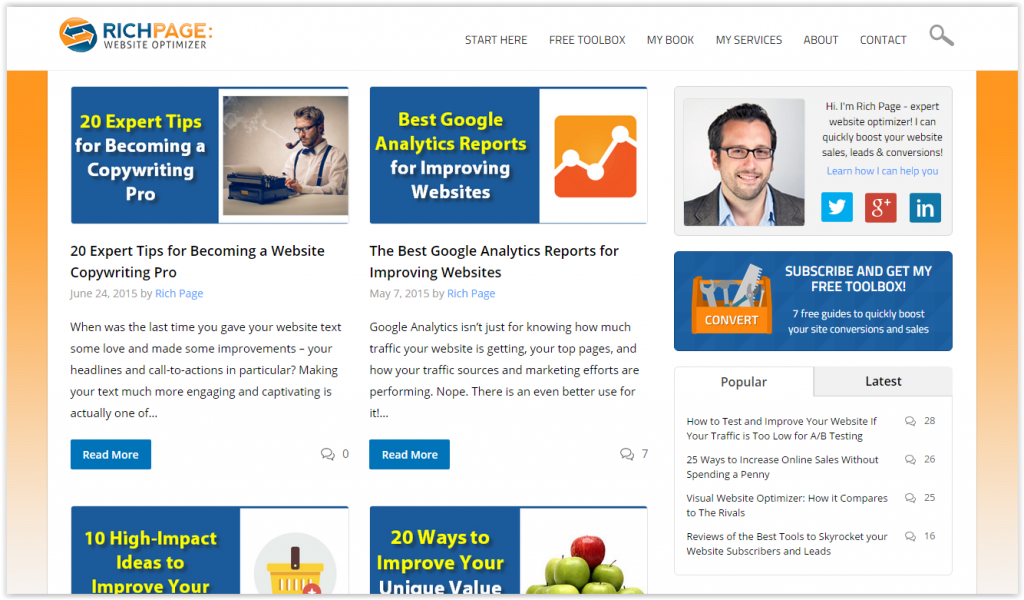 One more tip: Rich Page's Free Conversion Rate Optimization Toolbox.
12. SiteTuners
Tim Ash, CEO of SiteTuners, is leading a great CRO company. The company is known as one of the trusted companies in the field.
Do you want to benefit from their expertise for free?
Their blog contains a range of interesting posts on conversion optimization and directly related topics.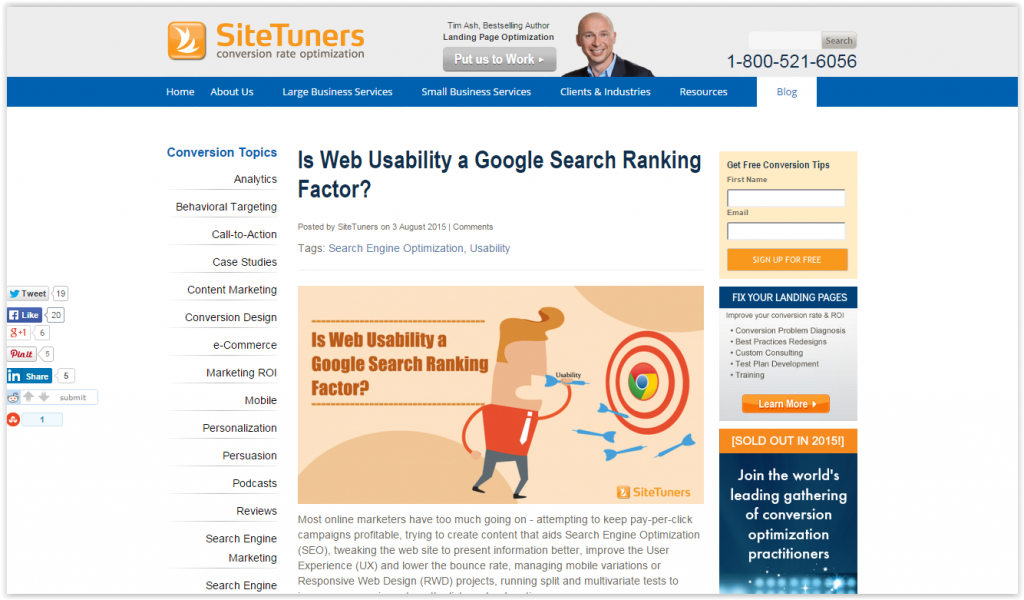 I recommend to read this very popular book as well.
13. Unbounce
Unbounce provides solid tools for building landing pages that convert. They are a great name in the world of A/B landing page testing.
Rick Perreault is the CEO, but the "face" of Unbounce is Oli Gardner. A few months ago Michael Aagaard joined their team.
They both can deliver a great performance on stage!
And their blog is a great read as well. Go check them out:
14. VWO
VWO positions themselves as the A/B testing software for marketers.
For less than $50 per month you can give their tool a try.
Add their blog to you list if you like to get some practical tips and insights on testing related topics on a weekly basis.
15. WiderFunnel
Chris Goward is the CRO of WiderFunnel and one the recognized experts in the world of marketing optimization.
He is also the author of "You Should Test That!", a popular book on conversion optimization.
I have hesitated long whether to add them to my list or not. This since they haven't published many posts of late.
However, there is a ton of evergreen content on their blog. It's definitely worth going through their blog archive.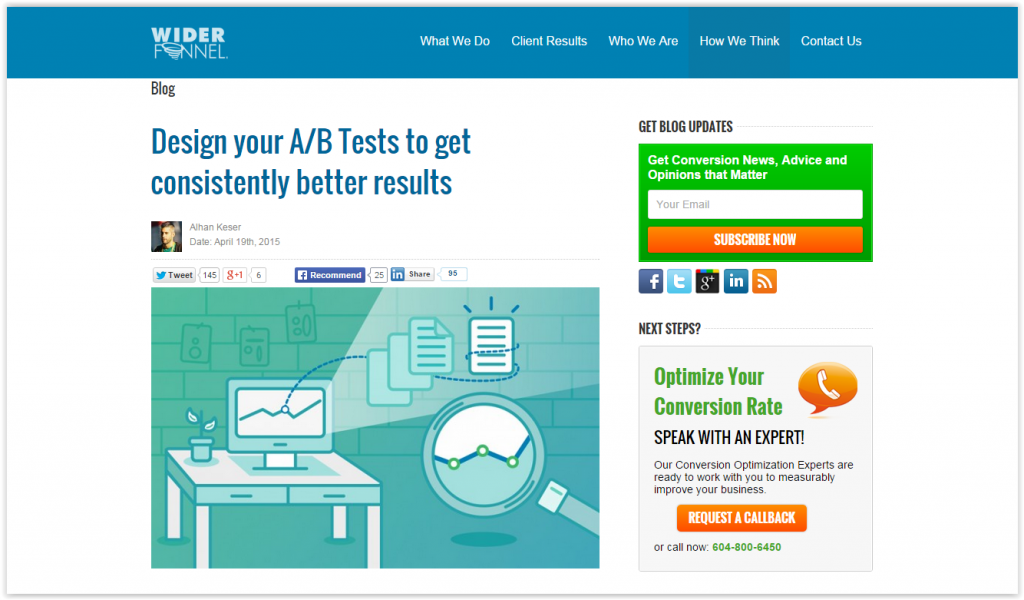 I am happy to share this list with you and I hope this helps you on your journey to become an expert in CRO.
Actively reading and engaging at popular conversion rate optimization blogs is the first step. Don't forget to put things in practice as well.
What are your most popular CRO blogs? Do you have any tips to share?
One last thing... Make sure to get my extensive checklist for your Google Analytics setup. It contains 50+ crucial things to take into account when setting up Google Analytics.
Download My Google Analytics Setup Cheat Sheet

(Visited 422 times, 1 visits today)