This is the first article in a series of SEO articles on search engine ranking factors. The title tag is (one of) the most important attributes to optimize to rank higher in the search engines.
I will show you how to optimize the title tag to rank higher and attract more search engine traffic to your website.
As an example, down here in blue the title tag of my page focused on "SEO Metrics" is shown: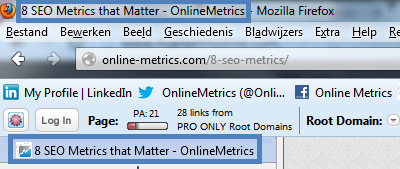 How to Optimize Your Title Tag
Every day I encounter too many websites that don't use this important tag to their advantage. This is really a pity since this tag is an important ranking factor and not that difficult to optimize for better results.
As you might know, the H1, H2, H3 etc. tags are all visible on the actual webpage. However, the title tag cannot be seen on the page itself.
As shown below, this tag is part of the <head> tag on a webpage:

In the following paragraphs five best practices for getting the most out of your title tags are described.
1. Focus on Keywords
One of the most important parts of SEO is keyword research. You will have a really hard time to rank, if you don't focus your website on the keywords your audience is looking for.
It is a best practice to optimize every webpage on one keyword, or better said "keyphrase".
Make sure to include the keyphrase of a specific page in the title tag of that page. As you can see in the screenshots higher on this page, the keyphrase "SEO metrics" is included in the title tag example.
2. Write Unique Tags
It is important that you focus each page on a specific topic where you try to rank for. This not only counts for the keyphrase in your body copy, but also for the keyphrase in your title tag.
If you add the same keyphrase to three pages on your website, the page that is the highest in the website architecture has the highest chance to rank for this term.
So please keep in mind that you add unique title tags to each of your webpages.
3. Place Keyphrase before Brand Name
For 99% of the websites I would advise to place their brand name behind the keyphrase they are trying to rank for on a particular page.
The first few keyword spots in your tag carry more weight than the words at the end.
As a rule of thumb:
Big brand names (Coca Cola, Adidas, Amazon) might place their brand name first and the keyphrase after; they already have a lot of ranking power and their brand name itself might attract a lot of clicks in the search engines

The rest of the brands/websites should focus on placing their keyphrase at the start of each individual title tag
If you have a website/brand where you really don't care about your brand – I doubt whether that is a good thing :-) – you can decide to not use your brand name in this tag
4. Do Some Testing Now and Then
Title tags not only have an impact on your rankings, but also on the number of clickthroughs from the search engines. Down here you can see how this tag looks in the search engines: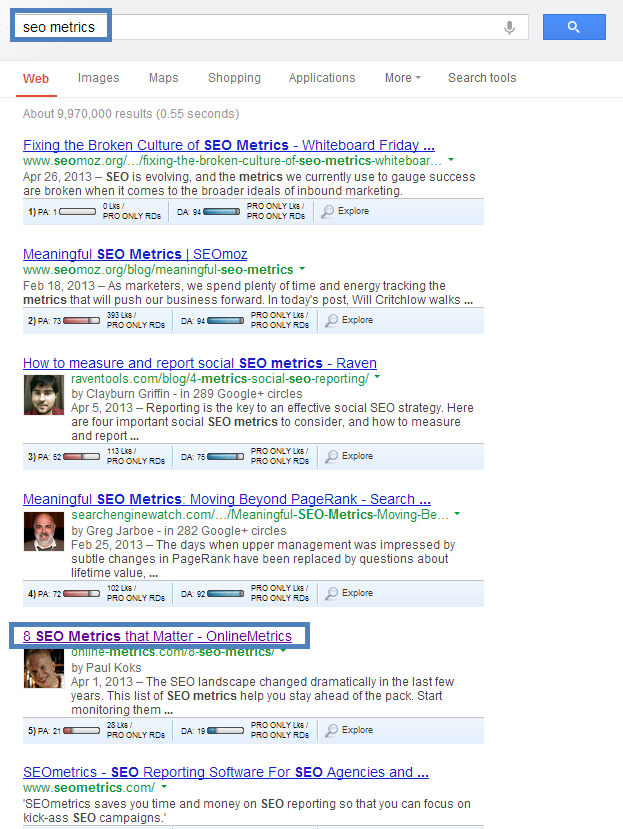 It is a great idea to regularly test the title tags of your most trafficked pages and see what happens to your visits and CTR.
After you link Google Webmaster Tools to Google Analytics, you can find this data in Google Analytics:

Instructions on where to find this data within your Google Analytics account:
Standard Reports | Traffic Sources >> Sources >> Search Engine Optimization.
5. Keep the Title Tag Length in Mind
70 characters is the maximum number of characters that will display in the search engine results. Since this might vary across engines and slightly change over time, I would advise to limit your title tag to 65 characters.
I am sure you will rank higher if you apply this set of best practices to all of your title tags.
One last thing... Make sure to get my extensive checklist for your Google Analytics setup. It contains 50+ crucial things to take into account when setting up Google Analytics.