Do you want to take your Google Analytics skills to the next level? So that you can get the job or raise you deserve?
Google Analytics can be a tremendous help in optimizing the outcome of your website.
However, it is just a tool and a smart analyst is needed to translate numbers into insights.
The popularity of Google Analytics is growing every day.
Around six million followers on Google+ and thousands of enthousiastic followers join their Google+ community each day.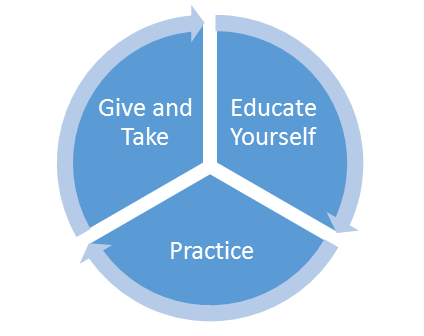 This article not only helps you to become better at working with Google Analytics through following a three steps process. You will also learn how to grow your network of like-minded people which can be really valuable as well.
Step 1: Educate Yourself
It depends on your current level, but for all of us it is important to keep on learning via others but also by ourselves.
There are many different ways to cultivate this self-directed learning.
Books
I have always enjoyed reading books. There are many different reasons why you should read every day.
When I started out in this field, I read every web analytics related book I could get my hands on.
Besides that I have educated myself in a more broader sense and read books on a number of different online marketing and business related topics.
In the field of Web Analytics – focus on Google Analytics – I recommend to at least read the following books:
There are many more books I have read (numerous times), but this is just a short list to help you get started.
What are your favourite books that you would recommend to others?
Blogs
Last year I have published a highly valued post about the top 20 Google Analytics blogs.
Here is the current list (updated in January 2015):
Pick a few that suit your needs best and you will definitely learn some great new things about Google Analytics.
Oh, and don't forget to interact with the top professionals that are running these blogs.
You will get a lot more out of it than if you are just a passive reader.
Are there any other Web Analytics blogs that deserve your attention?
Seminars
It depends on your budget and location, but everywhere around the world Google Analytics workshops can be taken. If you search well you will find online options that might be a good fit for you.
The advantage of attending seminars or workshops, is that you have better chances to interact with other people as well.
Just do a few searches in Google:
Google Analytics event (followed by the country or city where you live)
Google Analytics workshops
Google Analytics seminar
Google Analytics training
Google Analytics courses
Case Studies
It is always great to read real stories about companies that have improved their performance through Google Analytics.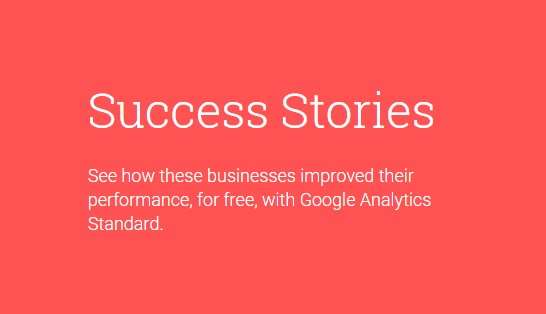 Google has published quite a few case studies that are worth reading.
Although you might be working in a totally different market/company, these cases will give you some great information you can benefit from.
Free Courses from Google
Already quite a few years ago Google started to offer training & certification for Google Analytics.
Since that time they have greatly expanded this Google Analytics training & certification area online: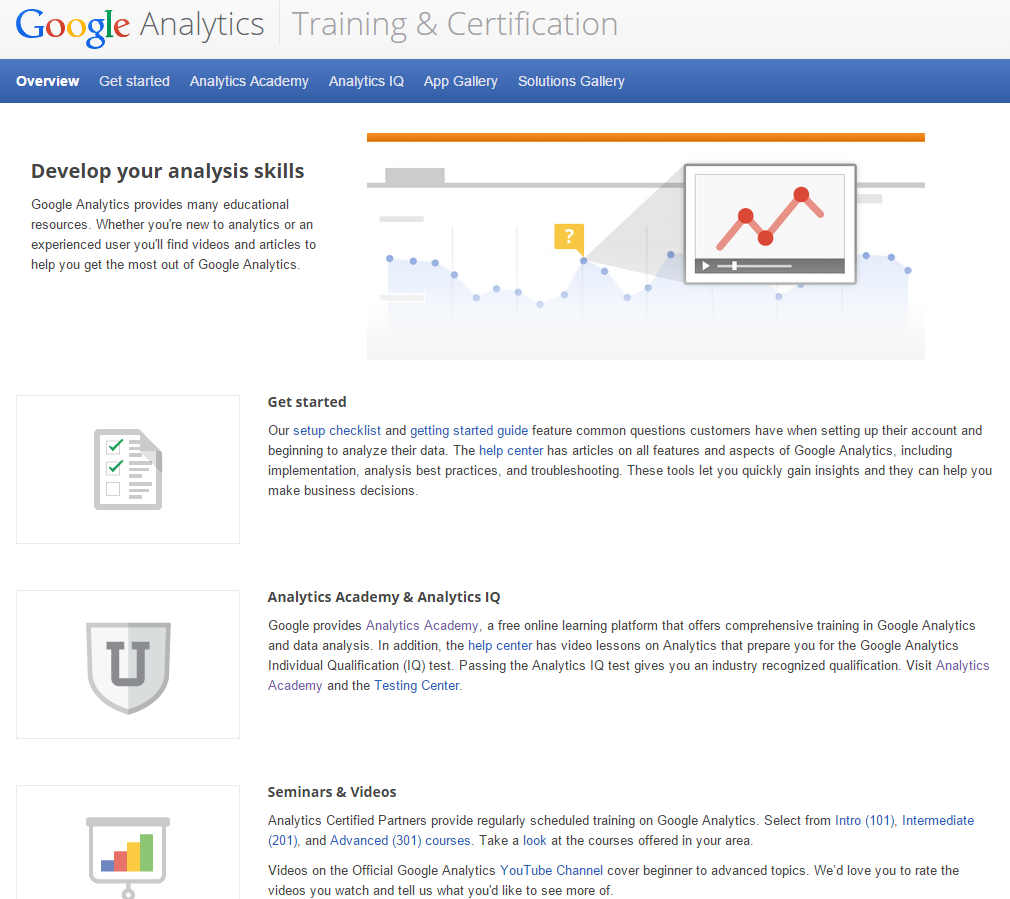 These resources are especially useful for those who are just starting out and work on developing basic Google Analytics skills.
The videos on YouTube might be resonating with advanced users as well.
Web Analytics Education
Some people enroll in an online course just to get that certificate. I don't believe this approach will help you in the long run.
What's the value of having an Analytics certification if you are not able to show your web analytics skills? It simply doesn't work.
There are many different – both paid as well as unpaid – education options to choose from.
Take a look at this list of eight study options to boost your web analytics career.
Are there any other online Analytics courses you would recommend?
Step 2: Practice
In my opinion, a lot of people keep on reading, reading, reading… But never do something with their knowledge.
I strongly advice to grow your knowledge and experience by putting things in practice.
This is not only true for Google Analytics, but it is related to all areas in life.
Start a Website
A great way to learn on the way is by setting up a website by yourself.
It's easy, fun and rewarding.
I was thinking about my first website back in 2007 and in 2010 I created the first about marathon running.
Over the last 5 to 10 years I learned a lot in different fields.
Read this post to get even more inspired to set up your own website or online business.
Volunteer
Not everybody is able – due to financial, time related or other reasons – to set up their own website.
Or you simply don't want to wait until real traffic is coming in.
But you know what, this doesn't have to be a problem. You can start with offering Google Analytics services for free.
By doing so you will help others, quickly build your own resume and at the end you might end up with a nice job or freelance contract.
There are many companies out there that don't know how to implement Google Analytics or how to use the data to make smart decisions.
Here is an example of a Google Analytics project that needs volunteers like you.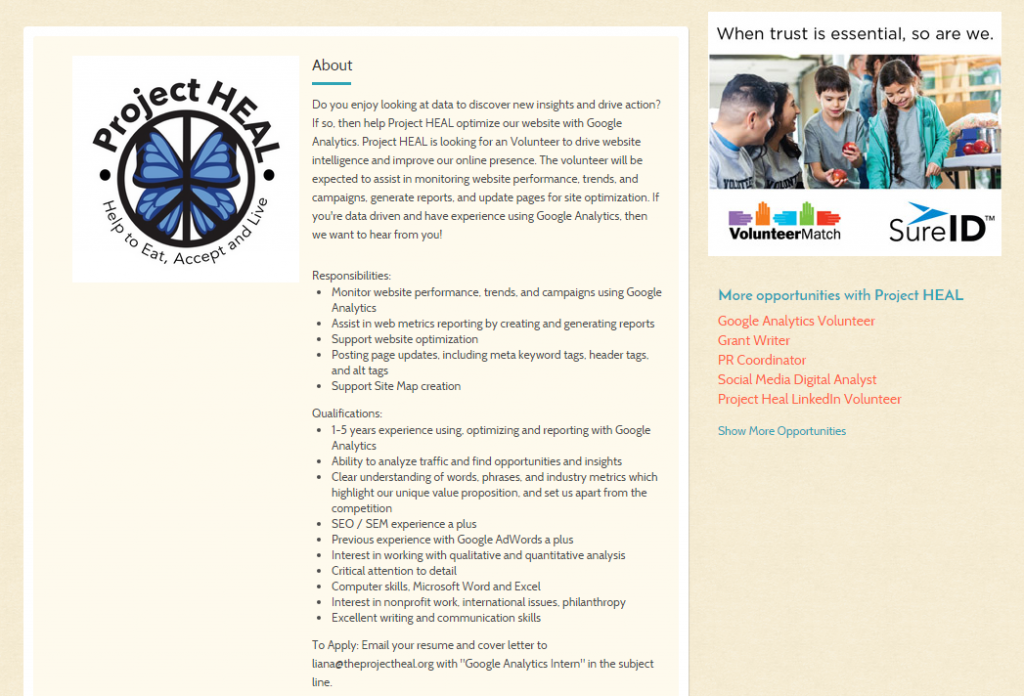 Step 3: Give and Take
Great, there is one more step if you really want to improve your Google Analytics skills.
I have found – through setting up this blog – that helping others on their path is fun, rewarding and really improves your own learning effect.
And of course, if you have questions, you can benefit from the knowledge of other people as well.
In relation to Web Analytics (and Google Analytics) I recommend three different things.
Join the Digital Analytics Association
Their mission statement:
"The Digital Analytics Association makes analytics professionals more effective and valuable through professional development and community."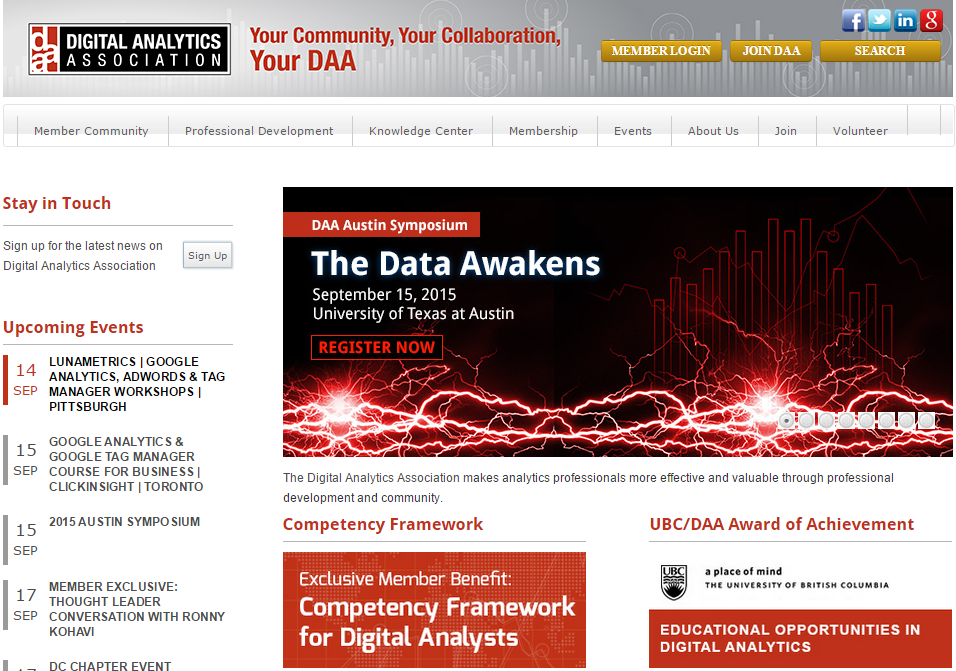 The benefits of joining DAA as an individual are threefold:
Professional development and huge discounts on courses, workshops etc.
Free career resources that will boost your career
Community and networking opportunities
For individuals the membership costs are $199 per year.
Social Media Interaction
There are many different Social Media platforms where you can share your knowledge and learn from others.
Personally I am the most active on LinkedIn, Twitter and Google+.
Especially on Google+ I feel the interaction with others is great.
Here are the three communities I am currently involved with:

Just set up a Google+ account and join one or more communities and you are ready to go.
Not too long ago I was happy to help someone out on regular expressions: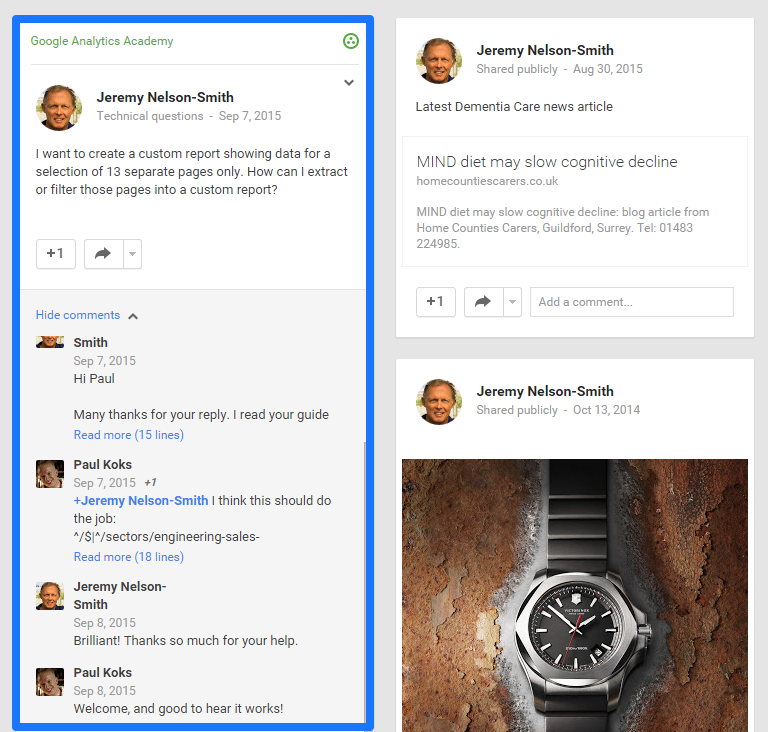 This is the last step in growing your Google Analytics skills. Eventually you want to invest enough time in all steps that are discussed in this article:
Educate yourself
Practice
Give and take
In your opinion, what are other effective ways to enhance your Google Analytics skills? I am happy to read your feedback in the comments below.
One last thing... Make sure to get my extensive checklist for your Google Analytics setup. It contains 50+ crucial things to take into account when setting up Google Analytics.
Download My Google Analytics Setup Cheat Sheet

(Visited 1,554 times, 1 visits today)