Do you want to leverage what you have built in Google Analytics? And earn the credits that you deserve? In this post I show you the exact steps you need to take to make this happen.
Sharing and leveraging everything you do and build in Google Analytics is extremely powerful.
Over the last few years the sharing capabilities have dramatically grown.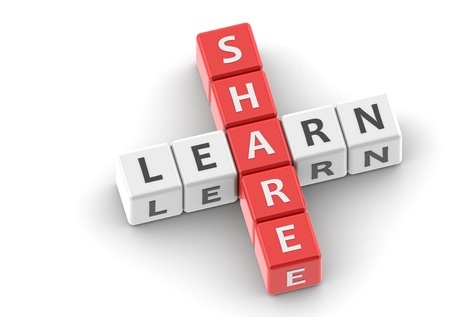 These special features make it more easy to share your data, reports etc. within Google Analytics, with your team and even at a much larger level.
This article brings you a holistic overview of the Google Analytics sharing capabilities.
There are three main sections:
Sharing with your team
Sharing outside your team
Sharing between views
1. Sharing with Your Team
In this chapter I will explain how to share different features with your team.
It will greatly help to share your knowledge with team members or anyone else you want to teach something new.
And it will save you a huge amount of time since you don't have to build think twice.
Account Access
The person who sets up an account automatically has the highest access level.
From this account login you can control who else to give access and at what level.
I have written an extensive guide on setting up your Google Analytics account.
I recommend to review section 2, 7 and 17 if you are not familiar with account access.
Custom Reports
Custom reports are extremely powerful. They provide you with complete flexibility in building reports with a set of dimensions and metrics.
This example is based on one of my test views:
Step 1: Go to the "Custom Reports section" (via link Customization) and click on "share".

Step 2: Click on "share template link".

Step 3: Share the link that is generated below.

Pass it on to your team and they will be happy to review the custom report you have created and shared!
Dashboards
Google Analytics dashboards can easily be shared with colleagues. There are two options I like to address here:

If you share the object, others will see the dashboard in their account; you have the option to delete a shared dashboard.
If you share the template link, others can add the dashboard as a private dashboard to one or more views.
Which option is best depends on what your goals are. Share the object if you want to be in control.
Data
Data in Google Analytics can be shared in multiple ways.
You can share data as a (custom) report or dashboard.
Other ways of sharing your data:
Export a report and send it manually by email or place it in a mutual folder (dropbox).
Schedule an email and choose the delivery time and format.
Automate your Google Analytics data export and share a Google sheet.
As you can see, there are many different options to share data with your team.
Filters
The most important sharing option here, is to share a new filter in multiple views.
You can accomplish this as follows:
Navigate to admin interface.
Click on "All Filters".
Click on filter you like to share across multiple views.
Add or remove filter to/from other views.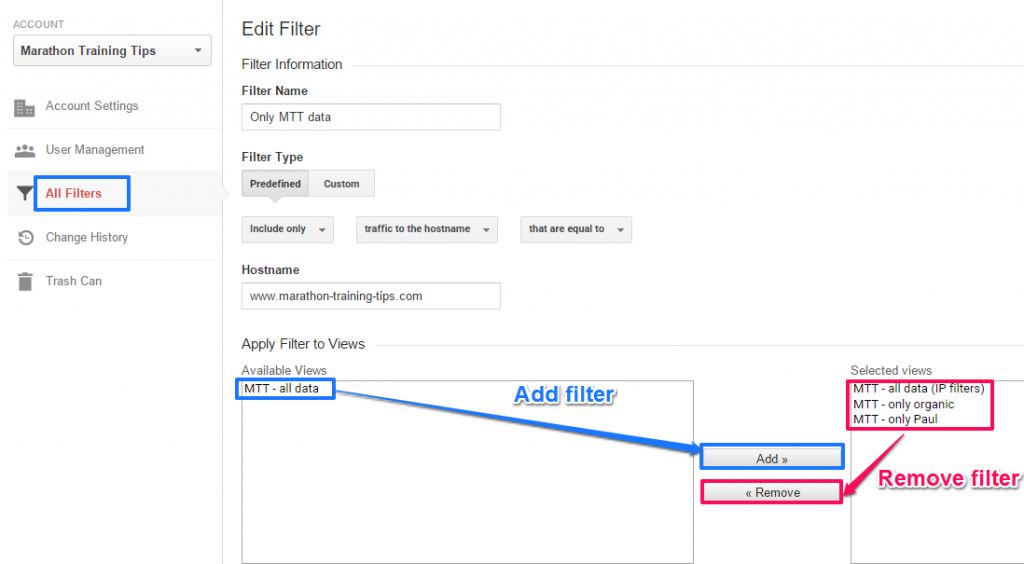 And like I mentioned before, if you copy a view the filters are added to the new view as well.
Goals
You have to set up your goals at the view level.
Google Analytics allows you to share goals as well.
Step 1: Navigate to goal overview in view.

Step 2: Select the goal you like to share and click on "share".

Step 3: Select "share template link" and click on "share".

Sometimes it can be useful to share goal settings with your colleagues or other people that you know.
Especially when these goal are more universal across multiple sites like duration or engagement goals.
Segments
Google Analytics segments are not always easy to set up, but at the same time very powerful.
That's one of the reasons why this sharing option appeals to me.
You can accomplish this as follows:
Navigate to admin interface.
Click on "Segments" under "Tools & Assets".
Click on "Share" for the segment you like to share.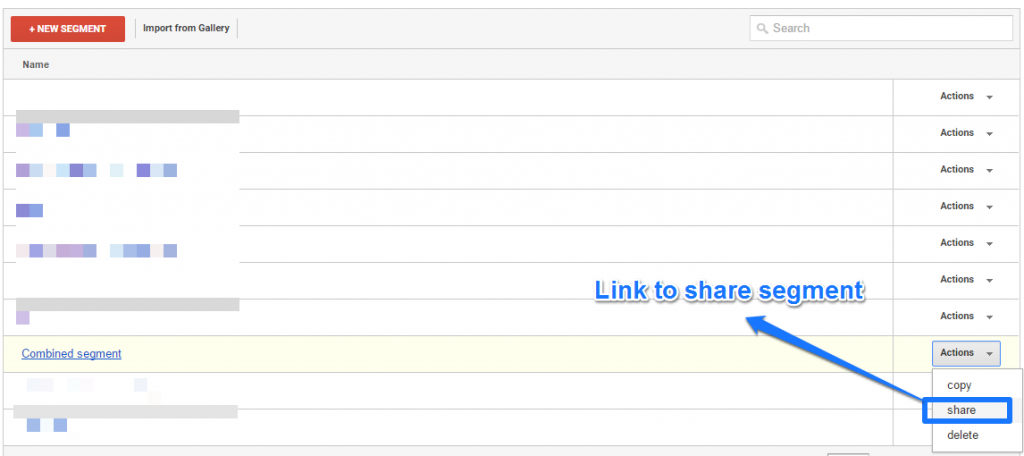 Last step is to copy and share the code that is shown below.

Shortcuts
Google Analytics shortcuts are direct links to pre-configured reports. They cannot be shared the normal way.
However, there is a trick to share them via the email option in Google Analytics.

Assets
Not too long ago Google Analytics added a new functionality in the admin interface. It is called "Assets".
It can be really handy since this feature allows you to share all or a selection of all the following:
Custom segments
Goals
Custom channel groupings
Custom attribution models
Custom reports
Dashboards
It can be found in the admin interface and then it's the last option of the "View" tab.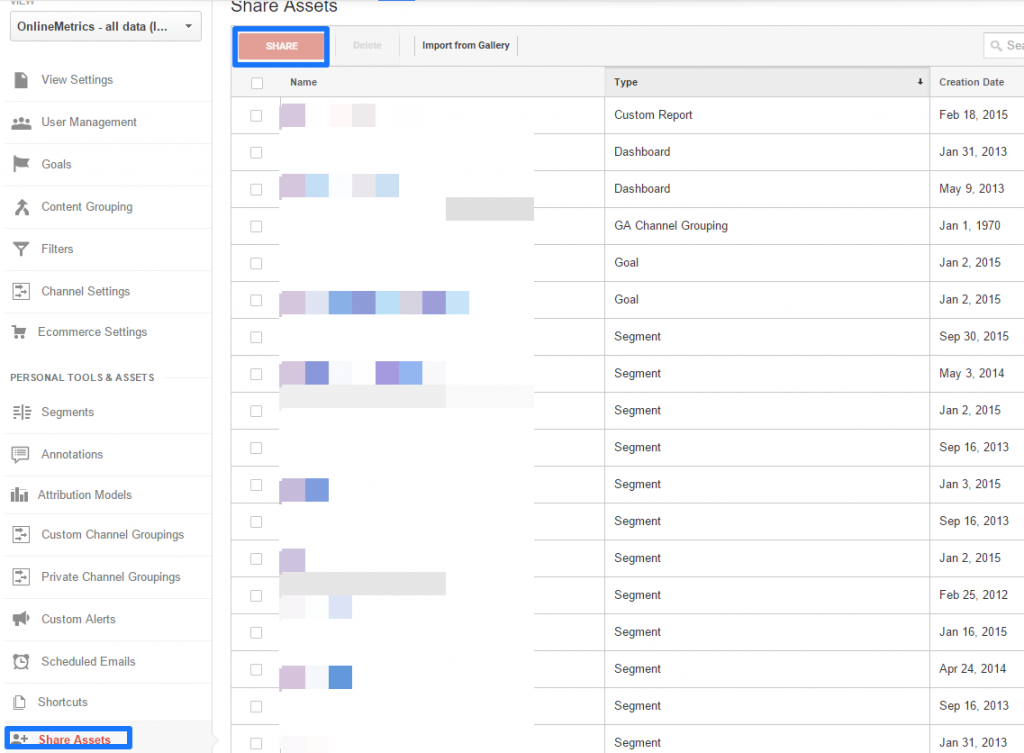 This is quite a long list of ways to better share stuff with your team.
Try to leverage what makes the most sense to you!
2. Sharing Outside Your Team
The solutions gallery offers a perfect opportunity to get some external credits on useful things that you came up with.
Via your Google Analytics account and "share in solutions gallery" links you can share a lot of things you think that are useful to others as well.
Visit this page if you want to get an impression of what others have shared and found useful.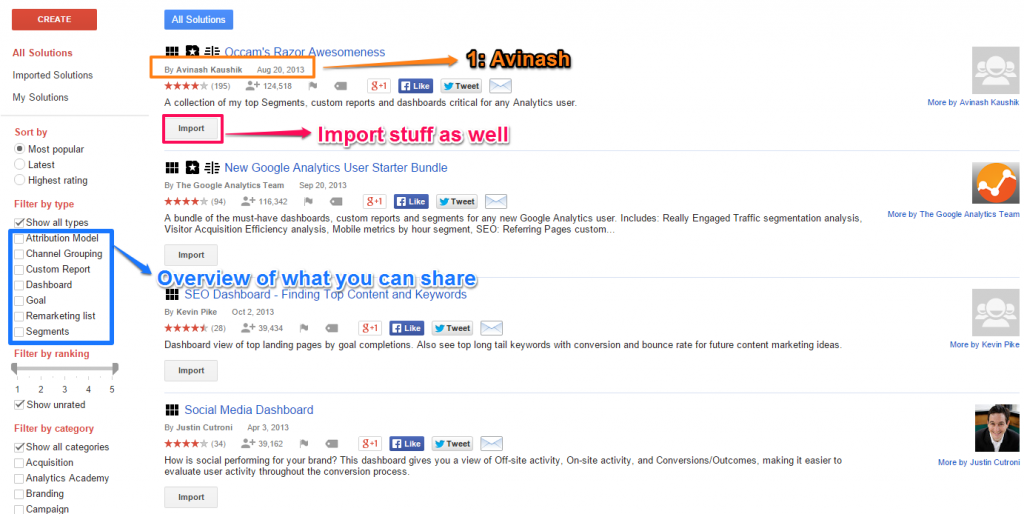 In my experience there are not a lot of people actually using this feature.
I can only say, just try it! Get some inspiration and share what you have learned with others. I have found it very useful every now and then.
3. Sharing Between Views
Sharing between views is a very powerful third option. Each Google Analytics account consists of one property and one view at a minimum.
In most cases you want to have more data views for each property. The maximum number of views is 25 per property.
Overview of five useful views:
All data (no filters)
All data (filter on own traffic / IP addresses)
AdWords data view
Organic data view
Test data view on your IP addresss
Let's assume you have set up one data view that includes:
Chances are big that your second view is almost the same, except that it includes a few different filters.
Why set up a completely new view if you can copy the settings of view number one?
Step 1: Head over to the admin section and click on "view settings" (view you want to copy).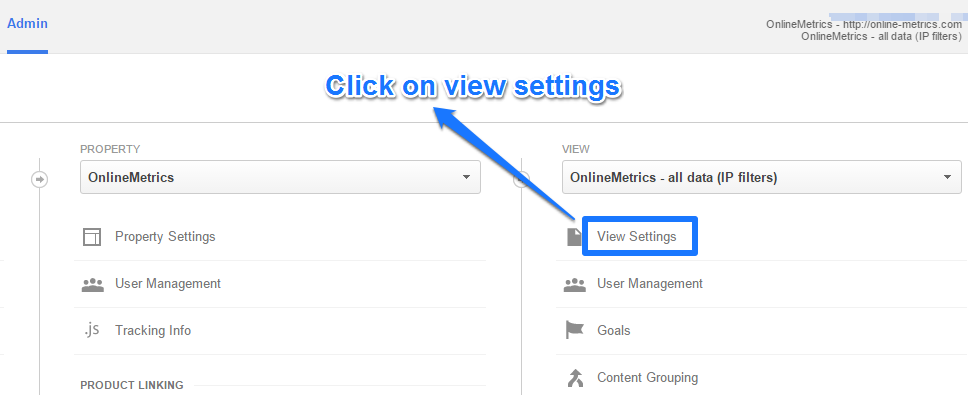 Step 2: On the upper right corner click on "copy view".

Step 3: Fill in "new view name" and click on "copy view".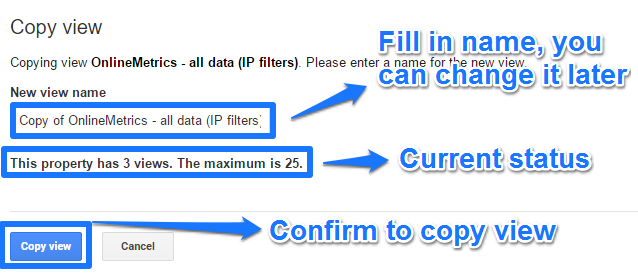 Step 4: Check your view settings and make changes if needed.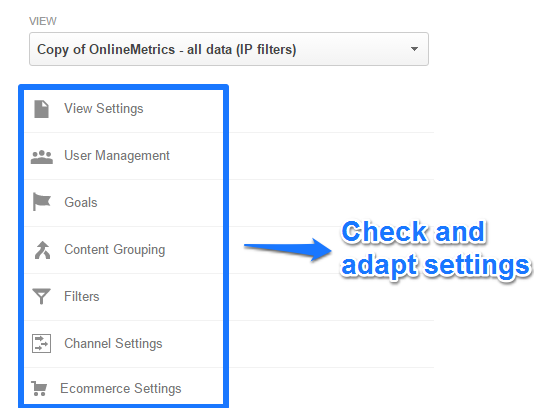 This can be a huge timesaver. Especially if you plan to work with multiple views in the same property.
It can help if you first outline your settings in Excel (or other tool), so that you can easily make some modifications if needed.
Note: the actual report data is not copied, only the settings.
I hope these tips help you to better leverage and share what you have created in Google Analytics.
Do you have any other tips with regards to sharing in Google Analytics? Happy to hear from you!
One last thing... Make sure to get my extensive checklist for your Google Analytics setup. It contains 50+ crucial things to take into account when setting up Google Analytics.
Download My Google Analytics Setup Cheat Sheet

(Visited 2,286 times, 1 visits today)