Over 90% of the Google Analytics setups I have seen are not properly configured. And this is not only true for low traffic websites.
Setting up Google Analytics can be done in minutes.
However, collecting reliable data and insights is a whole different story.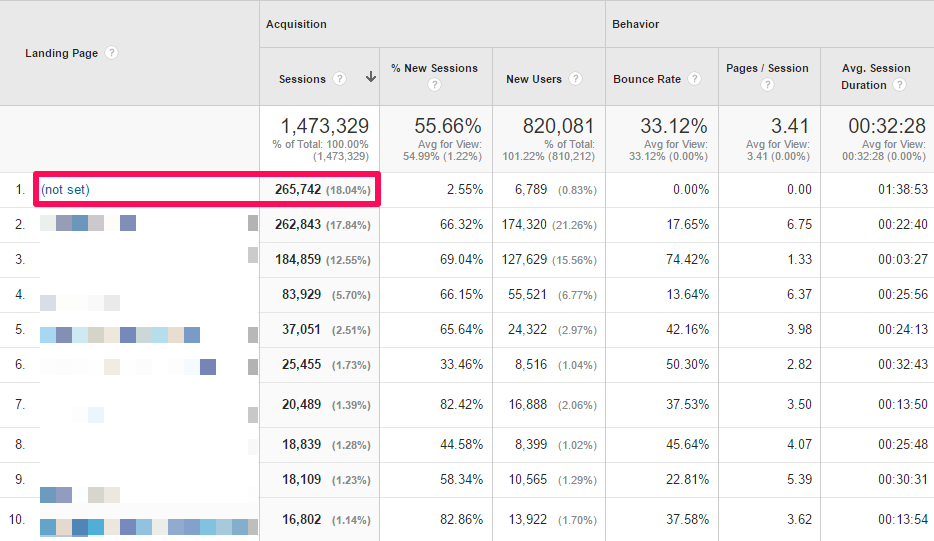 In the last 10 years I have literally seen hundreds of Google Analytics accounts. And most of them were incorrectly configured.
I am not talking about user id's, ecommerce tracking, custom dimensions etc, but just the basic stuff. It so often goes wrong.
In this article you will learn about 10 mistakes people often make when setting up Google Analytics.
Let's start with the first one.
1. You Don't Have a Measurement Plan
Why does your website exist?
Many people get confused when I ask this question. It sounds simple, but giving a clear answer is not easy for most people.
What is the main goal of your online business and what are your secondary goals?
Read this post about macro and micro goals if this sounds unfamiliar to you.
Here is a simple example: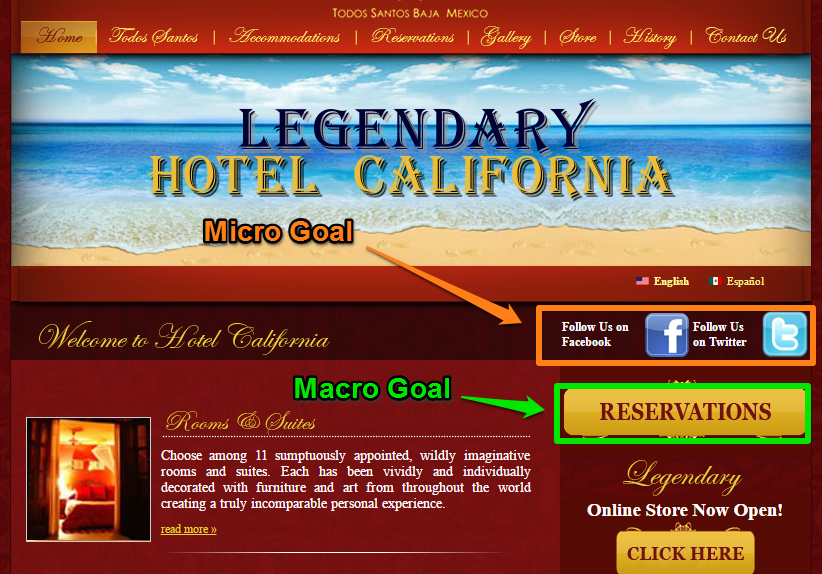 Hotel California probably wants you to book a room or suite.
However, if you follow them on Twitter, you might book a room later. Social Media "actions" can be seen as secondary goals.
You can build a solid measurement plan if you know what you want to achieve with your website.
This is a crucial starting point if you want to collect valuable data.
2. You are Not Tagging All Pages
It sounds like a no-brainer, but I still audit websites that have a problem here.
In most cases, all pages get tagged automatically.
Three examples where things can go wrong:
"This page is not important to us and doesn't need to be tracked." No discussion here, track every page on your website. You need to have a very good reason to not track a page.
The company blog is located on a subdomain, but unfortunately there is no GA code there.
Other tools are used to build special (landing) pages, e.g. Leadpages. If you use external tools, you want to be sure that these pages are tagged as well.
Screaming Frog, if correctly configured, is a great tool to check your website tags.
3. You Put the Code on the Wrong Spot
In general you should follow these rules:
Google Analytics

without

Google Tag Manager:
Paste your tracking code snippet (unaltered, in its entirety) before the closing </head> tag on every web page on your site you wish to track.
Google Analytics 

via

 Google Tag Manager:
Copy and paste the GTM container code snippet into your website. If possible, divide the tag in two parts:

Paste the <script> tag as high in the <head> of the page as possible.
Paste the <noscript> tag immediately after the opening <body> tag.
Only deviate from this settings if you are an experienced user and have a good reason for doing so.
Read this article for a quick, smart installation of Google Analytics via Google Tag Manager.
4. You Don't Filter Your Own Behavior
Do you belong to the same group of people as your target audience? Most probably not.
You normally visit your website with a complete different reason than your regular website visitors do.
For example, you want to test a new feature on your site or you want to see how your new design looks.
I recommend to filter out your own IP address and those of known partner companies that are not going to buy from you.
If you still want to track yourself and those "known" other people, you can set up a different view for this specific group.
For testing purposes you need to set up a separate view that contains only your IP address.
Here are two useful guides to help you get started with filters:
5. You Don't Have an Unfiltered View
Filters are powerful, but at the same time they can ruin your data.
And there is no way back here.
In every set up I include a view that doesn't contain any view filters. It's a "rescue" view in case things go wrong.
In addition to that, you should always test your filters and their impact first. And I recommend to set up a different view for this purpose.
6. You Don't Have Active Goals
Google Analytics goals are among the most important features in Google Analytics.
How can you determine the value of a channel, landing page or keyword if you don't set up your goals? Or if you set them up in the wrong way?
In one of my recent Google Analytics audits I came across different views with goal settings like this:

They implemented their goals in the wrong way and no goal data was collected. It was totally due to misconfiguring their goals.
Here is an in-depth guide to Google Analytics goals I recommend reading.
7. You Don't Have Goal Values
In general, if you define an action as a goal, it should have some value to your business.
If not, there is no reason to set it up as a goal.
I recommend to set up relative goal values for each of your goals. E-commerce goals are an exception.
An example of how to determine your goal value:
You are running a website and one of your goals is collecting email subscribers. Here are some numbers:
On average, an email subscriber remains on your list for one year
In one year you have 10.000 email subscribers
The total revenue generated from this list is € 25.000
Let's assume you want to relate the goal value to the lifetime period of an email subscriber.
In that case you can calculate the goal value as € 25.000 / 10.000 = € 2,50.
So you want to fill in a value of € 2,50 for the "thank you page" of an email subscriber.
It's not always that clear what the value of a goal is.
Try to work with relative goal values and you will do fine. At the end it should provide you with valuable insights so you know where and what to focus on first.
Note: E-commerce transactions are already tracked with a value. So in order not to measure things twice I wouldn't define a goal value for your "e-commerce thank you page".
8. You Are Only Tracking Pageviews
The true power of Analytics lies in not limiting yourself to measuring pageviews.
It's very important to also measure the on-page behavior of your website visitors.
Event tracking is your best friend here.
Let's assume you run a content platform; here are a few things you might want to measure:
Scroll behavior (how much of your content do your visitors usually see and which content performs best?)
Video engagement (which embedded YouTube videos visitors watch the longest and how does it correlate to email sign ups?)
Which Social Media profiles do my website visitors click on the most
These are just a few things that you can do with event tracking.
If you know how to "code" you can literally measure everything that happens on your website. Make sure not to overdo it.
9. You Don't Measure Your Internal Site Search
Your internal site search reflects where your visitors are looking for.
It helps you to better position and market your content, services and products.
Walmart is doing a great job here. I did search for "dell laptops on sale" and their first match might be perfect: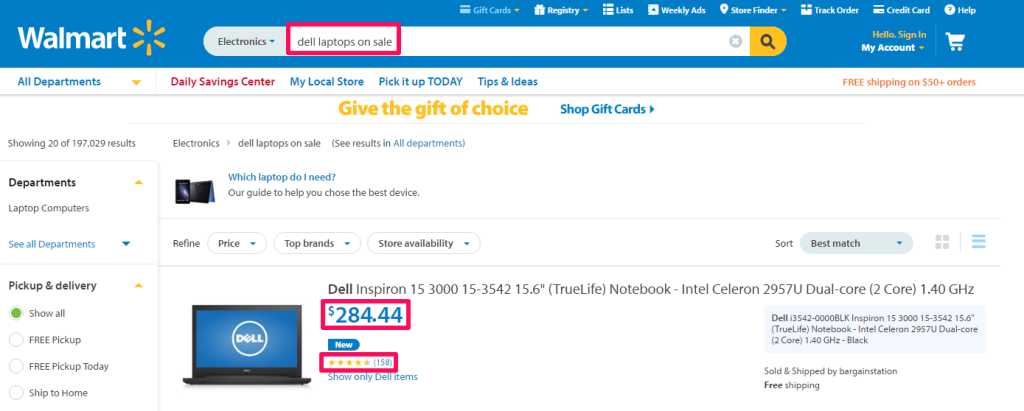 This product has great reviews and a competitive price.
So if you have an internal site search on your website, you should measure it's impact on your website visitors.
How do they use it and on what page? What are typical searches? Which changes do you need to make to better satisfy your visitors?
These and a lot more questions you need to answer to improve your website ROI.
Learn more about why to set up internal site search and how.
10. You Don't Tag Your External Campaigns Correctly
Remember, on default Google Analytics only tracks:
Direct traffic
Referrals (incoming links from other sites)
Organic traffic
Additionally you can connect AdWords to Analytics to also measure your AdWords traffic.
However, most companies do run banner ads, email and/or affiliate campaigns in addition to that.
You need to use UTM tracking to set this up.
This campaign tracking guide provides you with hands-on help to measure your online marketing campaigns more effectively from today!
There is a lot more to do if you want to derive the best insights to boost your online ROI.
At a minimum this list will give you a head start compared to many other companies using Google Analytics. Please share any challenges you have with getting your setup right!
One last thing... Make sure to get my extensive checklist for your Google Analytics setup. It contains 50+ crucial things to take into account when setting up Google Analytics.
Download My Google Analytics Setup Cheat Sheet

(Visited 7,110 times, 1 visits today)