"You're losing customers if you have not configured Google Analytics correctly."
A thorough Google Analytics audit is the first step in ensuring high data quality.
It's critical that your most important business decisions are based on accurate data. And your data needs to be both relevant and actionable.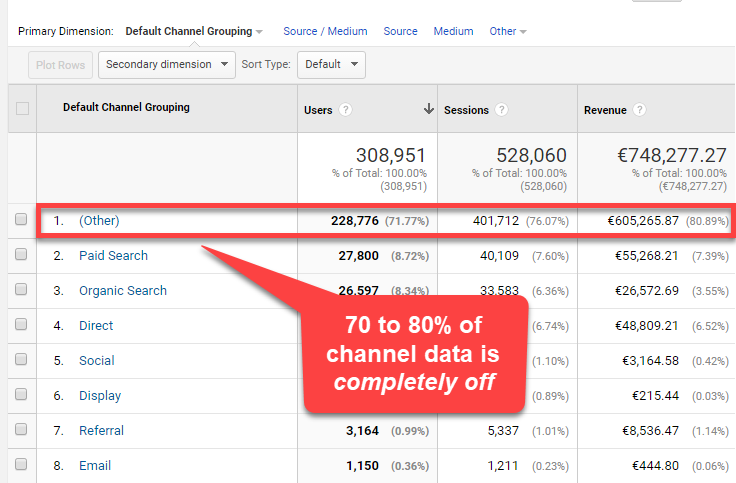 Investing time in reporting, analysis and optimization is a waste if you haven't spent enough time getting your data collection process right.
Do you really trust your Analytics?
Reviewing hundreds of Google Analytics accounts has learned me one thing:
"At least 95% of the Google Analytics implementations lack in one way or the other."
Most often there are at least a few major flaws that greatly diminish your data quality.
Here are five mistakes that are very common:
Channel measurement inaccuracies.
Bad filters and unreliable data.
Goal setup issues.
Duplicate page issues.
Ecommerce tracking flaws.
My Google Analytics audits are very comprehensive, always up-to-date and cover every aspect of your GA setup that you need to get right.
So that you start collecting high quality data that help make the best business decisions!
How my GA Audit can help you?
This Google Analytics audit is right for you if you want to:
Get an honest Google Analytics account review from an Analytics Expert who doesn't hold back.
Collect data that you and your team can trust.
Stop losing more customers because of bad data insights and decisions.
Justify spending more money in certain aspects of your business.
Learn a ton about Analytics and Optimization along the way.
I know my Google Analytics audits are not for everyone.
As a passionate Analytics and data quality advocate I only work together with a handful clients at a time. It means you can't hire me one hour for solving one minor issue.
The first service that I offer to every new client is a Google Analytics audit. However, sometimes a great first phase turns out in a longer mutual agreement. And I am always open to talk about this!
My audits are not a one-hour quick fix, but require a time investment from both of our sides. Don't be afraid, most of the work will be done by me.
Most often I combine the Google Analytics audit with a Google Analytics account configuration. With my prior knowledge gained during the GA audit phase I am well prepared to do your GA account configuration as well!
Google Analytics Audit Project
As you can see, there is not a "Buy it Now" button on this page.
You might have read some Analytics posts and think I might be a good fit for your challenges. Or someone who knows both of us referred you to me.
In either case, let's have a quick chat first!
This is how it usually goes.
Although I am always happy to hear from you, I recommend to quickly read through each of the following chapters first. You will learn a ton about how I work and what you can expect when we start working together. Thank you!
Phase 1: Initial Contact
Send me a quick email if my process and deliverables sounds good to you.
If possible, share a bit more background information:
Website URL(s).
Current Analytics challenges.
Other details you would like to share.
Phase 2: Quick Call
We schedule a quick call – no more than 15 to 20 minutes – to find out whether my services are right for you.
Before this call I already spend a short time getting to know your business and website(s) better. You will notice this during our call.
Phase 3: Quick GA Account Review + Quote
Before sending a quote, I prefer to get access to your GA account. Read & Analyze access will do and if desired signing a short document is no problem.
A quick peek in your account helps me to finalize the quote which is unique for you and your business. You can expect it within a few days and this is when we agree on price and planning of project.
Phase 4A: Google Analytics Audit
This is where the real work starts!
It's not a must, but very helpful if you have and can share a measurement plan with me before this phase.
In this phase I will thoroughly review your Google Analytics implementation and configuration.
These six main areas are addressed:
Tracking code implementation.
Configuration of all GA elements.
Data integrity issues.
Measurements and tagging.
Conversion tracking.
Integration with other tools.
Goal is to greatly enhance your data quality and relevancy (by identifying gaps).
Two (or three) documents are delivered:

Spreadsheet with quick overview of all findings.
In-depth document with specific advice for your unique business and general guidelines for accurate and relevant measurements.
Additional documentation for required technical changes. (if applicable)
Phase 4B: Technical Implementation
It depends on the state of your implementation and configuration, but sometimes code changes are required. Most companies that I work with implement Google Analytics via Google Tag Manager. Some still do it hardcoded.
In both cases, I can give instructions to your developer about any changes to be made. This is part of phase 4A.
Note: for a smooth process it is required that your developer has strong Javascript knowledge (and familiarity with Google Tag Manager).
Phase 5: Google Analytics Configuration
In 9 out of 10 audits the company I work with also hires me to do the Google Analytics configuration. And I highly recommend you do the same.
The Google Analytics property and view configuration involves, but is not limited to:
Proper account structure.
All configuration settings in property and views.
Additional views.
Basics and advanced filters.
Goals and funnels.
Default channel grouping.
Site Search.
Custom dimensions and metrics.
Ecommerce configuration.
Additional settings related to your business.
You don't have to worry about your current data collection process. I leave your current reporting views untouched and set up new views from scratch. Final part of this phase involves a data quality test where I thoroughly double check the data collection and propose/make changes if needed.
Phase 6: Wrapping it Up
Usually one or two calls of 45 minutes are included in the project.
This is when we jump on the phone/Skype to explain the setup and answer questions. These calls in combination with all the feedback and documentation that you get, delivers a ton of extra value in addition to a reliable Google Analytics setup!
Note: if desired, you can book some extra time for additional Analytics sessions. This to speed up your Analytics knowledge and experience in a short amount of time!
Do you want to know more and learn if we are a good fit?
Send me a quick email and you will hear back from me soon!
Let's Get in Touch Now
Best,
Paul
(Visited 682 times, 1 visits today)