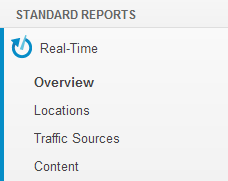 Google Analytics contains a small set of real-time reports that can help your business in many ways.
Since October 2012 profile filters work on these reports as well. Before that time you could only look at unfiltered data.
In my experience many businesses don't get the most out of these real-time reports.
In this article the four different reports and tips on how to use them are discussed.
With the real-time report set you have access to basic information about:
Geographical locations 

Traffic sources
Content
Report 1: Real-Time Overview
The first report in this series is the real-time overview report. It gives you a general overview of what's happening on your website right now. As mentioned before, it now takes into account the filters that are applied to the selected profile.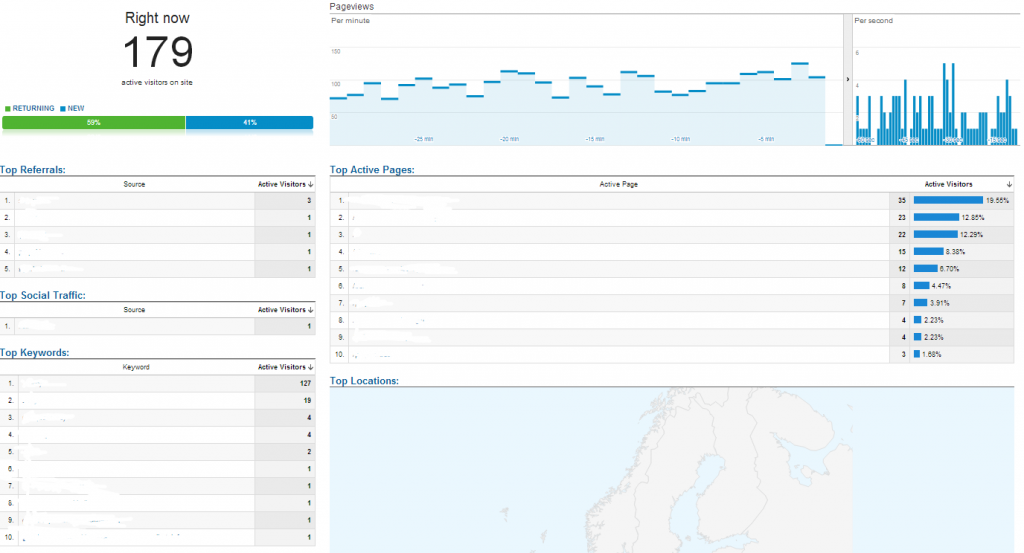 Here you can find out more about:
Which pages are the most popular
The total number of unique visitors
The distribution between new and returning visitors
Traffic sources that drive current visitors
The top locations that refer visitors to your site
In short, this real-time overview report gives you a clue about how your website is currently performing. On the aggregated pageview level, it has a look-back window of 30 minutes.
Report 2: Real-Time Locations
The location overview provides you with a distribution of your current website visitors based on location. It shows data on the country and city level.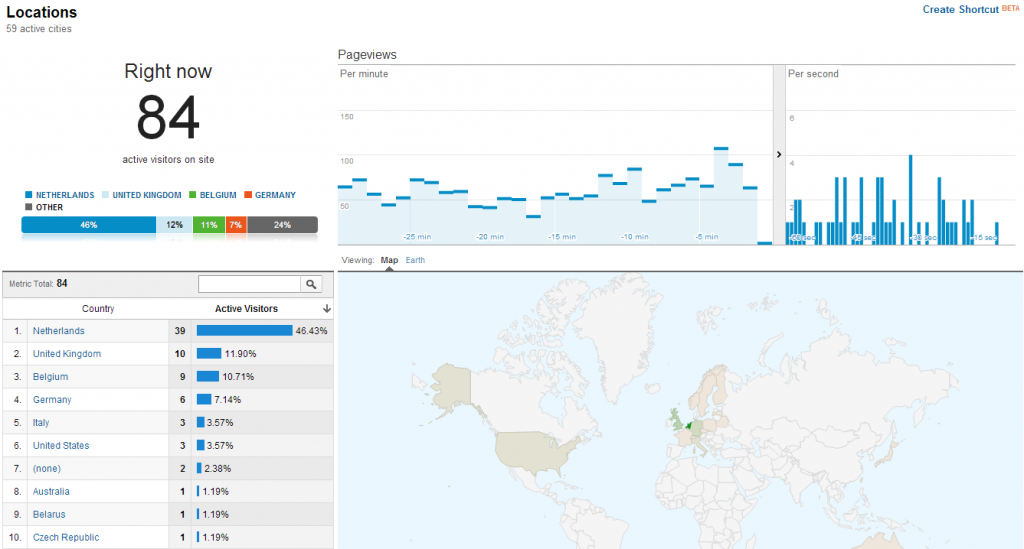 I doubt whether it is useful, but the Google Earth connection in this report looks awesome: :-)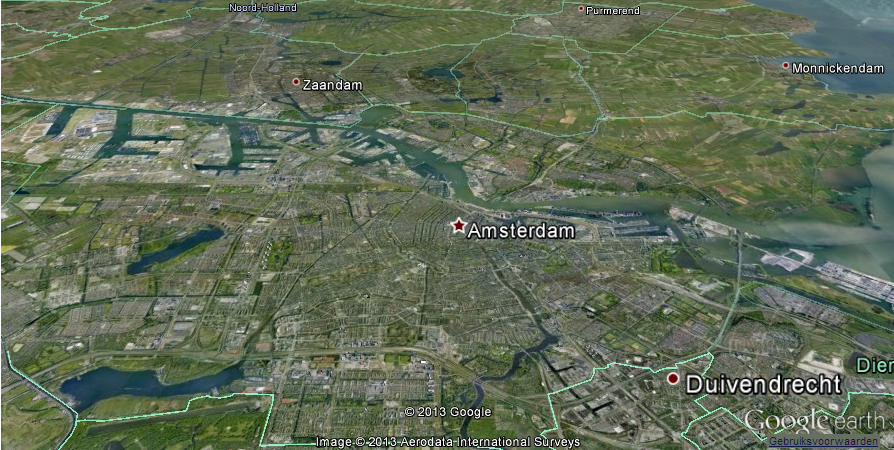 Report 3: Real-Time Traffic Sources
This report shows you a breakdown of your traffic sources at the medium and source level. Unfortunately, until now conversions are not available in real-time reporting.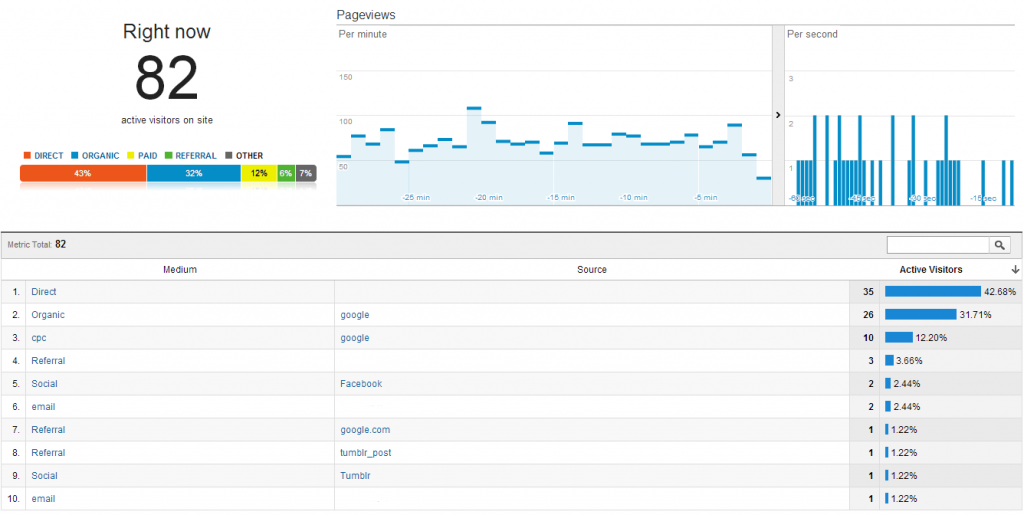 It is great for analyzing the traffic that comes from a specific campaign or to find the reason for an unexpected spike in your traffic.
Report 4: Real-Time Content
The last report in this series is the real-time content report. You can view how many visitors are viewing a specific page and there is an aggregated view of pageviews over the last 30 minutes.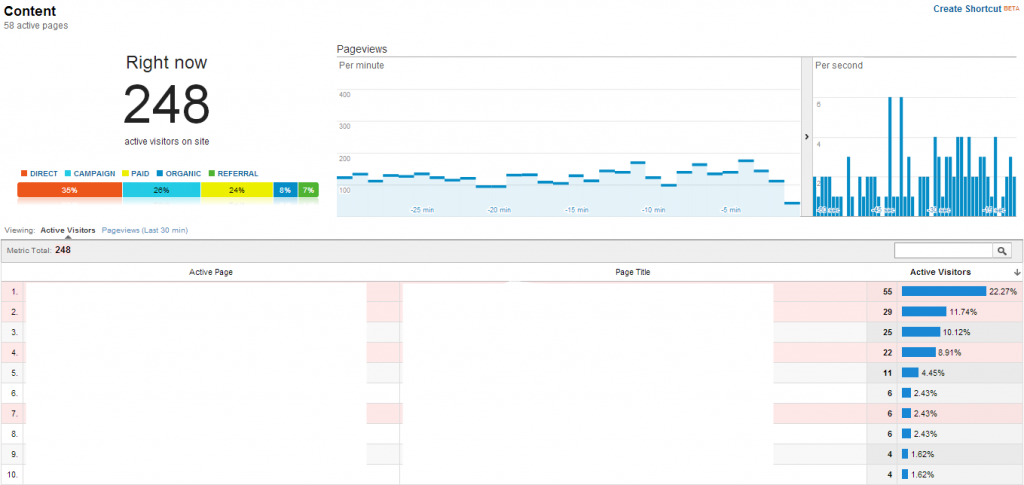 Google Analytics shows a specific page in "green" or "red" when the number of active visitors on that page are rising or declining. In the same way the data is shown in the other real-time reports.
You might still wonder, why and how should I use these reports? The last section provides you with a couple of ways to make this data actionable.
6 Ways to Make Real-Time Reports Actionable
Monitor your new blog posts; it is a great way to see how strongly you new content gets consumed (directly) after publishing
See the effects of a one-day promotion on driving visitors to your site, and see which pages these visitors are viewing
Immediately conclude whether the Google Analytics tracking code is working or not
Check whether your profile filters are working
Check whether your multi-domain implementation is correctly configured
Check whether the campaign parameters get preserved after a visitor lands on your site
Real-time reports in Google Analytics help you to gain insights and discover implementation issues. Adding conversion metrics to this reporting set would be beneficial to every Google Analytics user.
One last thing... Make sure to get my extensive checklist for your Google Analytics setup. It contains 50+ crucial things to take into account when setting up Google Analytics.