Let's face it, no rankings means no traffic means no profit. Ok, that's not completely true since you could get some traffic via social media or other channels.
In a world where Google is dominating the search engines you should know how important it is to rank well in Google.
It's probably not new for you that almost everybody clicks on the first page of the SERPs. That's why I focus this article on how to analyze top 10 rankings on Google.
Ranking Potential
Thinking about your current rankings and what rankings you like to achieve is never the first step. The most important first step is to determine your website goals.
It doesn't matter whether you are a big corporate player, small business owner or charity organization. Your online goals are the foundation for everything that follows.
Your succes in the search engines all comes down to strategic and in-depth keyword research.
Selecting the wrong keywords in the first stage will lead to failure. I can't stress this enough.
In this article I will teach you how to look at the top 10 rankings in Google while aiming for higher rankings on specific keywords.
The discussed items of the top 10 competition are:
Relevancy of title tag: is the keyword used in the title tag?
Relevancy of content: is the keyword used in the content?
Overall content on website: is this the only page closely related to the keyword?
Site links: how many links lead to the root domain?
Page links: how many links lead to the ranking page?
Page or root domain: is the page that ranks a root domain or inner page?
Google PageRank: what is the PageRank?
mozRank: what is the mozRank?
Site age: what is the site age?
Site type: is it a corporate domain, forum, Q&A section, social page or…?
You will have a pretty good understanding of your ranking chances if you analyze these 10 factors in the right way.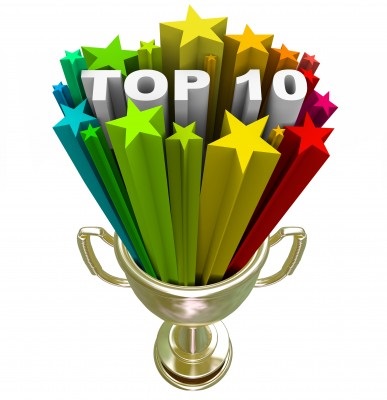 Let's start with the first one: relevancy of title tag.
Title Tag
Like I have explained in an earlier article about title tags, this is a major ranking factor for the search engines. So it's a good check to see how the top 10 results are doing on this factor.
Are they all including the keyword in the title tag or only a few of them. This will give you a good first indication of how competitive this keyword is.
Relevancy of Content
How well the content reflects the keyword you are searching for, is another important ranking factor.
Sometimes you will see bad content pages ranking for the given term. This is an indication of a higher probability that you will be able to rank for this term.
Overall Content on Website
It makes a huge difference whether an entire website is focused around a given keyword or only one page.
For example, a blog about sports in general produces a page about "marathon training tips" and ranks for it on the fifth spot.
If you are planning to build a website about everything related to "marathon running", you will have a huge chance to beat this result page.
Site Links
In general a website with a lot of relevant site links will have more ranking power than a website with just a few links.
Make sure to always check the number of links leading to the root domain of a potential competitor. This way you can better judge what it takes to outrank them.
Page Links
How many relevant links are pointing to the page that has high rankings for the keyword you are trying to rank for? Is it a few or really a lot?
A lot of competitors that have a huge amount of relevant links determines that this keyword might be a touch challenge for you.
A couple of times I emphasized on the word "relevant". You should look for distributions in anchor text and the percentage / absolute number of juice passing links to the pages that are ranking.
Open Site Explorer can definitely help you a lot here.
Page or Root Domain
As a general rule of thumb, a root domain ranking on a specific keyword is more difficult to beat than a subpage of a domain.
How do the top 10 results look like? Are there a lot of root domains or a lot of deep inner pages currently ranking?
Google PageRank
Ok, I know PageRank is a bit outdated. However, it still gives you a quick indication of the strength of ranking pages.
A lot of ranking pages with PageRank 0 or 1? Great, this is good sign for you.
mozRank
Another good indication of the difficulty of a specific keyword is a number called "mozRank".
The definiton of SEOmoz:
"MozRank represents a link popularity score. It reflects the importance of any given web page on the Internet. Pages earn MozRank by the number and quality of other pages that link to them. The higher the quality of the incoming links, the higher the MozRank."
Yes, the lower the mozRank of the ranking pages, the more chance you have to achieve high rankings.
Site Age
Old sites tend to have an advantage over sites that are "new". This is a factor you probably can't influence, but always good to take into account when looking at the top 10 SERPs.
Site Type
Last but not least: type of site. In general a view guidelines:
Big brands, .org, .edu, .gov extensions and trustworthy sites, tend to have higher rankings and are more difficult to beat

Inner pages of blogs, social pages, forum posts and Q&A pages are in general more easy to beat
Ok, I wish you good luck with analyzing the top 10 ranking pages in Google. I hope this helps you to achieve better rankings for your relevant keywords.
In future posts I will share more about the tools that I use to judge the competitiveness of keywords and markets. And I will explain more about keyword demand as well.
Would you like me to address a specific keyword? Just share it via the comments and I might take your keyword as a case study.
Now it's your turn! Let me know what you think. And what other strategies do you use to analyze the top 10 rankings in Google?
One last thing... Make sure to get my extensive checklist for your Google Analytics setup. It contains 50+ crucial things to take into account when setting up Google Analytics.