"Original content is king". This is a rephrased byline from the often heard "content is king" rule in the SEO industry. Coupled with the word "original", content writing takes on a whole new level as SEO practitioners are advised to write content fresh from scratch. Now, why does this industry have the constant emphasis on producing original content? And mind you, it has to be original and high quality content.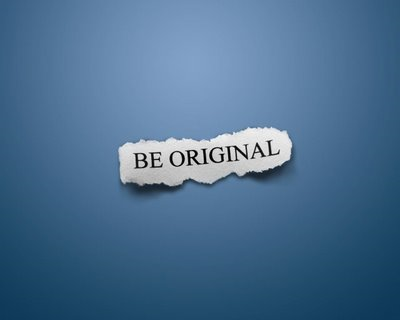 Original Content is King
Here are the main reasons why writing original content is a must in post-Hummingbird era of Google searches. Maybe this can give you an idea on how to start writing content on your own and make it part of your SEO strategies.
1. The internet is mostly about users. Write content that is attractive for them, content that they would want to read.
Who would want to read an SEO-related content that is stuffed with keywords and doesn't really make sense? SEO isn't just about putting the keyword/s in your writing piece and telling yourself, "Okay, this write-up will do!". Creating a strategy with your content writing is so important, because you're not just writing for the bots, you're doing this more for the readers. These readers on the Internet are your potential customers for your products and services, and you must hook them in by writing content that is aimed for them.
2. Google easily detects spammy content, and when you do this often with your write-ups, this will hurt your website in the long run.
The reasons for Google's ever-changing algorithm lies on the reason that the Google anti-spam team wants to make the search experience better for its users. As an SEO, this means that you must adapt to changes as you try to market your site online. Being on top or on the first page of Google's SERP (Search Engine Results Page) remains as number one priority. But this doesn't mean that you should do every trick in the book just to be number one.
Remember, the white hat method in SEO still works, and employing white-hat methods in your writing means that this will help your site reach the desired results later on. Dirty content tactics like keyword stuffing can be hurtful to your site and your services, as this can lead into penalization for breaking SEO content rules
3. Original content is always worth reading.
It's been told that you should write long content. But it shouldn't just be long enough for the sake of being long. Produce content that is long and high-quality, something worth reading. Add "original" to it and this can spell success for your SEO writing strategies. Take time to really think of what you want to sell, and relate this with your content writing. Planning your content in order to make this sell is one thing you should never forget.
4. Well-placed keywords can be beneficial for your content
Think carefully on how to insert your keywords in every content you create. It's not just for the sake of inserting your keywords, but also thinking whether your keywords make sense with the rest of the content. Nothing's more awkward and annoying to read that a write-up with a keyword that doesn't quite match up with the main idea of your article.
5. Lastly, writing original content trains your mind to write, and that is a good skill to have.
Making use of spun and duplicate content for your SEO strategies isn't really about writing. It's called laziness. As an SEO strategist, possessing good writing skills is a must-have. It's not always about being perfect with every write-up you create, but also, knowing what to write and how to make content appealing to readers.
Writing original content can help your site reach a worthy ranking. Though it doesn't happen overnight, continuing to write original content will show desired results later on.
Having great writing skills is always a bonus point. Write as if you're the online user, write something you want to read, and write for people, not for Google bots.
Not everyone can write, especially if you have to force yourself to write always as an SEO specialist. But starting now is the way to go. It can do wonders for your site's ranking and producing original and good content can be beneficial for your SEO goals.
You don't have to be an expert. Just write, do good research about your subject, and always follow the rules in SEO writing. Be original and speak to people when you write.
Learn more about copywriting:
About the Author:


Cameron Haney is a college student who also did some part-time SEO work. She spends her free time reading and relaxing. Feel free to follow her on Google+.
Image for article courtesy of:
http://www.chrisducker.com/wp-content/uploads/2010/02/be_original.jpg
One last thing... Make sure to get my extensive checklist for your Google Analytics setup. It contains 50+ crucial things to take into account when setting up Google Analytics.