The number of ways in which you can optimize your website conversion rate are literally endless. One important area of optimization is hidden in the call to actions of a website.
I often come across websites where I almost can't find the call to actions because they don't stand out. "Click", you just lost one potential customer.
Really, a tremendous jump in conversions is possible by simply showing the right button on your website. Your website buttons are a lot more important than you might think.
In this article I will give you six tips to optimize the buttons on your website. One action in the form of a download, but a lot of different versions, which one is best? Your website visitor is the best person to answer this question.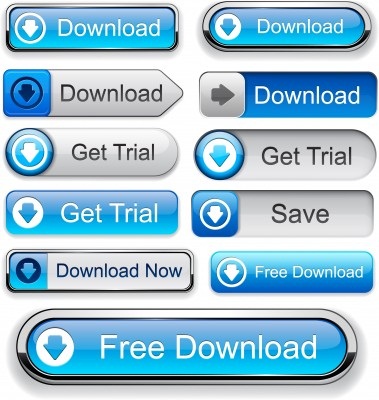 1. Words
You really want to test what a button "says". The words on a button can make a huge difference. In the example above, think about the difference between "Download" and "Free Download" and the possible impact it can have on a website visitor's decision to convert.
2. Color
The color of the button should fit the other colors/pattern of a website. In general you can't say this color is good or bad, but red is often associated with something negative. Still I would advise you to test the color red as well if it fits your website.
It is important to know that colors have psychological meaning.
3. Size
The size of the button definitely matters. I don't want to say you can't go too big, but better big than small. Your button is associated with a call to action and a conversion. So you better want the button to be seen by your potential customers!
4. Shape
There are many different button shapes that you might want to test. Think about regular as well as irregular ones. It wouldn´t be the first time that a very irregular button wins! Actually, they deliver greater results in general.
I would suggest that at a minimum you will test the following button shapes: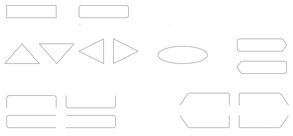 5. Location
Where should you place your website buttons? It can be on top, at the bottom, on the right, on the left, in the middle etc. Just test it!
What works for one website doesn't have to work for the other.
6. Legibility
Make sure that your visitor can read the words on a button. It can make the difference between a click back to the search results or one more product sold.
Ok, this is it!
You conversion rate will rise if you test a lot of different button versions on your website.
One last thing... Make sure to get my extensive checklist for your Google Analytics setup. It contains 50+ crucial things to take into account when setting up Google Analytics.