You can read a lot of books, online articles, watch educational videos or even hear so-called gurus talk at the world's best analytics conference.
It is a good start if you want to grow your knowledge and become a great web analyst.
And I definitely recommend to invest time in here.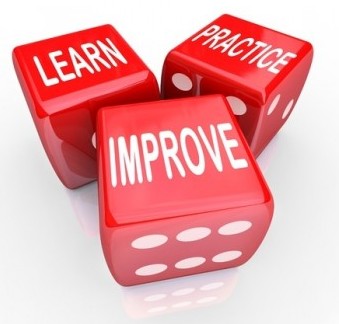 However, real experience comes from practicing the skills you have learned.
Your daily job will lead you in the right direction, but there is more.
That's why I recommend that you start an online business.
I could name it a website, but that would probably not draw as much attention. ;-)
Most Important Strategy
I know too many people who keep on reading and dreaming about what they like, could have, should do… That's ok to a certain extent, but sometimes it is better to take an actual step forward.
Do you know your life purpose? Is there anything you like to achieve?
If you feel like what the heck is he talking about, just read this article about discovering your dharma. Sometimes it helps to put data in context. :-)
Let's get back on topic.
In my opinion, setting up an online business might be the best step you could take in your web analytics career.
Are you working as an online marketer? No worries, this advice applies to you as well.
I don't say you should own a big ecommerce shop or write about web analytics itself.
Setting up a simple website where you are fully in control is a huge win. You can always expand it later on.
Don't Depend on Others
You might work fulltime at a small or big company. Or do you have a lot of variety in your work as a consultant or freelancer? It doesn't actually matter.
In 99% of the cases you simply can't do everything that you like. Or are you that lucky person who is allowed to implement every tool you like and play with it?
Just be open to your employer since this can be a real win-win.
Well, in my case I felt from the beginning that I needed more freedom to practice.
I simply wanted to improve a broad range of skills that was hard to manifest via one "ordinary" job.
In 2008 I was already thinking about developing websites myself. It wasn't until 2010 when I took action.
Two Niche Websites That Brought Me a Lot
Ever since I was a young kid, I am very interested in sports, all things outdoor and analyzing/optimizing all kind of processes.
A short overview of my "sports career":
Soccer (age: 6 – 17)
Tennis (age: 18 – 23)
Running (age: 23 – 30); finished three marathons and that's enough for me
Hiking/walking (all my life); Summit Kilimanjaro in 2008
Cycling (all my life)
Yoga (age 31 – … )
Meditation (age 31 – … )
What's the pattern?
It seems I have transitioned from very active sports to more relaxing ones over the last few years. :-)
This brings me at my first two projects/websites.
Marathon Running Website (December 2010)
Four years ago, after succesfully running three marathons, I was inspired to set up my first website.
I did work together with a keyword research specialist to explore the marathon landscape. We found out there was a huge opportunity to build a "marathon training" related website.
The success formula was: knowledge + passion + lots of opportunities.
It took some time to develop the website, using a tool called Site Build It!.
The website still exists and contains over 150 pages. The content was written by myself and partly outsourced.
At it's peak I ranked #5 on "marathon training" (Google.com). Not bad I think!
Unfortunately, on the way to the top something happened…
Traffic results: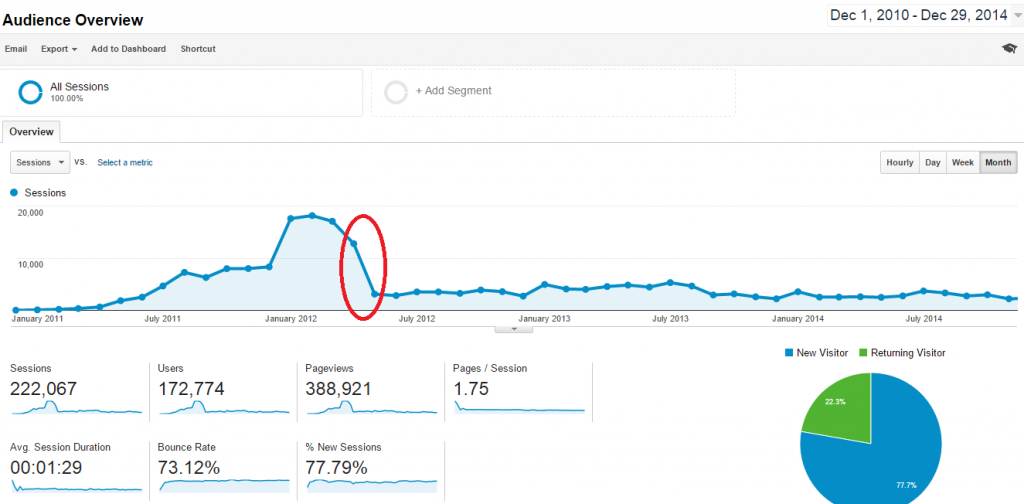 Learnings
How to develop a website in SBI!
How to transfer a website from one CMS to another (WordPress)
What works in SEO and what not
How to implement Google Analytics and measure macro and micro goals
How to use Google+ and Twitter to drive extra targeted traffic
How to build a list (although I didn't use it)
How to monetize a website
How to optimize AdSense income per page and keyword
How to analyze and optimize different traffic channels
How to use a lot of different (free) tools to gain extra insights
How to outsource parts of an online business via Needanarticle.com and Fiverr.com
How to communicate/write effectively
In short, I didn't care about this site being hit by Google. I just learned a ton new things and tools.
Contact me for more detailed information about this "Marathon Training" project.
Protein Powder Website (July 2013)
This one was more like a challenge. How could I grow an Amazon affiliate website as quickly as possible without being penalized (directly)?
I have educated myself in keyword research through using lots of different keyword tools and marketing research in the past.
Long Tail Pro is a phenomenal keyword research tool that I recommend to everyone. It's on my tools recommendation page as well.
After I thoroughly had researched different topics, I came up with a new idea: protein powder.
I don't use it and will probably never use it, but this niche is *HOT* and quite competitive.
Well, I was convinced that I could rank in this market.
This time I would approach it a bit more careful. But, like I said, I was on a mission. :-)
Traffic results: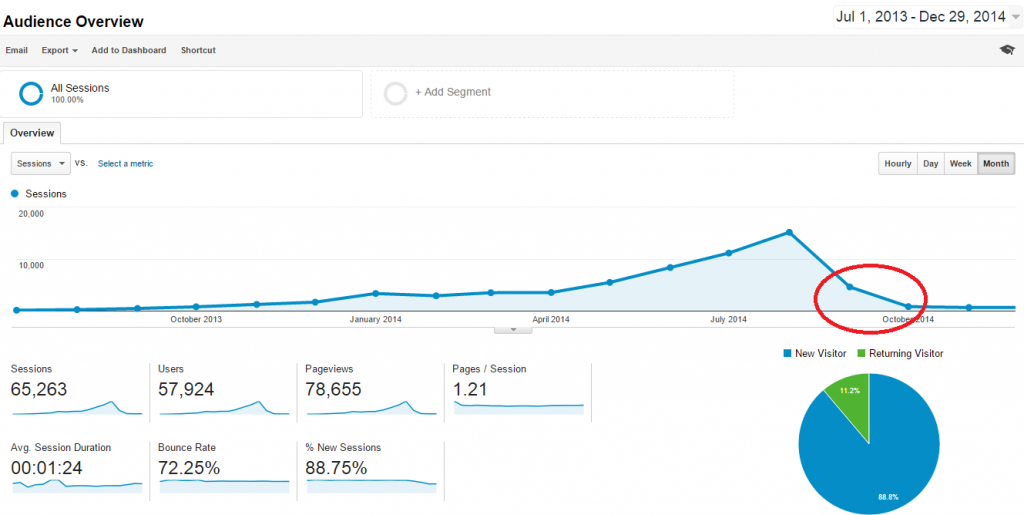 Oh boy, I did it again!
I went from white hat to grey and finally a few black hat tricks. And my website got tanked again, thanks Google. ;-)
Monetization Model
This time I spend more time on the monetization part.
My main reasons for setting this one up were: having fun and learning new things to grow my skillset further!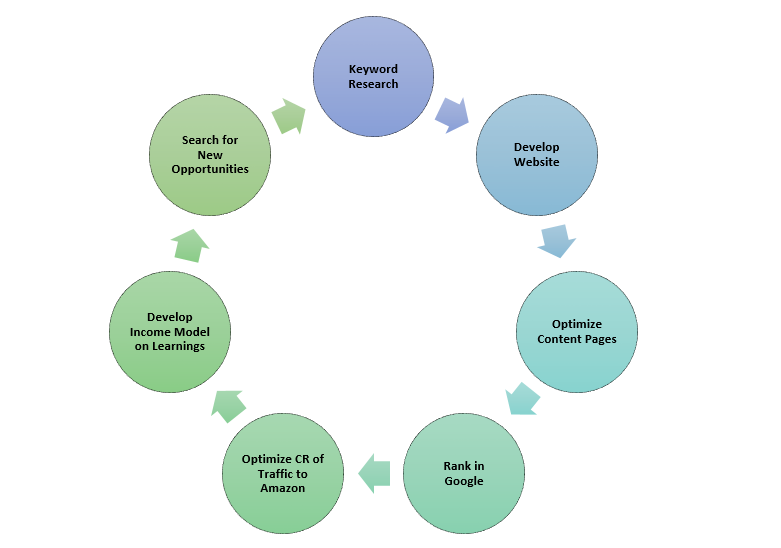 Another screenshot to show you what I had accomplished: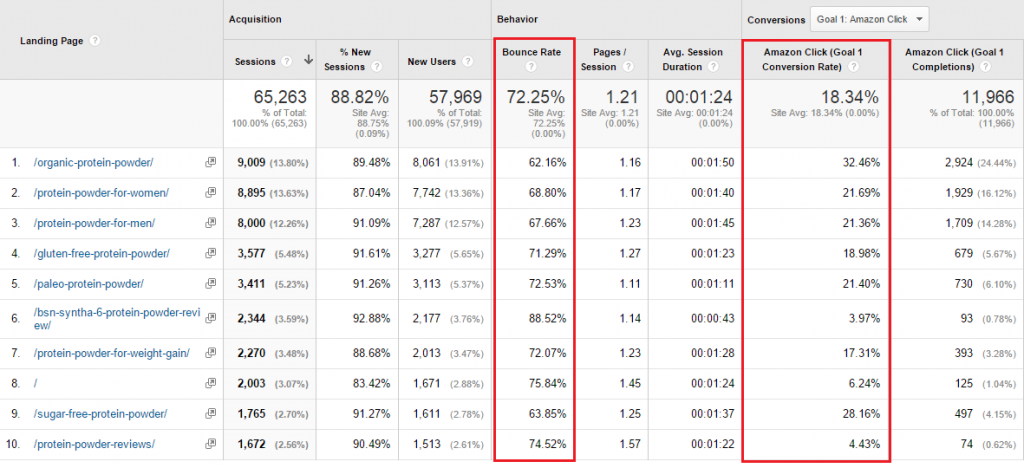 My website visitors did either bounce or convert into clicks to Amazon.
20% of my website visitors click through to Amazon. Based on my experience I can say that Amazon converts 5 to 10% into products sold if you send targeted (pre-qualified) traffic.
Learnings
How to derive the best learnings from your data
How to develop a website in WordPress
What works in SEO and what not
Why an online business should never rely on Google (SEO) alone
How to build a website that contains a good balance of informational, transactional and navigational queries
How to monetize a website through Amazon
How to optimize call-to-actions on landing pages
How to automate optimization efforts
How to analyze and optimize different traffic channels
How to use a lot of different (free) tools to gain extra insights
How to outsource different parts of an online business
Lots of different other new skills
In short, another great experience under my online marketing and analytics belt.
Contact me for more detailed information about this "Protein Powder" project.
OnlineMetrics: My Future (December 2012)
Two years ago I decided to share my knowledge and passion on an online platform: Online-Metrics.com was founded.
After two niche website experiences I know now that I really like to provide value instead of just building websites to rank and earn money.
However, I feel I made the right choice in setting up these niche websites as well. This investment has improved a lot of my skills that would otherwise not have been possible to achieve.
Future Plans
First of all, I enjoy consulting companies in the Analytics and Optimization field.
OnlineMetrics is a great passion and I am determined to grow this one into an authority site (completely white hat of course ;-)).
I already have met a lot of interesting people on the globe via OnlineMetrics and this number keeps on growing.
My plans… well, a lot of things come into my mind:
More in-depth content; besides short, actionable tips
How to videos; YouTube channel
(Monthly) newsletter
Podcasts
Online courses
Let's see what the future holds for me.
At a minimum I hope you have enjoyed reading this post. And do you see the value of building an online business (or running a simple blog)?
Once again, it really helps to boost your web analytics skills and online marketing experience in general.
And you know what, writing is fun! At least for me.
If anything is on your mind, please bring it up and add some extra value to this post.
One last thing... Make sure to get my extensive checklist for your Google Analytics setup. It contains 50+ crucial things to take into account when setting up Google Analytics.
Download My Google Analytics Setup Cheat Sheet

(Visited 377 times, 1 visits today)