Are you already a blogger? Enjoying to share things you know and love?
One of the most rewarding things that could happen, is that your blogpost goes viral. Simply because of your piece of content is being appreciated and shared by people like you.
At least, that is how I feel about it. :-)
If you are not yet writing about your passion, you might want to start doing this after reading this story.
On January 28th I posted "Top 20 Google Analytics Blogs in 2014" and in the next couple of days my Social traffic really exploded.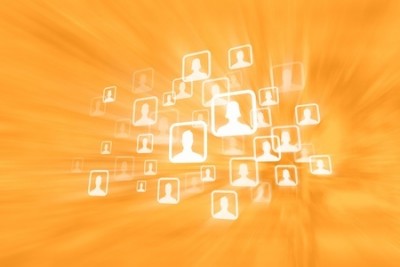 In this post I will share all the story details with you for three main reasons:
I like to say "thank you" to everyone who made this happen.
I like to motivate you to keep/start sharing about your passion.
I like to help you replicate this in your own niche.
Oh, and maybe one more. I can say I feel a bit proud and love to write about this story. :-)
Start of 2013
Almost one and a half years ago, I started this website. I had learned a lot about online marketing in general and specialized myself in Web Analytics and SEO.
At that time I felt it was time to give back to the community and help you grow your knowledge and web analytics career.
So that's why I decided to start blogging on primarily four topics:
One Year Later
English is my second language. Something that might impact the time that it takes me to write a comprehensive blogpost.
On the other hand, I found out that perfect grammar is not a must to entertain and educate your audience.
Your tone of voice, to make things personal, being unique… well, that's much more important if you ask me.
Besides that, just keep on writing and your writing skills will improve.
This is the same with analytics. You need to do it to improve your analytics skills.
In 2013 I wrote approximately 40 blogposts and welcomed the first 16.000 visitors on my website. I think one out of four was just a short news item and the rest of my posts did consist of more compelling items of approximately 500 to 1.500 words long.
I have to admit that this is not in line with Copyblogger's advice. If you like to establish your blog, Brian Clark advises to post a new blogpost almost every single day. Especially in the beginning.
But, happy me, I am not in a hurry. One step at a time works good for me. :-)
March 2014
At the beginning of March I was close to 50 published blogposts and started to think about "What would my readers really love to read?".
I am not new to SEO or keyword research. However, I never thought very deeply before selecting a new topic for my blog.
And after a while I came up with a new topic: a list of top Google Analytics blogs that my audience would love to read.
When searching in Google, I did find out there were just a few unsolicited top web analytics blogs posts visible in the top 100 search results.
So I started doing extensive research, looking at my favorite list, "inspecting" many new blogs and I began to write…
26th April 2014
Saterday morning, I finally finished the top 20 Google Analytics blogs list and scheduled the post for Monday morning (just one week ago).
No, it didn't take me two full months to write the post. :-) I just took my time and wrote other posts in between.
I believed that this one would possibly get a few more shares than normal. But I could not expect this to happen…
28th April 2014
It's 9 am CEST, the blogpost is live, let's wait and see.
I have created this advanced segment to show you the exact data of the post:

First day results: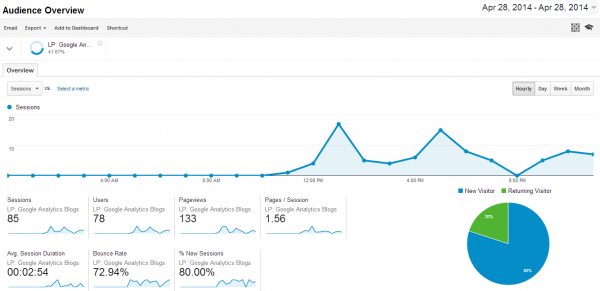 I was quite happy with these results. My social presence and subscribers list are not really established (yet). :-)
29th April 2014
Are you curious about what happened the day after? Well, here we go: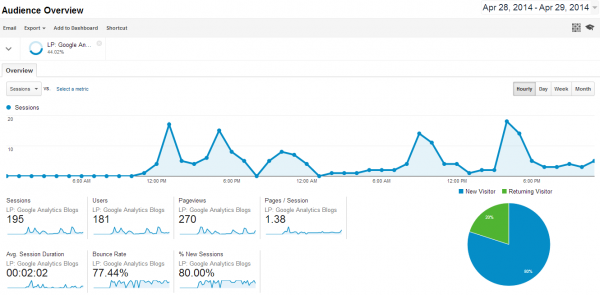 Ok, the number of people that had landed on this blogpost was doubled, but no unusual spikes yet.
But, I was already quite happy with this traffic boost. As you can see, this blogpost counted for over 40% of my website traffic in these two days.
30th April 2014
On the 30th of April, former Queens Day in The Netherlands since 1890 (I am Dutch ;-)), my Social reach was slowly declining. You can see what happened in the traffic stats below: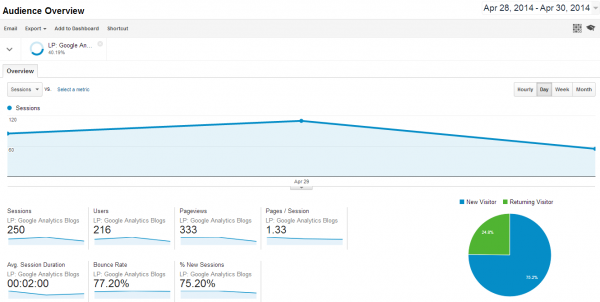 The overall and absolute percentage of visitors (sorry: users ;-)) that landed on this page started to decline.
However, I was satisfied with the results. Especially when comparing these results with my overall traffic stats of blogposts just launched.
An overview of my Social referrers so far:

1st May 2014
A new day and a new chance (to go viral). :-)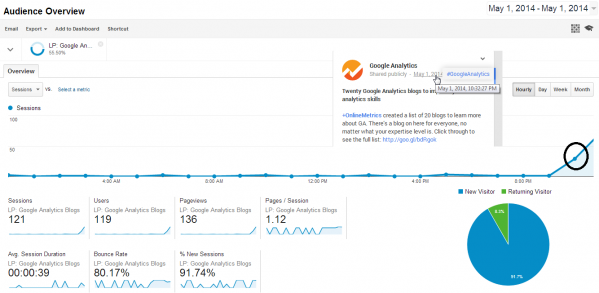 On the background, when I was already asleep, my iPhone started receiving several messages in a row. Just before midnight my post was mentioned on the official GoogleAnalytics+ account.
Since they have +2.000.000 followers and are rapidly growing, you can imagine this is a big step in going viral!
The uptake in traffic is clearly visible from 10 – 11 pm.
2nd May 2014
In the morning I already noticed +246 (G+1), WOW!! Other social shares and likes were also steadily increasing.
It's actually quite fun to regularly refresh your page and see the numbers growing. Don't get addicted! ;-)
Daily results: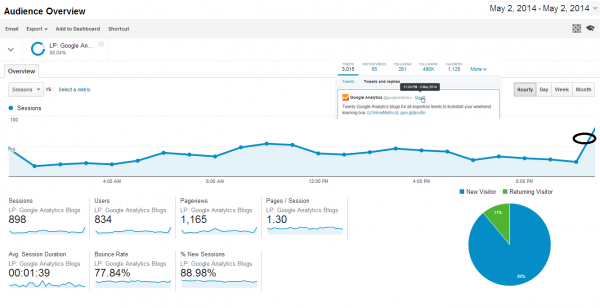 This is really amazing! I realized that I was mentioned two times by the official Google Analytics accounts. One time on their GoogleAnalytics+ and one time on their Twitter timeline. The last one happened just before the weekend which means I could possibly take the highest GA Twitter spot for the entire weekend!
Overall score: more than 800 unique users on my Google Analytics blogs post on that memorable Friday. That day it did account for almost 90% of my website activity.
So you can see what the impact can be on an ordinary blogger like me. Someone who is trying to publish qualitative blogposts every single week or two.
Oh, and I lost track of the number of shares, likes, retweets, plusses, you name it… :-)
In short, a great start of the weekend!
Results until 3rd May 2014
You might be wondering, how many new users did this blogpost actually bring to my website? Well, take a look below: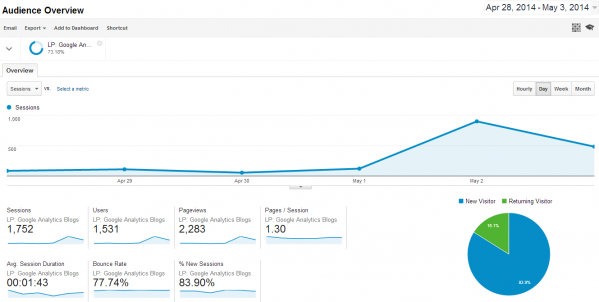 Already more than 1.500 unique users, thank you all! :-) I expect to hit the 2.000 mark in the next couple of days.
The "snowball" is slowly starting to decline, so I will start the Google Analytics deepdive from here. Everything based on the period above.
Traffic per Social Media channel
And which Social channel did win the game?

Google+ is number one and Twitter comes second. Google+ did drive the most people to my site and has the highest engagement (based on the last two metrics).
Traffic per Location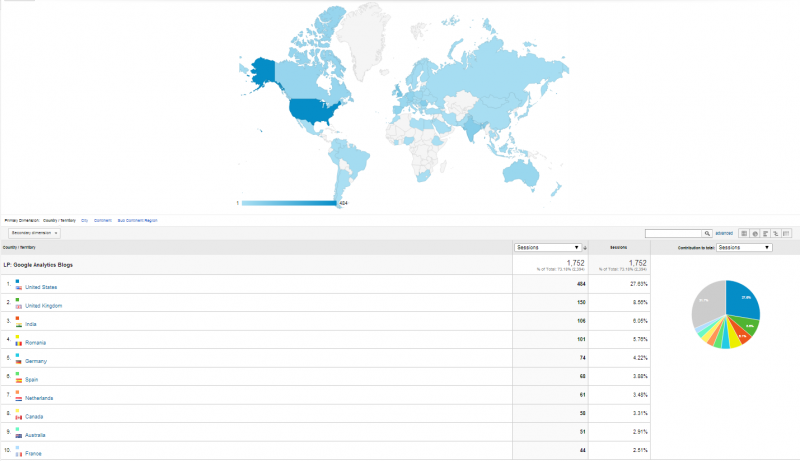 The blue color is widely spread through many different countries, so "yes", it went viral in every way!! I am grateful that I have received visitors from 82 different countries so far. The top 10 is shown above.
Via wordle.net I made this 82 country cloud to show you all countries: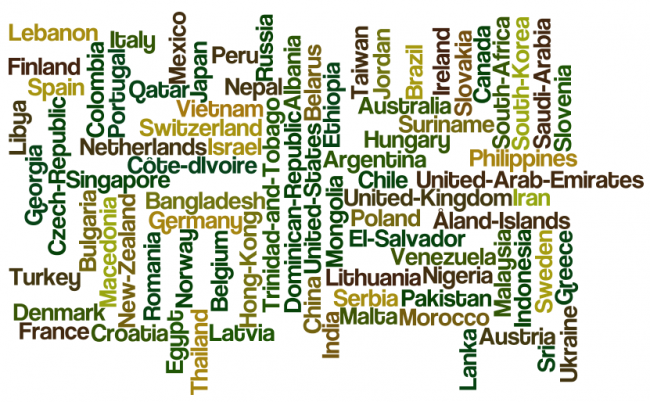 Sorry for the incorrect hyphens. Without using them wordle doesn't correctly recognize countries of +2 words and breaks them up. :-)
Social Engagement
This one amazed me the most. The maximum number of shares, likes etc. on a blogpost so far was around 100. And what do we see below:

On the top four Social networks I have a score of 1.111!!! (4th May 2014, 11:58am CEST ;-))
And besides that, all the positive feedback that I have received via many different channels is so much rewarding!
I received quite a few new followers on Google+, Twitter and LinkedIn as well. Make sure to connect with me as well!
Do you like to know anything more? Just post a comment and I will get back to you!
Future Plans
First of all, I love to keep on writing insightful posts for all of you! And I do my best to go viral many more times in the future! :-)
Another thing on my mind is to experiment with "How to Tutorials" on video in the future.
Contact me or leave a comment if you have any special requests.
I am considering to stop writing about SEO related topics and fully concentrate on Google Analytics, Web Analytics and Conversion Optimization topics. What do you think?
One of my other next steps is to get more socially involved.
But, as you can see, even without a strong social presence you can go viral.
I encourage you to share your passion with the rest of the world! Hopefully this blogpost helps you to get started or stay motivated.
Every niche has it strengths and challenges. Do your research and choose wisely.
Social might be the new SEO, so be prepared!
Do you have anything to say? I am glad to hear from you.
One last thing... Make sure to get my extensive checklist for your Google Analytics setup. It contains 50+ crucial things to take into account when setting up Google Analytics.