Correctly configuring Google Analytics is crucial in conversion optimization. In this post you will discover a Google Analytics hack for optimizing on outcomes when goals are not working.
Having dealt with hundreds of different Google Analytics accounts, I know that goals are not always set up the way they should.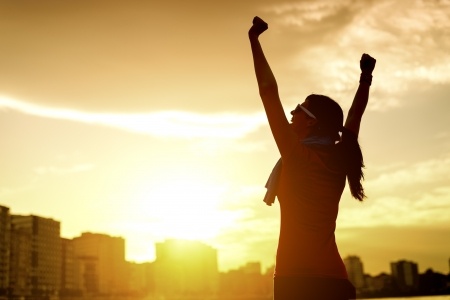 Sometimes you have to deal with an account where:
Goals are not set up.
Goals are incorrectly set up.
Goals are set up, but not recording data.
In all cases you don't have reliable conversion data for your Google Analytics data analysis.
And goals don't work retroactive so you have a problem right?
But wait… happily there is a Google Analytics hack that works in most cases. :-)
Destination Google Analytics Goal Hack
Very often the macro conversion of a website is measured on a specific URL.
"The macro conversion is the most important conversion for an online business."
If visitors reach this thank you page, they might have…
Bought a product (Ecommerce site)
Filled in a leadgen form (Leadgen site)
Subscribed to a newsletter (Blog site)
Most often these activities are measured on a separate thank you page.
Or you can set a virtual pageview or event to measure a specific conversion goal.
LunaMetrics wrote a great article about virtual pageviews and how to measure them with and without Google Tag Manager.
In the following five steps you will discover how to optimize destination page goals without using Google Analytics goals data.
Note: a similar process works if you use events for goal tracking.
Five Steps to Discover Relevant Insights
I don't mention it as a separate step here, but make sure to immediately set up Google Analytics goals correctly if you notice something wrong!
1. Identify Page URL of Macro Conversion
There are different ways to retrieve the page url of a conversion.
Four ways that will help you here:
Ask IT department or website owner (they will most probably know the page URL of the conversion).
Convert on a website to see the thank you page (and ask your money back if you bought something).
Dig through Google Analytics data to identify the page you are looking for.
Use Google in a smart way to identify the thank you page (won't work in most cases).
I have used the fourth method to show you an example.
In Google I have searched for "newsletter thank you":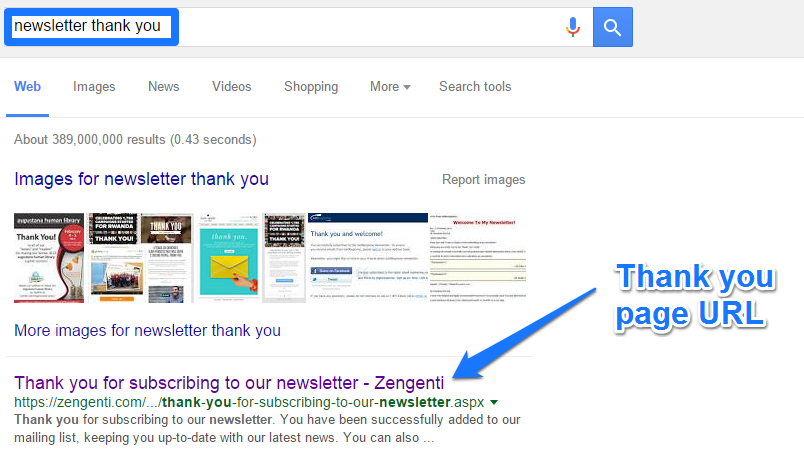 A company called "Zengenti" has their newsletter signup page indexed in Google.
After clicking on this link you find out the page name:
https://zengenti.com/en-us/site/form-redirect-pages/thank-you-for-subscribing-to-our-newsletter.aspx
On default Google Analytics only captures the request URI (part of URL after hostname):
/en-us/site/form-redirect-pages/thank-you-for-subscribing-to-our-newsletter.aspx
Now you have all the information you need to retrieve this page in the content reports of Google Analytics.
Note: as I don't have access to their Analytics data, I will use a different example in the following steps.
2. Analyze All Pages Report in Google Analytics
I have just shown you how to retrieve this information via Google.
Let's have a look at another example while explaining step 2.
A Swedish company collects newsletter signups via a unique URL (in this specific example goals are correctly set up).
The Google Analytics goal data is shown below: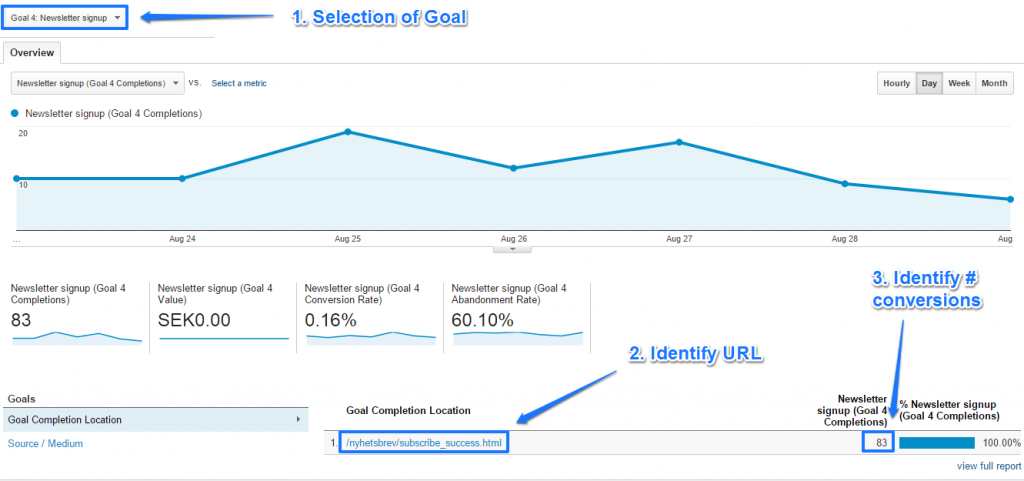 The goal completion location is "/nyhetsbrev/subscribe_success.html".
We can use this information in the content section of Google Analytics: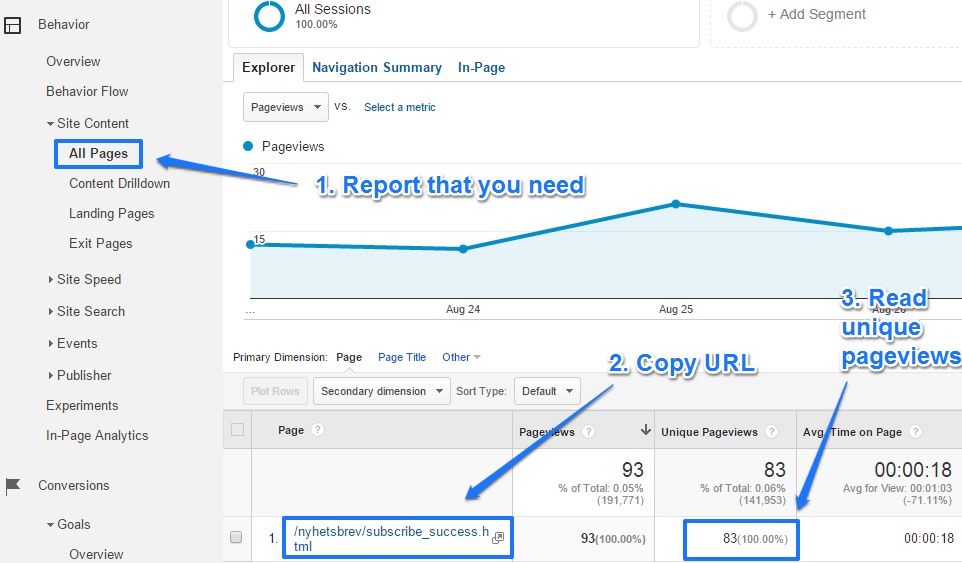 What do we see here?
"The number of unique pageviews of your thank you page equals the number of goal conversions."
And this is because a goal can only be measured once during a visit/session.
3. Use Secondary Dimensions to Dig Deeper
This is just the tip of the ice berg. You want to find out more about this conversion and put numbers in perspective.
It's time to segment your data.
Use secondary dimensions to get a better unstanding of the traffic sources that drive this conversion: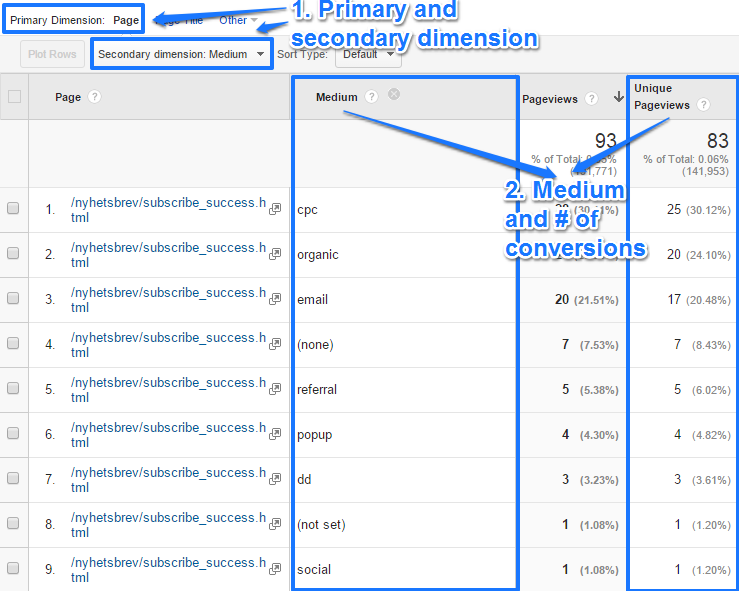 Here we go! Now we have a better understanding of which channels drive conversions.
Note: you can only trust this data if campaign tracking is correctly implemented.
There are many more secondary dimensions you could apply to this report.
A simple Google support doc shows you how to do this: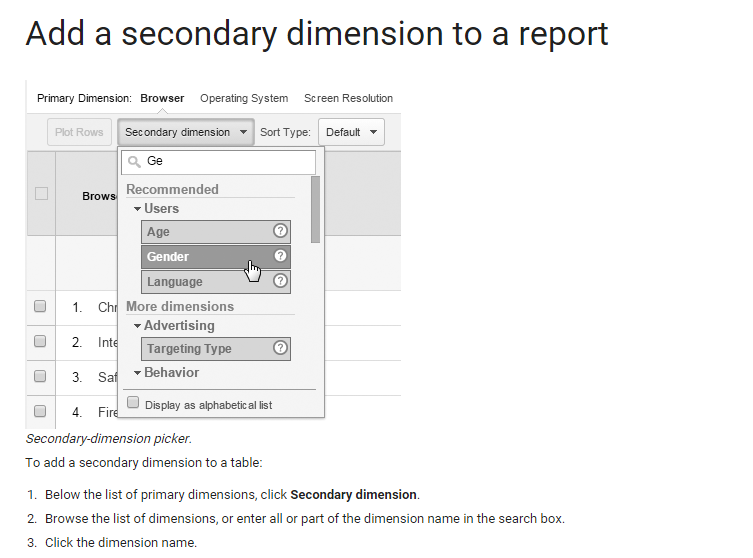 4. Segment on Goal Page Name URL
Conversion segmentation is critical. You want to get a better understanding about how different people behave on your website.
More conversion related information helps you to optimize your conversion in a much easier way.
You can set 95% of Google Analytics reports on sessions that include the macro conversion by using Google Analytics segments:

After setting up this segment you can browser through your standard and custom reports.
And discover a lot about the characteristics of the people that convert (and those who don't).
Here is an example of the mobile overview report: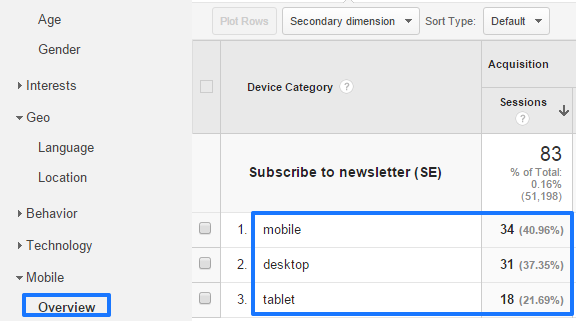 5. Optimize on Relevant Insights
Now it's time to gather your insights and start your optimization journey.
How do people convert on different devices?
How about your landing pages, which ones drive the most subscribers?
Are there any traffic sources that need attention?
Is there a correlation between region and conversion rate?
Do more people subscribe on a particular day or time?
You can find an answer to these and many more questions by using your brain and data in a smart way.
Note: it might be useful to automatically export this data to excel (via Google sheets) if you are a more experienced GA user.
Last Remarks
Although this Google Analytics hack might not be perfect, it is a great way in deriving insights when the Google Analytics goal set up doesn't work.
Keep in mind that it is more difficult to compare visitors that converted with visitors that didn't.
It is also more difficult to combine or compare different goals with this Google Analytics hack.
I hope you have learned something new and you are more than welcome to share your Google Analytics hacks.
One last thing... Make sure to get my extensive checklist for your Google Analytics setup. It contains 50+ crucial things to take into account when setting up Google Analytics.
Download My Google Analytics Setup Cheat Sheet

(Visited 2,251 times, 2 visits today)