Do you still worry about your organic keywords not to be visible anymore in Google Analytics? You are only a few steps away from deriving great insights through Google Search Console.
I guess organic traffic is still an important channel for you, both in traffic as well as conversions.
And you desperately want to get many data insights to feed your Search strategy?
Last year I published this highly appreciated post on SEMrush about 8 Google Analytics Reports to Boost Your SEO Performance.
It's a great read if you want to learn more about using Google Analytics for optimizing SEO.
In this post I will show you my strategy behind Google Search Console (formerly known as Google Webmaster Tools) and optimizing for SEO.
Search Engine Ranking Factors
Luckily I have a solid background in SEO as well. Have been playing around with websites and ranking them since 2009. Some of them "died" and others perform pretty well until today. :-)
Every two years Moz surveys the opinions of the brightest search marketers around the globe.
A summary of the results from this year is given below (full report can be found here):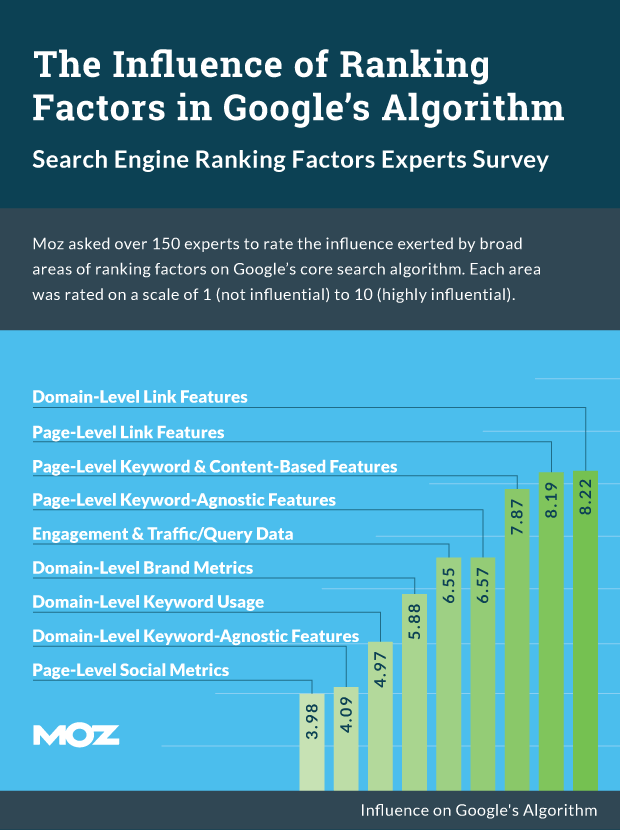 As you can judge by yourself, links and keywords (content) signals are still a big part of your success in SEO.
A recent post on Backlinko illustrates the findings of analyzing 1 million Google Search Results. It's a great read!
Why to Use Google Search Console
Google Search Console provides you with many different insights you can't find in Google Analytics or any other web analytics package.
You can learn about the technical and "marketing" performance of your website.
Here is an overview of the different things that are currently available in Google Search Console: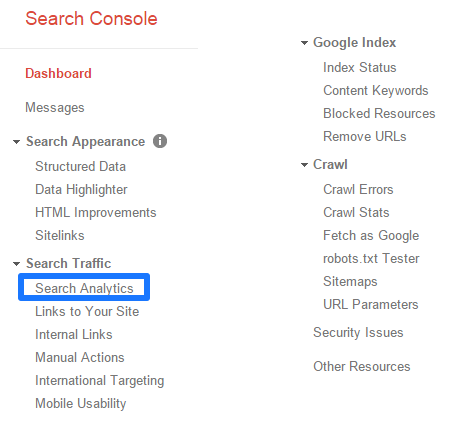 In the rest of this article I will show you how to use the console with a special focus on Search Analytics.
Link Google Search Console to Google Analytics
First of all I recommend to link Google Search Console to Google Analytics.
After you have set up Google Search Console it's easy to link both products.
Step 1: Click on the settings icon in the upper right corner.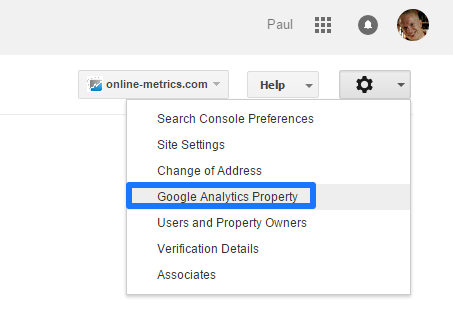 Step 2: Select the Google Analytics property where you want to enable Search Console data:

Step 3: Locate your Search Console data in Google Analytics: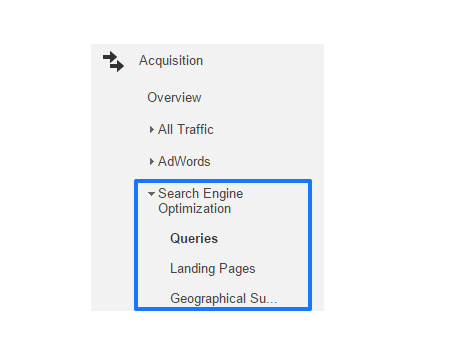 It's a simple process that helps you to collect a new set of relevant search data in Google Analytics.
Derive Great Insights through Search Analytics
In the following six steps I describe how to use Search Analytics for deriving great insights:
Open Search Analytics.
Select the right date range.
Select the landing page you want to analyze.
Switch to queries.
Select the metrics you want to analyze.
Interpret the data and feed your search strategy.
I will use OnlineMetrics and one of my landing pages as an example.
1. Open Search Analytics
For your convenience here is a direct link to Search Analytics in Google Search Console.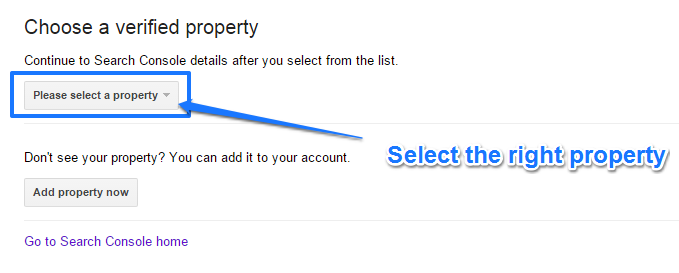 After you have selected the right propery you will be automatically redirected to the "homepage" of Search Analytics.

2. Select the Right Data Range
First a few notes here:
You can select a period of maxium three months.
You can't include the data of the last two days.
Tip: learn how to automatically download Google Search Analytics data on a monthly basis (great article by Paul Shapiro):
In my example I select the following data range: 1st July – 31th August.
3. Select the Landing Page You Want to Analyze
Now it's time to decide what landing page you want to analyze.
Let's assume I am interested in keyword data for this page: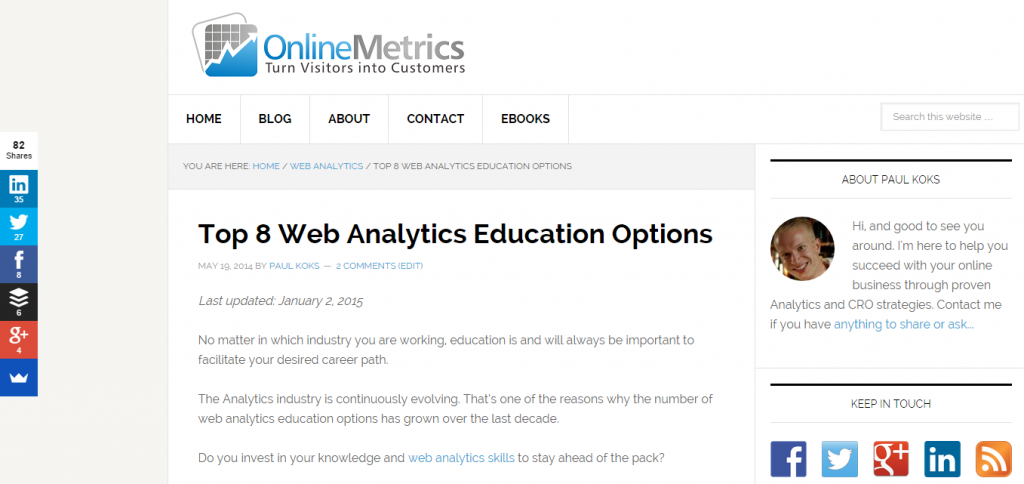 Follow the steps below to get the information you need: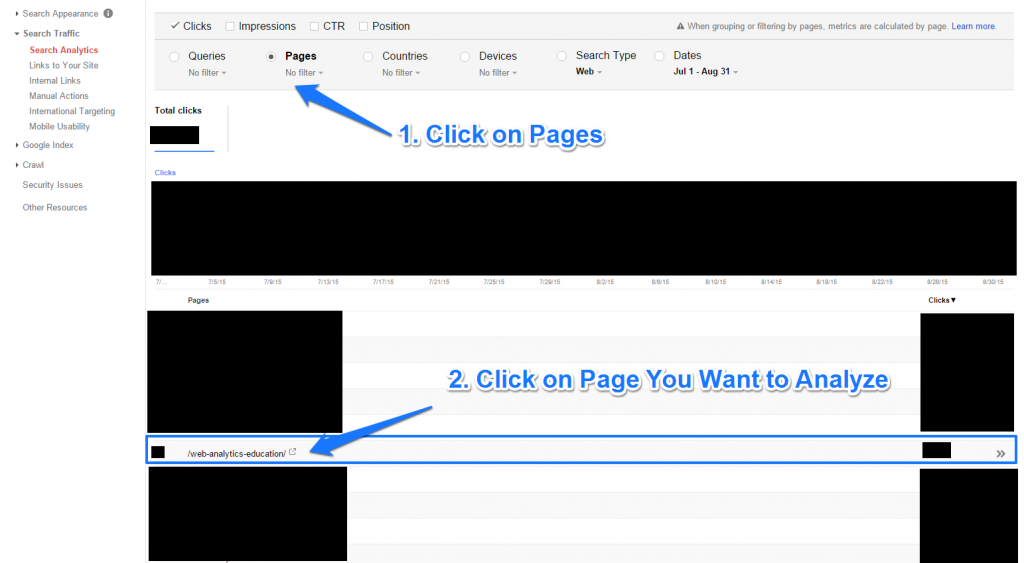 And now the right page is selected:
4. Switch to Queries
Now you can see all data for one of your landing pages.
The next step is to switch to query data for this particular landing page: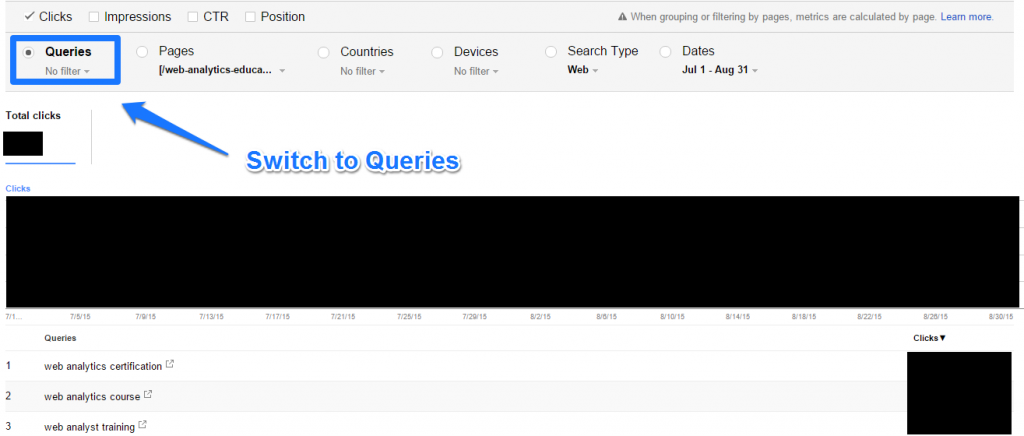 5. Select the Metrics You Want to Analyze
In order to best understand how things are going I recommend to select all metrics here:
Clicks
Impressions
CTR
Position
Here is some data of one of my pages:
Filtered on Clicks

Filtered on Impressions

I am sure this data is not 100% accurate.
However, it provides you with many great insights for your search strategy. In my opinion very useful for both organic as well as paid search.
Note: you can filter on country or device type as well.
6. Interpret the Data and Feed Your Search Strategy
I have plotted all the queries in a wordcloud to get a high level overview first: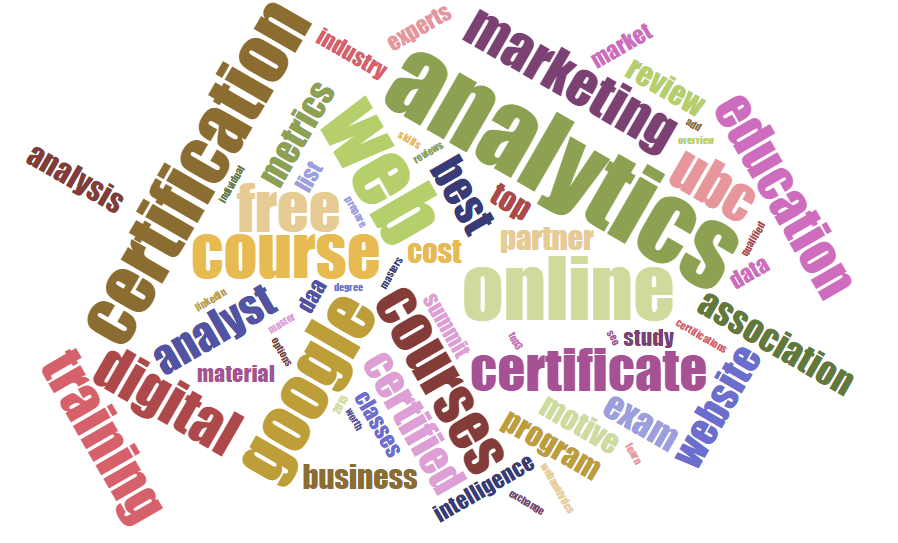 It's clear that combinations of web, analytics and certification are the most important drivers of Google impressions for this page.
I like to finish with a list of five insights from this data:
In terms of impressions and traffic, "web analytics certification" is the best performer by far.
A bunch of long tail keywords drive a small amount of traffic to my site (not all data is here).
There are quite a few queries on page three or lower that have a substantial amount of impressions.
For the top queries there is not a strong correlation between position and CTR.
Targeting the page of "web analytics certification" instead of "web analytics education" would probably yield better results.
A long story short, these insights definitely serve as great input for fine-tuning my search strategy.
I hope you have learned something new. What are your strategies for optimizing your search performance in 2016?
One last thing... Make sure to get my extensive checklist for your Google Analytics setup. It contains 50+ crucial things to take into account when setting up Google Analytics.