Inspired by many friends, I like to introduce my Google Analytics tips series: #GAtips. From now on I will regularly publish easy to digest, actionable tips in addition to the more in-depth articles that I write from time to time.
Tip 1: Exclude known IP addresses in Google Analytics.
Are you running a private website by yourself? Make sure to exclude your own IP address in the Google Analytics admin section.
Do you work as an in-house web analyst? Don't forget to exclude your company IP addresses.
Maybe you are an consultant working for several clients at a time? Make sure to exclude all the known IP addresses from their accounts to make the data more accurate and actionable.
Your own behavior will mess up your website stats so you really should want to filter this out.
Watch the short slideshow down below to see how this works:
Note: do you need to filter out an IP range instead of one IP address? Try this IP range tool to build your filter. Read this post about regular expressions if RegEx is an interesting topic to you!
You need a different filter in case of IP ranges: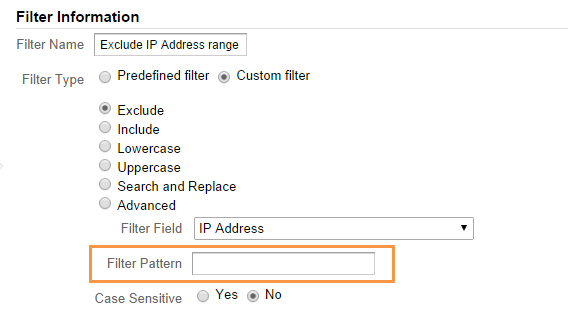 If anything is on your mind, please bring it up and add some extra value to this post.
One last thing... Make sure to get my extensive checklist for your Google Analytics setup. It contains 50+ crucial things to take into account when setting up Google Analytics.