High sampling levels in Google Analytics and low confidence levels in A/B testing. Your optimization efforts are doomed to fail if you don't educate yourself and avoid these cases.
It's nice if your reports load quickly, but what if this means your data isn't reliable anymore?
This article is aimed to help you with sampling in Google Analytics. Here is an example of how sampling looks like in GA:

In the example above, results are based on only 22% of the total sessions. Well, I don't like to draw conclusions on this data. What about you?
A simple, but for a lot of people unknown feature, can help you to deal with situations like these. No sampled data is the best, but sometimes – especially on websites with tons of traffic – it is hard to avoid.
Tip 6: Enhance Your Data Accuracy Within Seconds
Choose Between Speed and Precision
What I mean by this is that Google Analytics gives you the option to choose between faster processing and higher precision.
Would you like to process unreliable data within seconds? Then I advice to choose the first option. ;-)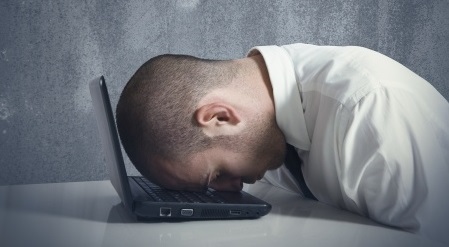 Without joking, data accuracy is always key. Here is how it works: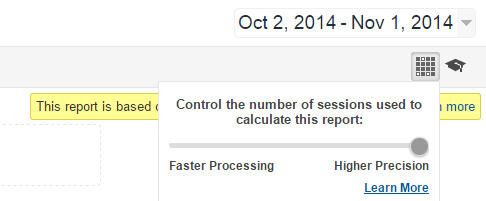 Simply hit the "16 squared button" in the upper right corner and set the number of sessions to highest precision.
This will most likely lead to more reliable data. In this specific case it leads to 45% instead of 22% of your sessions being included in the sample:

45% is still on the low side. However, I hope you understand that this powerful feature helps you to get more reliable data out of your Google Analytics account without real efforts.
As a rule of thumb I strive for 70% as a minimum, but preferably over 80%. And I feel ultimately happy when I don't see the yellow block showing up. :-)
Seven Extra Tips to Deal With Sampling
Educate yourself on sampling (Great guide on this topic)
Educate yourself on segmentation (Google Analytics segments best practices)
Set up different views for important segments
Use the Google Analytics API to automatically extract data on a daily basis
Invest a few bucks in tools like Analytics Canvas
Compare shorter periods (weeks instead of years)
Try out Google Analytics premium (unsampled reports for $$$)
In the future I might write an in-depth post on sampling and how to deal with it.
For now, I hope these tips help you to get started.
What's your opinion on sampling in Google Analytics?
If anything is on your mind, please bring it up and add some extra value to this post.
One last thing... Make sure to get my extensive checklist for your Google Analytics setup. It contains 50+ crucial things to take into account when setting up Google Analytics.