Over the last few years a lot has been written about content reports in Google Analytics. However, a few very important aspects have barely been touched.
That's why I have written this comprehensive, three-steps-guide you should read before you continue optimizing your content efforts.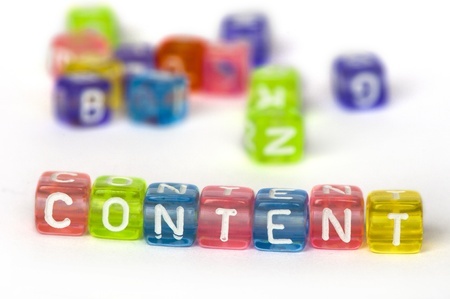 Are you ready to take your insights to the next level? And in other words to get closer to a pile of pure gold before your competitors do? :-)
1. Define Your Website Goals and Apply Goal Values
You might think, what does this have to do with my content reports? Well, everything!
Let's open the Google Analytics interface and navigate to Behavior >> Site Content reports: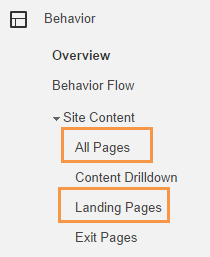 You can see that I have highlighted two reports:
Those two reports are very important in relation to goals and goal values. Let me explain why.
Within the "All Pages" section you can look at your content at different levels:
Number of pageviews
Number of unique pageviews
Avg. time on page
Entrances
% Exit
Page value
It's beyond the scope of this article to look at each of them. For an in-depth overview I recommend this Google Analytics Content Reports article written by Anna Lewis.
Page value is the key metric I like you to think about!
In easy words, the page value helps you to determine which pages are the most valuable on your website. The total value (derived from your goal values and e-commerce values) get's attributed to the pages that a visitor views in a session that leads to a conversion or transaction.
Within the "Landing Pages" section you can look at your content at different levels, the important metrics for now:
Goal completions
Goal value
Revenue
Transactions
Average order value
E-Commerce conversion rate
Per session value
By setting up your goals, goal values and e-commerce reporting you can derive tremendous insights from your content reports.
Four related articles that are worth reading:
A few insights you could think about:
What blog content does drive the most email subscribers?
What content areas should I focus more on to get the most value from my website?
Which landing pages do perform well in terms of my goals and which really need to be improved?
Which sessions are the most valuable?
Is my content evergreen or does it hold value only for a few months?
Please note that if you are running an e-commerce site you need to be careful with interpreting goal values.
The page value get's calculated by summarizing the goal values and e-commerce values. If the e-commerce values are far higher than the goal values you might run into problems. Why?
Before a visitor converts she needs to complete your sales funnel. So the pages in your sales funnel will always be accredited when a conversion takes place.
So make sure to put the page values in the right perspective. Especially when conparing sales funnel pages with regular pages on your e-commerce site.
This is the first, most important step. No goals, no gold. :-)
Now it is time to look more closely at your pages within your content reports.
2. Clean Up Your Content Reports
Your content reports may contain tremendous value.
However, with a poor Google Analytics configuration, they only provide you with some basic data numbers. And in some cases they are even useless.
First I will show you how Google Analytics content reports actually work.
Two examples (my assumption is that both websites are using Google Analytics):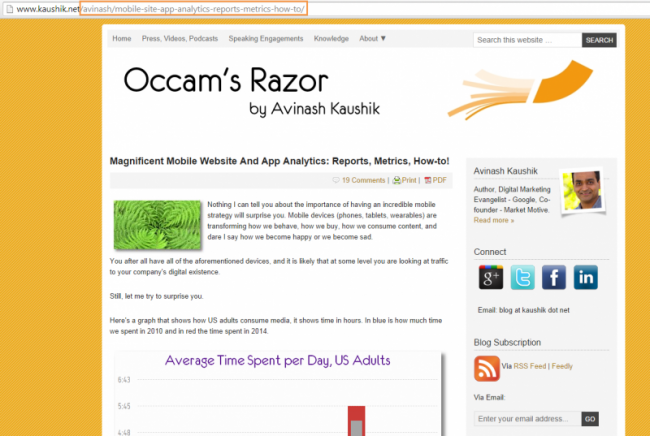 Three things to note:
URL: www.kaushik.net/avinash/mobile-site-app-analytics-reports-metrics-how-to/
Hostname: www.kaushik.net
Request URI: /avinash/mobile-site-app-analytics-reports-metrics-how-to/
On default, Google Analytics captures the request URI in the content reports.
In this case there is no problem, since this request URI is completely unique and won't vary across users.
Another example: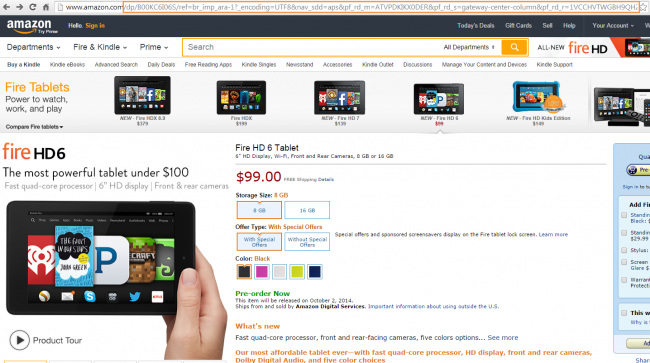 Three things to note:
URL: www.amazon.com/dp/B00KC6I06S/ref=br_imp_ara-1?_encoding=UTF8&nav_sdd=aps&pf_rd_m=ATVPDKIKX0DER&pf_rd_s=gateway-center-column&pf_rd_r=1VCCHVTWGBH9QHZFN733&pf_rd_t=101&pf_rd_p=1924735102&pf_rd_i=507846
Hostname: www.amazon.com
Request URI: /dp/B00KC6I06S/ref=br_imp_ara-1?_encoding=UTF8&nav_sdd=aps&pf_rd_m=ATVPDKIKX0DER&pf_rd_s=gateway-center-column&pf_rd_r=1VCCHVTWGBH9QHZFN733&pf_rd_t=101&pf_rd_p=1924735102&pf_rd_i=507846
Ok, this looks a bit different!
As you might know, Amazon is a huge e-commerce website. These type of websites tend to use many query parameters.
In the example above we can distinguish eight query parameters:
_encoding
nav_sdd
pf_rd_m
pf_rd_s
pf_rd_r
pf_rd_t
pf_rd_p
pf_rd_i
Many query parameters do have a technical function. However, they often don't provide a marketeer with extra insights.
As a test, please visit the URLs below:
– Amazon.com without query parameters
– Amazon.com with query parameters
Do you see any difference between both pages?
I will help you, there is one difference: the first page lands within the "Kindle Store" search and the second within "All Departments".
In most cases, you like to get rid of all the technical query parameters, because otherwise you risk registering thousands of different pages that actually refer to the same URL/page.
I recommend to read this article regarding query parameters.
If you have heard about canonical URLs and duplicate content, you probably already know the issue.
Do you see a lot more pages in your "All Pages" report than your website actually does have? I am 99,99% sure that is because of unfiltered query parameters.
Two Ways to Clean Up Your URLs
1. Via Google Analytics View Settings
Situation:
You have just a few query parameters and/or some query parameters you like to keep.
Solution:
Enter all the query parameters you like to strip from your URLs in the appropiate field in the view settings.
How:
Watch the short slidehow below:
Three remarks:
Use a comma (,) to separate two query parameters
This setting is case sensitive and there's a 255-character limit
You need to add the query parameters to every view you like the query parameters to disappear
2. Via Google Analytics View Filter
Situation:
You have a lot of different query parameters and you don't want to keep any of them.
Solution:
Apply one magic Google Analytics filter to get rid of them all in one time.
How:
Apply the filter down below to every view where you like to remove the query parameters: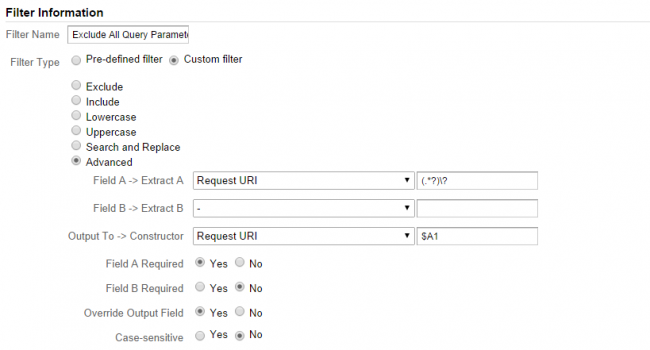 Please note that filters only work on the future data collection process. The historical data will remain unchanged.
3. Use Content Grouping to Analyze Larger Sections on Your Website
Do you have specific content sections within your website (e.g. /blog, /about, /shop)?
And are you looking for a solution to analyze not only the individual pages but also pages on an aggregate level?
In this case I definitely recommend to implement content groups for the most important content sections of your website.
A few things to know about content groups:
Currently, within a view (profile) you can set up five content groups at max
Setting up content groups works the most easy for a well-structured site (logical URL structure)
There are three ways to define content groups (by tracking code, extraction by RegEx and special rule set)
Please head over to Admin >> View >> Content Grouping to get started!
And read my in-depth guide on content groups to learn more.
As with filters, content groups are NOT applied to historical data.
To summarize:
Make your content report clean and eliminate unnecessary/duplicate URLs
Implement e-commerce (if applicable), goals and goal values on a detailed level
Implement content groups for different website sections you like to analyze and optimize
I am 100% convinced you will get the most out of your content reports if you closely follow these steps! The GOLD is waiting for you. :-)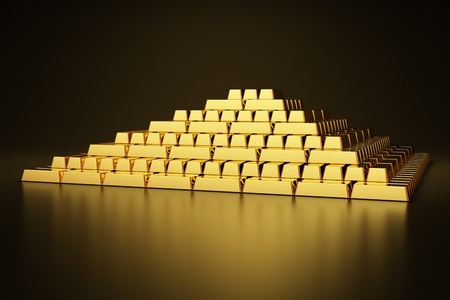 If anything is on your mind, please bring it up and add some extra value to this post.
One last thing... Make sure to get my extensive checklist for your Google Analytics setup. It contains 50+ crucial things to take into account when setting up Google Analytics.
Download My Google Analytics Setup Cheat Sheet

(Visited 841 times, 1 visits today)