In most cases well-written, original content is a must to build a long-term profitable business. Content creation should be an important focus point in every organization. It doesn't matter whether you provide a worldwide service or local products or simply run a small business website. This is true for any type of business.
The days that you could fool search engines with a bunch of meta keywords or bad content pages are over. Ok, the search engines are not perfect yet, but they are getting better every day. Building trust and a loyal audience is more important than ever.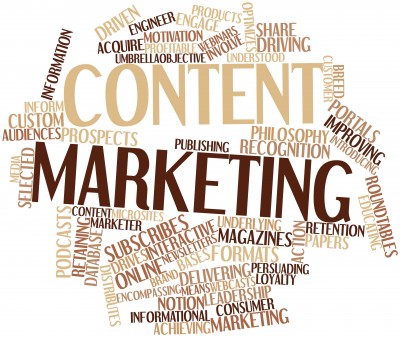 In this post I describe 5 tips for content creation that help you get more out of your content and website.
1. Write with People in Mind
It's no joke, the most utilized button on the Web is the back button. Think about it, how often do you click back to the SERP's after landing on a bad landing page? Offering a great, enjoyable user experience is more important than all those tiny details that ought to please the search engines.
In order to greatly improve your search engines rankings, you need to think about your audience first! It your audience love your content, the search engines will follow.
2. Avoid Duplicate Content
Avoiding duplicate content is a must to achieving long-standing, organic search engine rankings. Make sure to write unique content for your website and for every page that you add.
A tool that I favor is Copyscape. It's cheap and very easy to use and check the uniqueness of your content. If you accept guest posts, this is a great tool as well.
For everyone who likes to know more about duplicate content, this article about duplicate content best practices is worth a read.
3. Select One Main Keyword per Page
Before even writing one page, it's a best practice to build a website blueprint. Where are you going to write about? What are the main topics and subtopics of your website?
Answering these questions will help you structure your website in the best way. Your content creation plan is crucial when developing a new site.
For yourself, your team, the search engines and every person visiting your website, it's a good idea to select one theme and main keyword per page.
4. Use Other Keyword Versions as Well
Let's assume you are working for a SEO company. You have an assignment to write a blog post about title tags and help your company rank in the top 10 on this keyword or other versions of it.
First of all you do want to add the keyword to the blogpost URL. Ok, now about the content page itself.
Your main keyword is "title tag". So you want to use it a couple of times on your page. Don't get crazy about exact keyword density numbers here.
Three easy ways for finding additional keyword versions for this page:
1. Just type in the phrase "title tag" in the search engine search box without hitting "enter".

2. Type in the phrase "title tag" in the search engine search box an hit "enter".
3. Type in the phrase "title tag" in the Google AdWords Keyword Planner.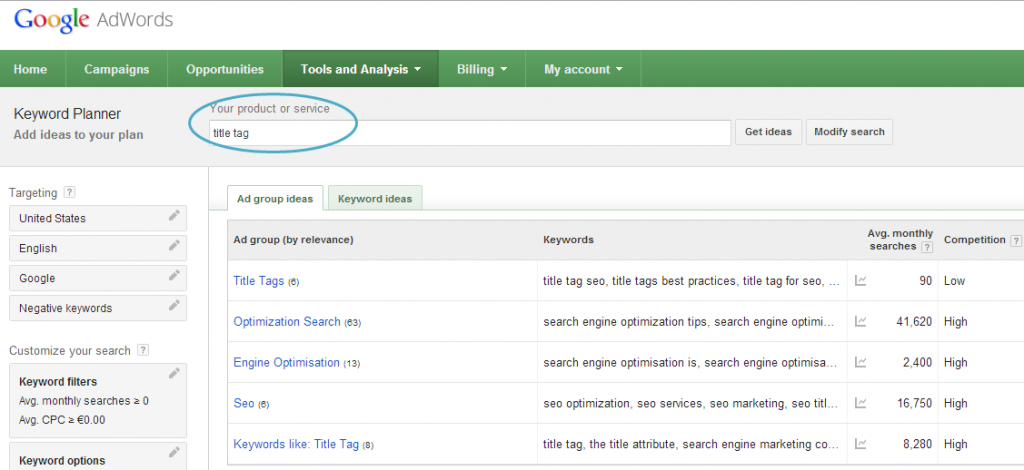 These three methods are beneficial to your content creation strategy. You might discover not only relevant, related keywords for your "title tag" phrase, but new keywords for additional pages as well.
I haven't mentioned the external Keyword Tool of Google here, since they are planning to integrate the Keyword Tool with the Keyword Planner soon.
5. Keep Your Content Current
Keeping your content current is essential in achieving and keeping high search engine rankings. This is not only a direct effect because of search engines liking fresh, new content.
It is also affected by your audience. Think about how dozens of shares, likes, tweets and other social signals might impact your website traffic by establishing higher rankings.
A great report to finish with: Uncovering Marketing Benchmarks from 7000 Businesses. Just download it and take your time to read it! It is a very interesting read. This in relation to the content creation strategy that you choose. Btw, I am in no way affiliated, just enthusiastic. :-)
Ok, I could lengthen this list with many more content tips, but in my opinion this is a great start!
Now it's your turn! Do you have any more content creation tips to share?
One last thing... Make sure to get my extensive checklist for your Google Analytics setup. It contains 50+ crucial things to take into account when setting up Google Analytics.