Google Analytics offers dozens of standard reports within the GA interface. They are a great place to start, especially when you are just starting out or need a quick glance to see how your website is performing.
However, every website has it's own needs and goals. So why not customize your reports?
In my experience you need to use the Google Analytics API and custom reports to derive the greatest value from your Google Analytics data.

In the screenshot above you can see the tab Customization. This is where you can build your reports from scratch. The custom reports will show up on the left side; in this example there aren't any active custom reports.
Custom reports, it may sound daunting at first.
Well, one trick might help you to get up to speed with building these reports.
Tip 7: Use Standard Reports to Build Powerful Custom Reports
Most standard reports in Google Analytics do have a Customize button as shown below:
(traffic stats of my good old Marathon Running website)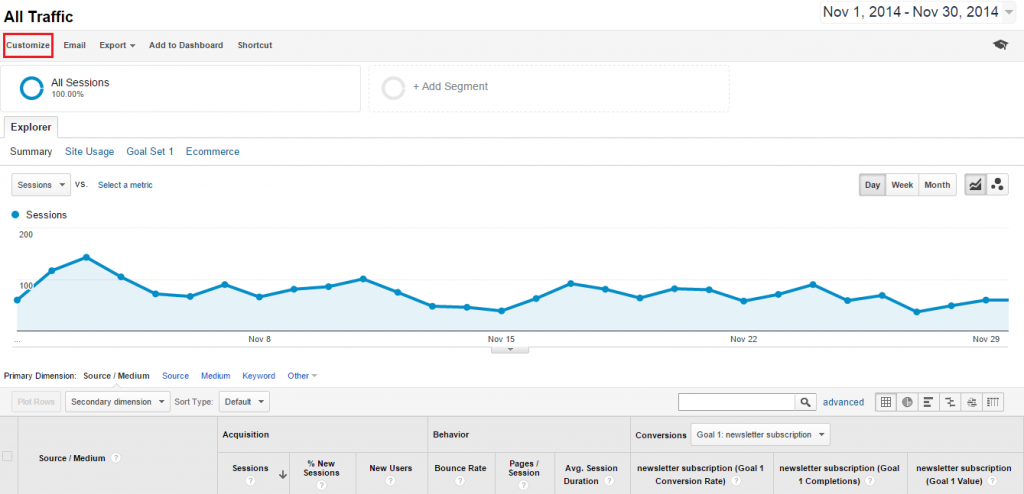 You need to click the Customize button to open the customizable report window which is shown here (click on image to enlarge screenshot):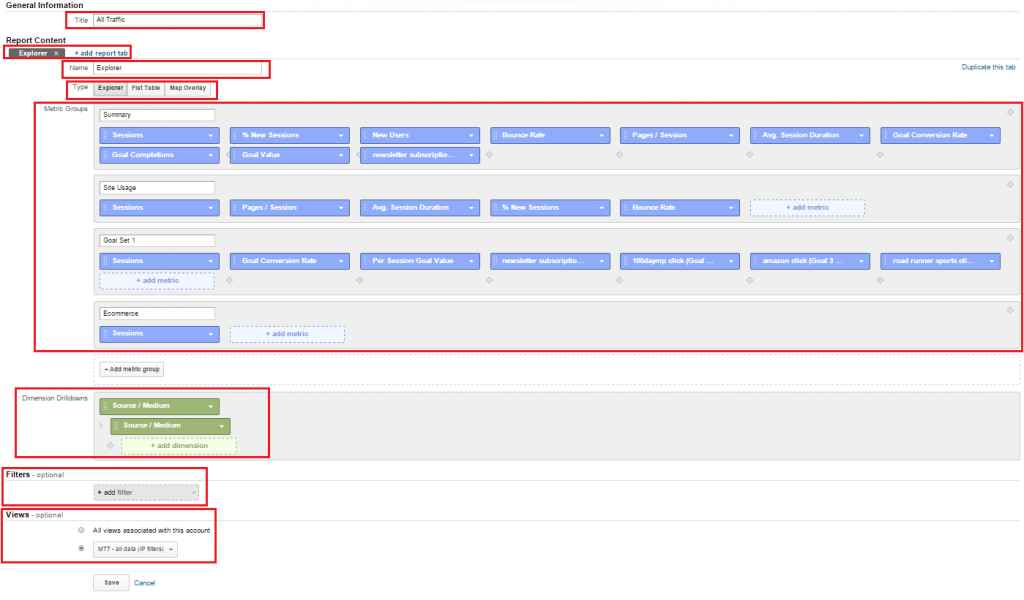 There are eight things to customize:
Report title: give the report an intuitive name; use naming conventions if you expect to build lots of these reports
Report tab: if you want to build a huge report with different tabs for different stakeholders, this is an option to try out
Report tab name: a recognizable name for your report tab
Report type: 1. explorer (most common), 2. flat table (one set of dimensions and one set of metrics) and 3. map overlay (useful for regional reporting)
Metric Groups: one or more groups of metrics you like to show in the report you are creating
Dimension Drilldowns: the option for users to drilldown on certain dimension-metric combinations; start with the highest level dimension and then segment it into "deeper" dimensions (medium -> source -> keyword)
Filters: include a subset of your site visitors based of certain characteristics
Views: option to save this custom report to one or more views (profiles)
By doing this you can customize an existing report and build new ones!
Last step, hit the Save button. Your report will be stored under the Customization tab.
Especially when you are new to custom reports, this is a great way to quickly learn how they are built and build them smarter and faster.
One more thing: you can copy (if you like to build a similar report), export, email (just one time or scheduled) and share your report. A lot of options to suit your needs!
Helpful resources:
This is it. I hope these tips help you to get started with custom reports.
If anything is on your mind, just bring it up and add some extra value to this post.
One last thing... Make sure to get my extensive checklist for your Google Analytics setup. It contains 50+ crucial things to take into account when setting up Google Analytics.