Your Google Analytics configuration is one of the most important steps in acquiring the right data. You can implement the Google Analytics Tracking Code, but without a proper configuration your data becomes meaningless.
In this post I will describe the basic Google Analytics Profile Settings and offer suggestions for setting it up correctly. I will discuss the following six topics:
The Default Page
Query Parameters
Currency Settings
E-commerce Reporting
AdWords Cost Data Import
Site Search
No matter the number of profiles you choose to work with, every profile should have the basic settings right.
Ok, let's start with step number one.
1. Setting Up The Default Page
Does your website or one of your client's websites contain a default page? If there is one additional URL that presents the content of your homepage, it is important to set the default page in your Google Analytics Profile Settings.
Let's take a closer look at Unicef.org: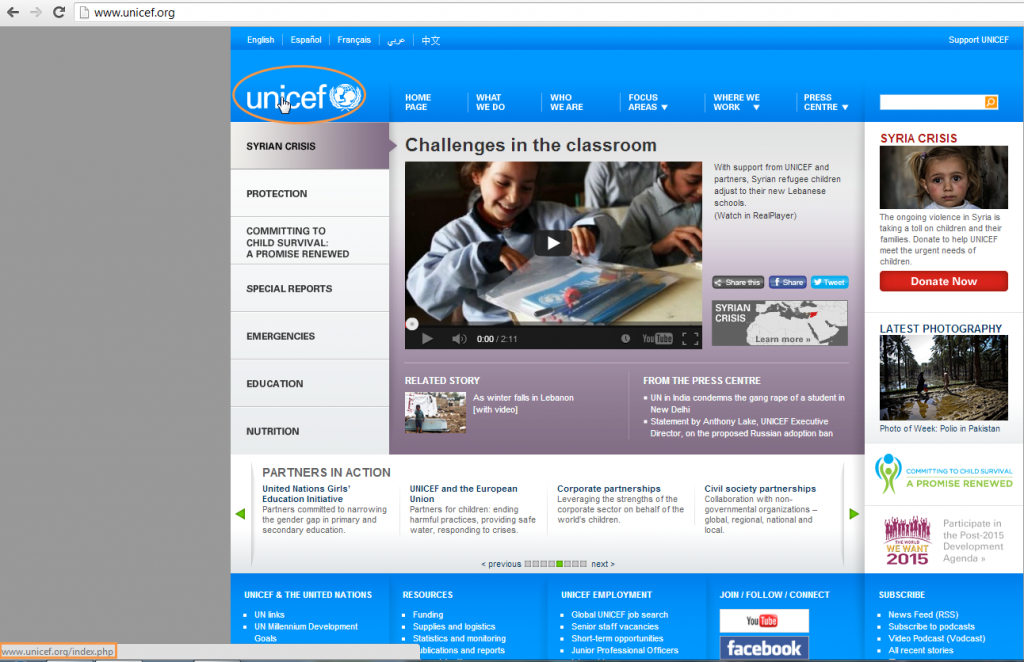 As you can see their homepage can be reached on:
http://www.unicef.org
http://www.unicef.org/index.php
We don't want / and /index.php to show up in Google Analytics as two different pages. That's why in this case we add index.php to the default page settings in Google Analytics.
Well done, you just finished the first step in getting your Google Analytics Profile Settings right.
2. Excluding Unnecessary Query Parameters
A lot of websites use three, four, five or even more technical query parameters.
For an example, please take at look at this URL: http://www.example.com/?cid=2dae88a8-66b1-475d-8a35-2978bd. In this case cid is a technical query parameter.
We don't want these parameters to show up in Google Analytics. It will cause different URL's to appear in Google Analytics for the same content page.
Google Analytics provides you with the opportunity to strip five parameters from your URL. If you add the parameters to the list of Query Parameters in your Google Analytics Profile Settings, make sure to separate them by a comma [,].
Currently there is a limit to five parameters per profile.
If you have six or even more technical parameters you might choose to use a Google Analytics Profile Filter.
Be careful with this. You don't want to delete parameters that are useful for your online marketing analysis.
If you are convinced your website only uses technical parameters, this filter will do all the work: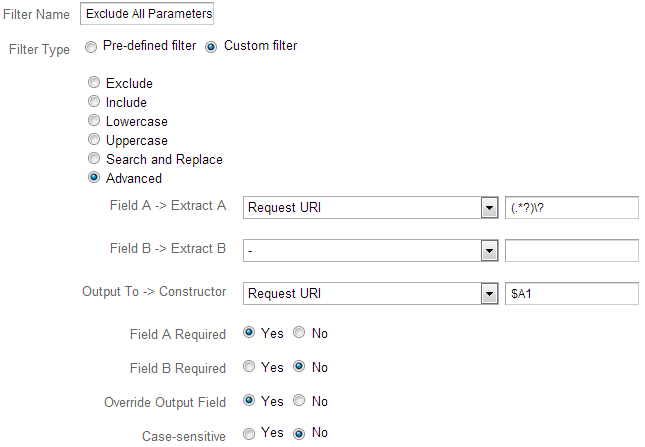 You will notice that without this step on a large website you might see more than 100.000 URLs in the content report. The problem is that without filtering the technical parameters out of your URL, a lot of duplicate URLs will show up. This will make analyzing your data very difficult.
For more information on Google Analytics Profile Filters, you should read my previous post about 8 Google Analytics Profile Filters.
3. Currency Settings
The displayed currency that you can see in the Google Analytics reports (transaction revenue, AdWords cost data, imported cost data, or monetized goals), is for display purposes only.
It does not take into account any exchange rates. So the currency settings only set a particular currency label.
I would say it is not of crucial importance, but just do it right. Your client or boss will be much more happier then!
4. E-commerce Reporting
Selecting, Yes, an E-commerce site, will enable E-commerce reporting for your website. It will appear as a different report section in Google Analytics and I definitely recommend using it if you are selling products or services on your website.
In addition, there are clever ways to use E-commerce Reporting on Non E-commerce sites.
Enabling E-commerce will provide you with many new insights that help you to optimize your online marketing spend.
In order to get this to work, you need to add additional code to your website. You might want to direct your webdeveloper to this section: GA Tracking E-commerce.
5. AdWords Cost Source Settings
If you are running AdWords campaigns, you will definitely want to import the cost data into one or more of your Google Analytics profiles.
The first step is linking your AdWords account to your Google Analytics account. After that you can choose to import the cost data on a per-profile basis.
6. Site Search
Site Search is a very important feature of Google Analytics. If your website has an internal search engine, you will want to track your visitor's behaviour in this engine.
Capturing internal search terms can reveal a lot about your visitors intent, content they were not able to find through your primary navigation and many more insights can be derived from this module.
For an example, I will do a search on this website. I just searched for "google analytics filters" and in my address bar this URL shows up: http://online-metrics.com/?s=google+analytics+filters.
In order to get the results that I want, I need to enable Site Search in the Google Analytics Profile Settings and add s as the query parameter. Google Analytics gives me the choice to strip the query parameter from the URL.
If those query parameters are not useful to you it might be a good idea to remove them. The search terms will still show up in your Site Search reporting if you do so.
Unfortunately it is not always that easy to setup Site Search reporting. So what should you do in case your Site Search Results Page don't contain Site Search Parameters? There are two solutions in this case:
Be very kind to your webdeveloper and explain the importance of Site Search; maybe he is willing to create a solution that forces the query parameter to show up in the URL
If the first solution doesn't work, you might want to choose to create a dynamic virtual pageview within your Google Analytics Tracking Code
The following example shows one way to modify your GATC on the search result page:

Every time the Search Results Page appears, the searchterm should be automatically placed between the brackets. In this case you should add q as the query parameter to your Google Analytics Profile Settings. Make sure to change the GATC to your own unique UA number.
This is it, you've got the basics right!
Make sure to read this Google Analytics implementation guide if you like to improve your implementation.
One last thing... Make sure to get my extensive checklist for your Google Analytics setup. It contains 50+ crucial things to take into account when setting up Google Analytics.