Google Analytics can be one of the most powerful Web Analytics tools. You need to implement and configure it in the right way and use the data to your advantage to drive conversions and improve your overall conversion rate.
However, it is important to understand that Google Analytics on its own can't make miracles happen. It's just one part of the puzzle.
You need a lot more in your Analytics arsenal to get the online success you are aiming for.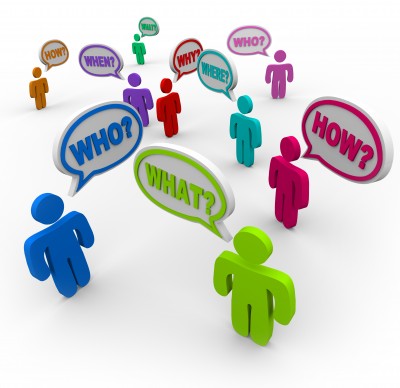 Last week I gave a Google Analytics workshop focused on data analysis. One of the students asked me so many "why" questions while looking at the data in Google Analytics. These questions inspired me to write this article.
I will provide you with a structured and easy-to-follow approach to get more out of your website.
Analytics Tools – Optimization Framework
Before starting to think about which Analytics tools to use, you need to make one thing really clear: your online business objectives.
What do you want to achieve (goals, KPIs, segments) and when (targets)?
Without getting this right at the start, you simply don't know where you need to focus on. And even worse, you don't know whether you are performing good or bad.
In this article I will describe six steps to follow and a trilogy of Analytics tools for online optimization. The framework is given below: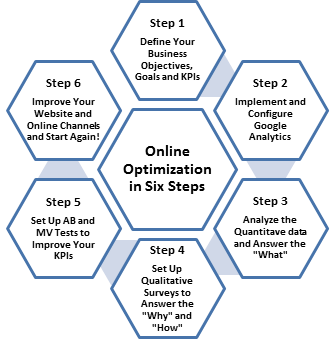 Step 1. Define Your Online Business Objectives
I would define "get a clear overview of your business objectives and goals" as the crucial first step.
Your online business objectives are unique and they may vary according to you specific niche. The majority of websites fall with their primary objective into one of these categories:
E-Commerce

Lead generation
Informational (Services website / Blog)
Read this post about Google Analytics Goals if you like to get some tips on using Google Analytics to track and optimize your online goals.
Continue to step 2 only when you have succeeded in clearly defining your business objectives, goals and online metrics / KPIs.
Step 2. Implement and Configure Google Analytics
In order to collect quantitative data you need to implement a Web Analytics package.
For the sake of this article, Google Analytics is chosen as the quantitative data collection tool. You could choose Webtrends, Adobe SiteCatalyst or any other suitable Web Analytics tool as well.
But beware, you wouldn't be the first person / company to invest a lot of money in tools without having the resources to implement it correctly. Let alone, use the data to optimize your website results.
Make sure that you set up your Analytics tool in line with your business objectives. This is needed so that you can optimize on your already defined set of KPIs.
Skip or wrongly implement this step and the next steps are a waste of time.
Are you relatively new to Google Analytics? This article with tips on the basic configuration of Google Analytics will help you out.
Continue with the next step if you have invested the necessary time to implement and configure Google Analytics correctly.
Step 3. Quantitave Data in Google Analytics to Answer "WHAT"
Great, you have collected two months of Web Analytics data in your Google Analytics tool. And now what? You won't get better results by just looking at it.
Before diving into the data it is a good start to define a business question. What are you solving for?
You need to select a small set of (custom) reports after you have clearly defined this question. A few examples:
What campaigns drive a lot of traffic, but are at the same time responsible for a small percentage of my conversions?

After looking at my PPC data, what SEO opportunities arise?
What are my worst performing Affiliate landing pages?
What pages do have a too high exit rate?
In which funnel step would I expect the drop off rate to be lower?
If you have no clues, I like to provide you with a set of five reports to start looking at:
Traffic sources overview (what sources are driving traffic to your website?)
Traffic sources correlated to conversions (what sources are delivering good quality visitors that perform one of your desired actions?)
Segmented landing pages report (what landing pages have a high bounce rate (> 50% as a start) in general and does it vary per segment?)
Mobile devices report (what about mobile performance compared to your overall site performance?)
Goal funnel report (where do your visitors drop off in the order / signup flow?)
By now, did you identify a few "problem" areas on your website? Great, it's time to complement your analysis with data from qualitative Analytics tools.
Step 4. Get Yourself a Qualaroo Account to Answer "WHY" and "HOW"
I like to start by saying that I am in no way affiliated with Google Analytics or Qualaroo. In my search for the ultimate toolset for an analyst both tools rank very high.
Google Analytics is great for quantitative data collection and analysis on the "what" part.
On the other end of the spectrum you need to find out more about the "why" and "how". This is where a tool called Qualaroo comes in scope.
With smart in-page surveys you can target issues that you identified earlier within your Google Analytics tool. Find out where you need to work on and what you need to change to improve the percentage of visitors that take a desired action.
Why Qualaroo is really a great choice:
Easy to set up (add one tag to your website pages and you are done!)
Good price / quality ratio ($ 80 to $ 200 dollars a month)
Lightning fast set up of surveys
Great customer service desk (based on my own experience)
Integration with Google Analytics and other tools
Surveys are 

not

intrusive, but have a high response rate
Flexible set of rules on when to show a survey
Surveys deliver great insights on what to test for further improvement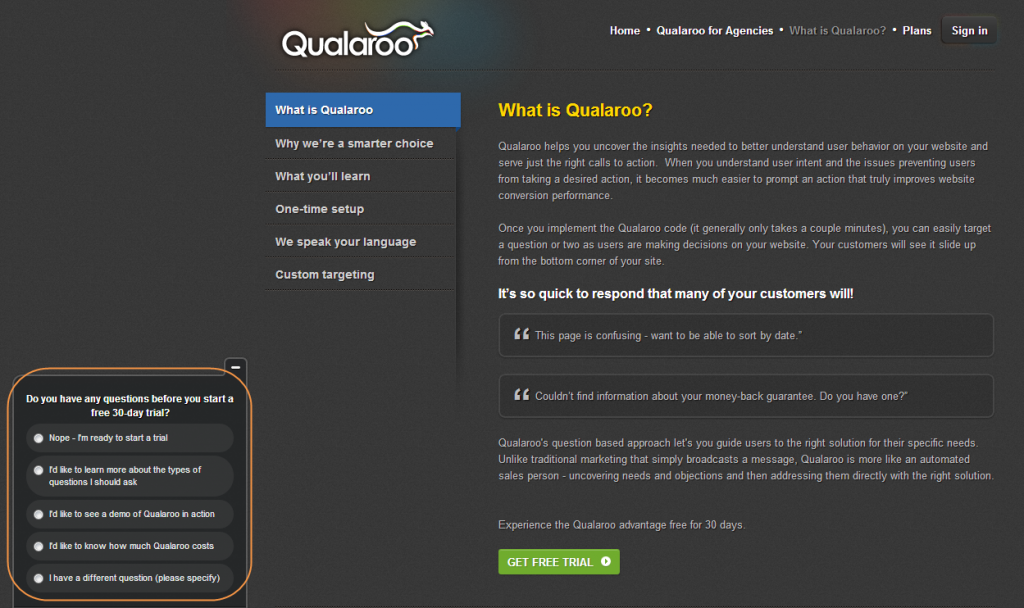 What are you waiting for? Go grab your free 30-day trial at Qualaroo.com.
After you did run a few qualitative surveys on your website with Qualaroo (or any other survey tool) you are ready for the next, important step: testing!
It's time to set up AB and/or Multivariate tests to really improve your website and drive conversions to a higher level.
Step 5. Improve Your KPIs with Visual Website Optimizer
You are doing good if you use Google Analytics and Qualaroo to improve your website.
Complement these Analytics tools with a testing tool like Visual Website Optimizer and you are on your way to become a great Conversion Optimizer specialist.
Both Google Analytics and Qualaroo deliver great insights on issues on specific areas on your website.
Some people choose to simply make changes to their website based on Google Analytics results and/or online surveys.
Well, I am a huge fan of testing these changes. Only the behavior of a large enough group of website visitors can prove you right or wrong.
Again, I am neither affiliated with Visual Website Optimizer, but for me it is simply one of the greatest, affordable testing tools currently out there.
It goes beyond the scope of this article to explain testing in all depth. I recommend to start with AB testing and after you are more comfortable you can think about Multivariate testing as well.
A short recap of the Analytics tools and what you can expect to achieve when using them: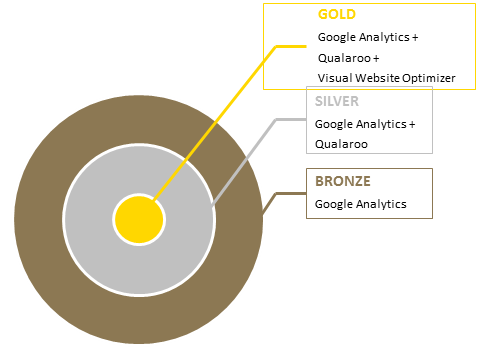 Step 6. Improve Your Website and Start Again!
Great, you are now ready to improve your website based on the test results of Visual Website Optimizer. I am convinced that you will succeed if you carefully follow the steps outlined before.
It's time to start again with step 1 and 2 and target another area on your website that needs to be improved.
I recently wrote a guest post on online-behavior.com with the title: 51 Tips to Succeed With Web Analytics. If you haven't read it yet, go check it out, you won't regret it!
Now it's your turn!
One last thing... Make sure to get my extensive checklist for your Google Analytics setup. It contains 50+ crucial things to take into account when setting up Google Analytics.