Minimize your reporting time and maximize your optimization efforts. And you are on the right path to become an analytics ninja!
For a lot of people this is easier said than done.
You might be stuck in corporate politics. Or you might have a lot of clients with these awful reporting needs.
You send a lot of reports and they are saved in the Inbox. And never looked at. Unfortunately this is true in a lot of cases.
I don't say reporting is bad; it's often overused and misabused.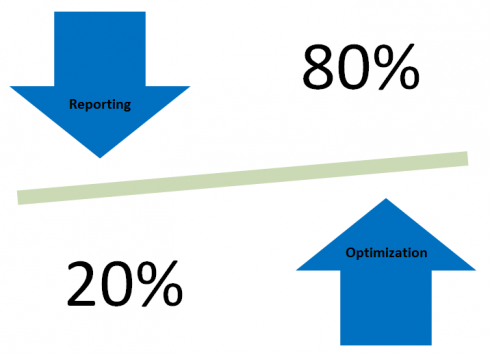 Change is a must if you are stuck at 80% reporting and 20% optimization time!
It's the same as investing 99% of your budget in traffic and 1% in CRO. It simply doesn't work that way.
You want highly qualified visitors that are ready to convert on an astonishing platform!
Make a change before it is too late. The possible impact of automation is huge…
Believe me, it can be different! There is enough time left to save your career.
In this article I describe eight tips to change from a reporting squirrel to an analytics ninja.
Do you join me for an exciting ride? Good!
Reporting ≠ Optimization
Realize that reporting and optimization are not the same. It might sound like a no-brainer, but why are so many of us still devoting too much time to reporting?
Im my opinion:
"Reporting can aid your optimization efforts but doesn't bring a direct ROI for you or the company you are employed."
"Optimization efforts are directly related to improving the experience and ROI of your website visitors; this in contrast to reporting."
External resources:
1. Become an Expert in Your Field
There are literally hundreds of ways to expand your skillset further. When doing so you will find your influence to grow.
If you say a lot of smart things, people are more eager to listen to you.
So you could more easily persuade your colleagues and clients to take the road that leads to the best outcome for all.
Five things to embrace:
Improve 10 Vital Web Analytics Skills
One of my most popular posts is about the top 10 web analytics skills. Read it and I am sure your knowledge rollercoaster is going faster than ever before.
Read, Watch, Learn and Adapt
There are a lot of interesting blogs, books, videos, podcasts etc. out there. Make a selection and derive great ideas you could apply in your unique situation.
Last year I published a post about the top 20 Analytics blogs (recently updated).
A few other interesting reads:
Learn Statistics
A/B testing might sound easy. You have your control page and put your ideas in an ideal version – all based on a simple hypothesis – and the $$$ come in.
Sorry to disappoint you, but A/B testing and Conversion Optimization isn't that easy.
Ideally you should know about:
The company that is involved and the competitive field
Important characteristics of "the customer"
Quantitative data (website behaviour)
Qualitative data
Persuasion elements that drive conversions
And most importantly, if you interpret the data in the wrong way, you are wasting time and money.
So make sure to learn a bit about statistics as well.
Suggested resources and tools:
Start an Online Business
The best way to learn more about reporting and optimization is by putting things in practice.
Is there a better opportunity than starting an online business (or simple website) by yourself? I don't think so.
I recently wrote an article about why every web analyst should start an online business.
Just read it and let me know what you think!
Keep on Learning
Everything changes.
Especially in the Analytics field – a rapidly changing environment – you can't lose your attention for a long time without being "punished".
Keep on the edge of things and you will do great!
2. Learn How to Deal With HiPPOs
You boss, well he or she might behave as a HiPPO blocking your road to Analytics nirvana!
Read these six tips to deal with your HiPPO to avoid another obstacle.
They actually made the fun out of it a few years ago :-)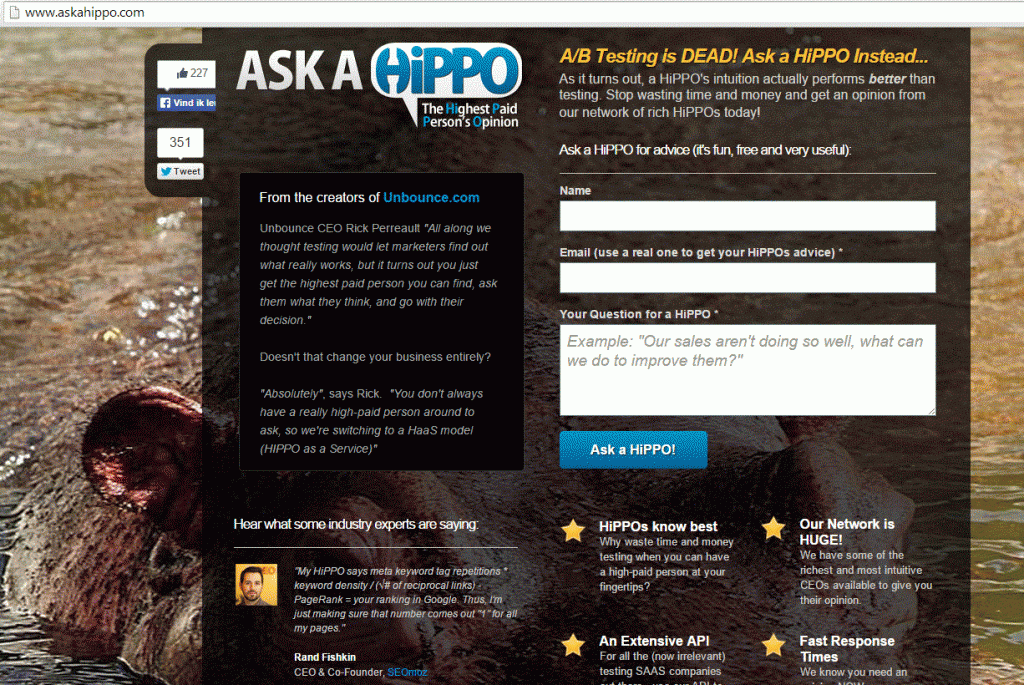 3. Automate Your Reporting Efforts
Do you like to become an analytics ninja like Yehoshua Coren?
Simply stop wasting your time with reporting every week.
It will save you hours of your valuable time, each and every week.
Do you use Google Analytics? You will enjoy reading this post about reporting automation.
4. Report on Results
Forget pageviews, forget visits. These metrics are not the drivers of commercial success.
Develop your talent to explain and persuade your boss or client to take another direction.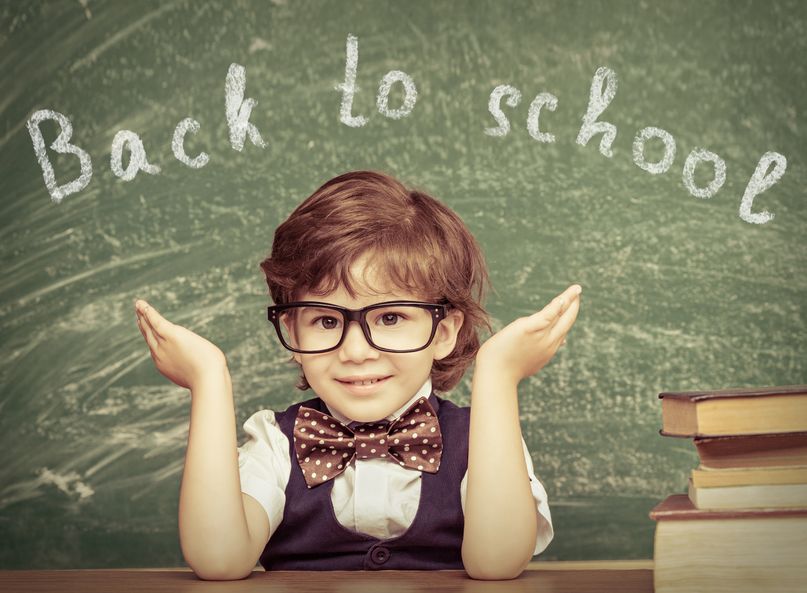 Of course, no traffic means no sales. We all know that.
Put those numbers in perspective. I have seen websites with ten thousands visitors each month and hardly any sales.
What is driving online success? What keeps your business healthy in the long run? Focus on online metrics that matter and report on them!
How to discover great metrics? Read on, you won't reget it!
5. Formulate Great Questions
Every web analyst should learn how to ask questions.
If you ask the right questions, you can quickly solve customer problems. And find out what are the exact reporting needs that actually make sense.
Have you heard about the five whys? It's an effective method to find the root causes behind a problem. And distill an opportunity to make things better.
Here are 11 questioning tips from a fantastic post written by Himanshu Sharma.
Overcome your fear of asking questions.
No question is a stupid question.
Ask questions whose answers seem pretty obvious.
Don't try to figure out everything on your own.
Acknowledge the expertise of your client by asking questions.
Ask questions every day.
Give answers that sound like questions.
Your client already know the answer, he is just unaware of it.
Raise objections by asking questions.
Ask follow up questions.
Make asking questions your daily habit.
And I do agree that asking questions will skyrocket your Analytics career!
6. Determine One Key Metric
In relation to this point, I like to refer to two books you should have on your bookshelves:
A lot of people talk about these books and principles behind in relation to startups. I feel the lean and agile approach should apply to any business in one way or the other.
As a web analyst you are equipped with a lot of tasks. During the optimization process you don't want to focus on the wrong metrics.
Like discussed before, it is very important to ask questions.
In addition, finding One Metric That Matters (OMTM) is crucial. Both for you as well as the business your work for.
In Lean Analytics the three core principles are:
What business are you in?
What stage are you at?
Who is your audience?
Take the time to answer these questions for you specific situation and you will move closer to your metric that matters.
Watch this video by Alistair Croll if you have some free time (96 min to be exact) :-):
Or give yourself FREE access to this Udemy course (
click on screenshot to go to website
):

Vanity Metrics vs. Actionable Metrics
Here is how I see the difference between both type of metrics.
Vanity metrics:
"A vanity metric equals a number that might indicate an improvement (e.g. more visitors on your website), but the improvement is disconnected from your organizational online business goal(s)."
Actionable metrics:
"An actionable metric equals a number that might indicate an improvement (e.g. average order value) and the improvement is directly connected to your organizational online business goal(s)."
In the Lean Startup good metrics are described as: actionable, accessible and auditable.
In Need of More than One Metric?
It's better to select one great metric instead of a few useless, vanity metrics.
Keep in mind that any additional metrics (KPIs) should be in line with your business goals. If they are not, ditch them!
You are one step closer to becoming an analytics ninja.
7. Answer the What, Why and How
Great, by now you have learned about:
How to become an analytics expert
How to effectively deal with your "boss"
How to move from reporting to optimization
Why and how to ask questions
How to select a great set of metrics
I am sure this wealth of knowledge will greatly benefit your career.
You all know Avinash Kaushik I assume. If not, feel ashamed. ;-)
He has introduced the web analytics concepts behind What, Why and How.

The picture above shows how I feel about this.
What: is the lowest level of insights (quantitative insights) // what happened?
Why: is the next step (qualitative insights) // what happened and why?
How: is analytics nirvana (data + psychology + business + consumer understanding) // how can we influence the why based on the what?
In other words:
"It is good to know what happens on our website (our conversion rate is well below 2%)"
—>
"Our customers experiment technical issues when placing an order and don't feel secure in the process, what about our prices?… great to know this"
—>
"Let's combine these data insights with all the information we have about our business, market and consumers. How do they react on persuasion elements? We need to formulate effective A/B tests based on a smart hypothesis. This might improve the experience of our website visitors. Now we are getting there!"
Don't get stuck in the What!
Interesting read: Trilogy of Analytics Tools.
8. Create a Data-Driven Culture
If you really aim to become a kick-ass analytics ninja, there is one more thing. And it's very important!
"Transform your organization into a data-driven culture"
You will move from analytics to action. It isn't easy, but the fruits of your labor are awesome.
How to Move Into a Data-Drive Paradise
There are seven steps that I – and my good friend Avinash – recommend to follow: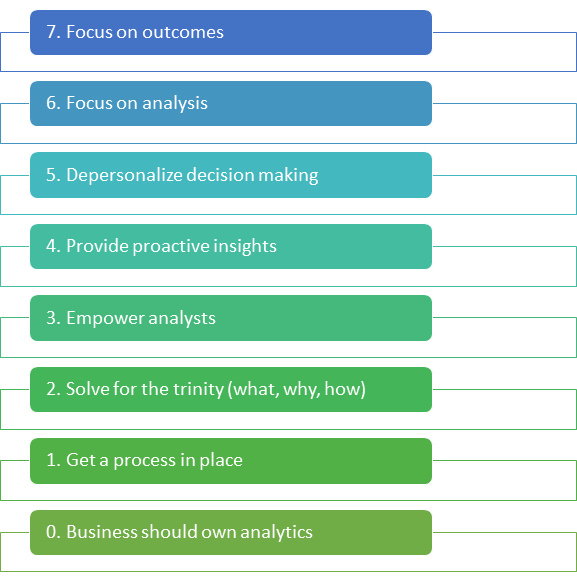 You must be tired, but… you are on your way to becoming an analytics ninja!
Do you have any tips to move from reporting to optimization that you would like to share?
One last thing... Make sure to get my extensive checklist for your Google Analytics setup. It contains 50+ crucial things to take into account when setting up Google Analytics.
Download My Google Analytics Setup Cheat Sheet

(Visited 629 times, 1 visits today)