Are you having a hard time enhancing your Web Analytics skills? Think like an entrepreneur if you really want to grow your Web Analytics career from zero to hero. Are you ambitious enough to become a true Analytics hero? Great, ambition is very important to achieve anything in life.
In this article I provide you with a 6 steps framework that helps you to become better at Web Analytics and stay in front of the pack.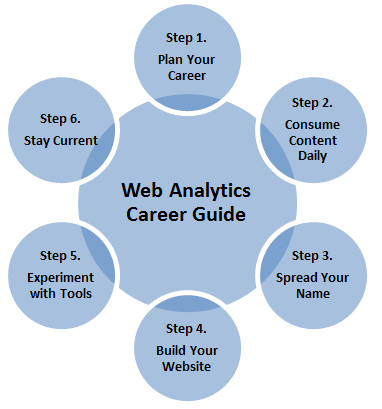 This writing is inspired by:
Hundreds, maybe thousands of interesting pieces of content that I read
Great courses by industry leaders in the Online Marketing and Web Analytics field
Continuous learning by trial and error
No time to waste, so start with a plan!
1. Plan Your Web Analytics Career
It is critically important that you make a choice about the kind of career you like to pursue. What are your strenghts? What are your interests? Roughly said, you have four options to choose from. These are shown below: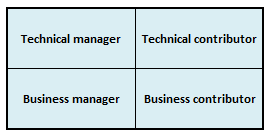 Do you love managing other people or do you like to consult clients on a daily basis? Are you a real "code digger" or do you get excited from analyzing data and presenting data in a meaningful way?
It is already hard to excel in one role, so don't think too easily about becoming an expert on the technical and analytical side.
Take your time to answer these questions and you know which role suits you best.
For a more thorough overview of these Analytical roles this is an excellent read: Analytics Career Advice: Job Titles, Salaries, Technical & Business Roles.
If you skip this first step, you have no clear focus in your career.
The rest of the article is focused on the individual business side. Although Web Analytics Managers can definitely benefit as well.
2. Consume Content on a Daily Basis
Almost one decade ago I got caught by the Online Marketing virus. :-) I have a background in Marketing and Market Research, but there was no good Online Marketing education at that time.
That's why I committed myself to consume as many interesting resources as I could find. Until today I still consume great content both online as well as offline. I learn new things every day!
Some of the books I really enjoyed reading: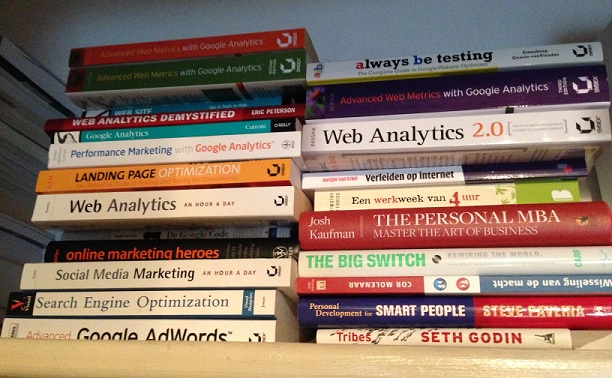 I feel that purely concentrating on Web Analytics literature is not enough. You will make a big difference if you have a good understanding of all the marketing channels that are there. Yes, even to read a bit about offline marketing can pay off big.
Online videos are a great way to learn as well. Market Motive offers a comprehensive set of Internet Marketing Training Courses on all the major Online Marketing disciplines.
For a good reading list to get started on (Google) Analytics or simply to grow your knowledge, take a look at Analytics Education – Resources & Academic Programs written by Daniel Waisberg.
Don't forget to visit congresses now and then. It is a great way to enrich your experience.
3. Get Involved
Is your Web Analytics career path a bit more clear now and are you busy consuming great content? It´s time to participate in the online world!
Make sure that people get to know you. There are many different options to get involved. I will give you five ways to start:
Become a member of the Digital Analytics Association. For under $200 a year this is a great way to start expanding your knowledge and sharing with others
Comment on Web Analytics and other Online Marketing blogs; add value to what other's say
Write some great guest posts if you have confidence enough and want to spread your name further. Try these 10 Sentences on Finding Guest Blogging Opportunities combined with relevant keywords if you don't know where to start
Spread your knowledge and connect to others through Social Media channels. Twitter is a great place to start
Participate in network meetings and visit industry related congresses; make yourself heard
Start your own website; the best way to learn Web Analytics or any other Online Marketing discipline
4. Build Your Own Website
This one is huge. If you really want to advance your career, there is no better way than starting your own website. Why? A website helps you to:
Put in practice everything that you have learned so far
Test anything that you want, from simple A/B tests to very advanced Multivariate tests
Do things exactly the way you like to do; no company rules, limits etc.
Build a real audience
Grow your name in the field
Leverage your knowledge
Get the job that you want, really!
There are hundreds of advantages I could come up with.
For less than $100 a year, you can run your own website and have pretty good hosting services included as well! Where are you waiting for?
If this is a problem for you, offer your services for free to someone you know. You will definitely find someone to work with on a voluntary basis.
5. Get Experience with Different Tools
There are many different tools out there today and a lot of them are still free to use. The power as an analyst lies in understanding and applying insights from many different tools at the same time. Think about:
Competitive Intelligence Tools
SEO Tools
Social Media Tools
PPC Tools
Do a search on Google and you will find a great list of tools to try for free. This will benefit your Web Analytics career greatly.
6. Stay Current
The online landscape is changing fast. Make sure you stay in front of the pack. How to accomplish this:
Be a member of a least one online marketing group or association

Attend (free) webinars from time to time
Read the latest and greatest blogs
I am confident that your Web Analytics career will grow if you closely follow these steps.
One last thing... Make sure to get my extensive checklist for your Google Analytics setup. It contains 50+ crucial things to take into account when setting up Google Analytics.
Download My Google Analytics Setup Cheat Sheet

(Visited 1,286 times, 1 visits today)