Let's face it, the SEO landscape changed dramatically over the last few years. Panda and Penguin are known to many web savvy people around the internet globe. And there is a lot more to come! Do you already work with a list of important SEO metrics?
Another challenge is the data itself. Think about the upcoming percentage of "not provided" traffic in tools like Google Analytics. In other words, insights on the keyword level are declining.
For the moment, there are still many metrics you could and should monitor and optimize. In this article 8 SEO metrics are discussed. These metrics will help you to get a clearer view on how you are performing in the organic listings.
A short overview of important elements in the SEO process is shown below: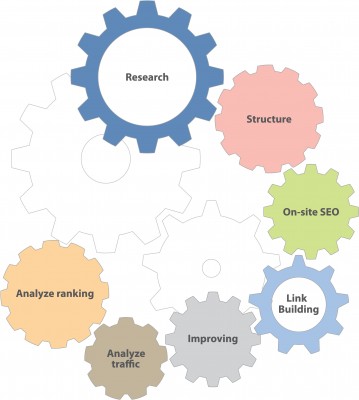 Let's continue with the list of SEO metrics you don't want to miss.
1. SEO Rankings
Google's focus on rankings is more and more location based. However, I still see a lot of value in monitoring the rankings of your top 10 to 50 organic keywords. It gives you a good first view on how things are going.
2. Traffic Non-Brand vs Brand
Your organic traffic and conversions don't grow automatically. A lot of sites show a huge amount of branded traffic if compared to the non-branded share. Sometimes it is even higher than 90 vs. 10%.
The relative share of non-brand traffic is one of the SEO metrics you want to closely monitor. As well as absolute numbers on this part.
If you are serious about SEO and devote enough time and expertise in it, you will see that your non-branded share will grow over time.
3. Total Number of Unique Keywords That Drive Traffic
Generally speaking it is more easy to rank first on longtail keywords before achieving ranks on more generic terms. The good news is that longtail keywords tend to convert better than generic keywords.
Do you see a rise in the number of keywords that drive traffic to your site over the last few months? It's a sign that things are going well.
I like to look into how my organic traffic grows in relation to different keyword segments:
It's great to monitor these segments over time. Be aware that analyzing this data get's more difficult when the "not provided" traffic becomes very high.
4. Total Number of Backlinks
The number of people that are "talking" about you (the number of backlinks) is very important. If you achieve more relevant inbound links, your rankings, traffic and conversions should naturally rise.
But, conversions will only rise if you have targeted the right keywords early on.
It is important to get a variety of links to a variety of pages with a variety of anchor texts. And please let it grow naturally instead of buying all your links. Google will catch you today or tomorrow!
5. Total Number of Linking Root Domains
10 good backlinks from 10 unique domains is worth more than 10 good links from one domain. That's why the total number of linking root domains is a very important SEO metric to monitor.
It's a good way to compare this metric to your competition if you are curious about how to achieve higher rankings.
6. Total Number of Social Votes
With the influence of Social getting more and more important, you don't want to miss this online metric. Make sure you track the number of Social votes from Facebook, Twitter and Google+ at the minimum.
I recommend to use Open Site Explorer from SEOmoz to monitor SEO metric 4, 5 and 6. If you want to get the most out of it, you may consider to sign up for a PRO membership.
7. Total Number of Organic Macro Conversions
The conversion metrics are listed as number 7 and 8, but they are definitely not the least important. Actually, in my eyes the most important.
Let's assume you achieve high rankings and a lot of traffic, but… no one converts on your website. Your SEO is worthless in this case. The ultimate goal of every traffic channel is to attract visitors that convert in a desired action.
Pick the most important (macro) conversion on your website and closely monitor the number of conversions you achieve. It is a good start to look at the overall level, but don't forget your individual keywords and landing pages.
8. Total Number of Organic Micro Conversions
Most websites do have more than one conversion type on their website. Don't forget about these. Think about newsletter subscriptions. brochure downloads, lead generation forms etc.
They may not directly lead to a certain income for you, but indirectly they can be worth a lot.
Learn all about macro and micro conversions on the Avinash blog.
I hope you get more out of your SEO efforts with this list of SEO metrics.
One last thing... Make sure to get my extensive checklist for your Google Analytics setup. It contains 50+ crucial things to take into account when setting up Google Analytics.