The shopping cart abandonment rate is one of those metrics you really want to be as low as possible. It is directly connected to your turnover and profits. For those who are not so familiar yet with this abandonment rate I like to start with the definition.
Shopping Cart Abandonment Rate (in percent terms):
[1 – (the total number of orders placed on the website divided by total add to cart clicks)]
I will provide you with 10 tips that help you to lower this metric and increase your Conversion Rate. In order to make it more appealing to you and to clarify the tips, I will use real life examples.
1. Possibility Of Guest Checkout
Endless account setup procedures, a conversion killer for sure! Let your website visitors choose whether they are willing to get an account immediately or not. If you offer the possibility to order as a guest, it will definitely increase your Conversion Rate.
Ebay.com offers you this flexibility as you can see below: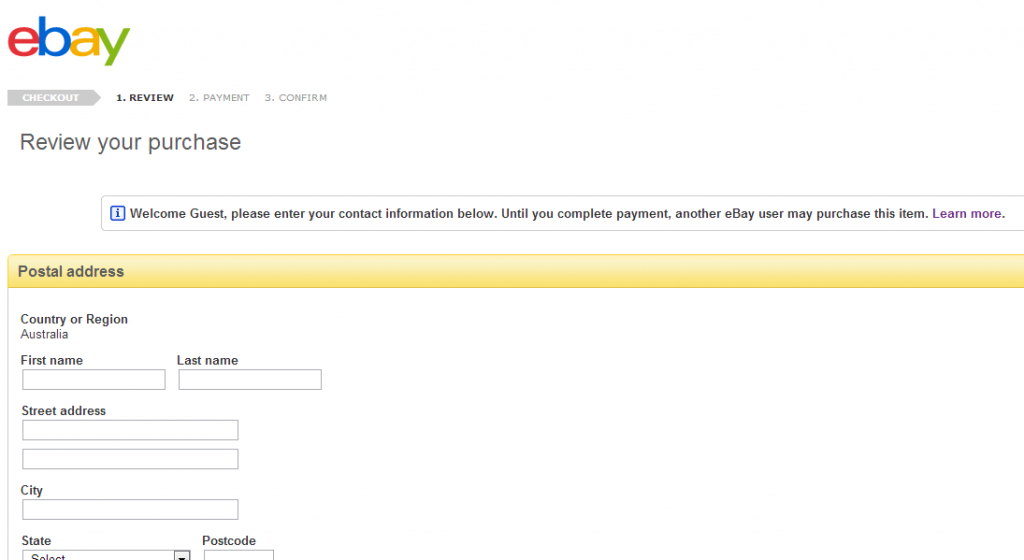 You might want to make a slight change for the payment options in case someone orders as a guest, but PayPal / Creditcard payments are in general safe ways to go.
2. Easy Checkout Flow
Based on several studies and my own experience I advise to
Limit the number of steps to three or four at maximum
Flawlessly integrate the checkout flow in your website
Make sure there is no information request overload (only ask what is necessary)
An example of an easy flowing checkout process you can find at Simyo.nl: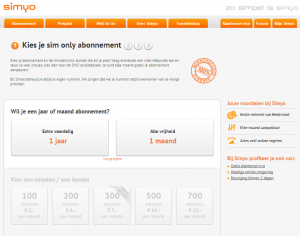 3. Indicator Of Progress
Whenever I want to order a product online, I feel a need to know how many steps/pages are coming before my order is actually placed. Unfortunately, a lot of companies don't provide you with this information when you enter the order process.
Booking.com, a company with extremely high Conversion Rates, exactly knows how to address this one as you can see down here: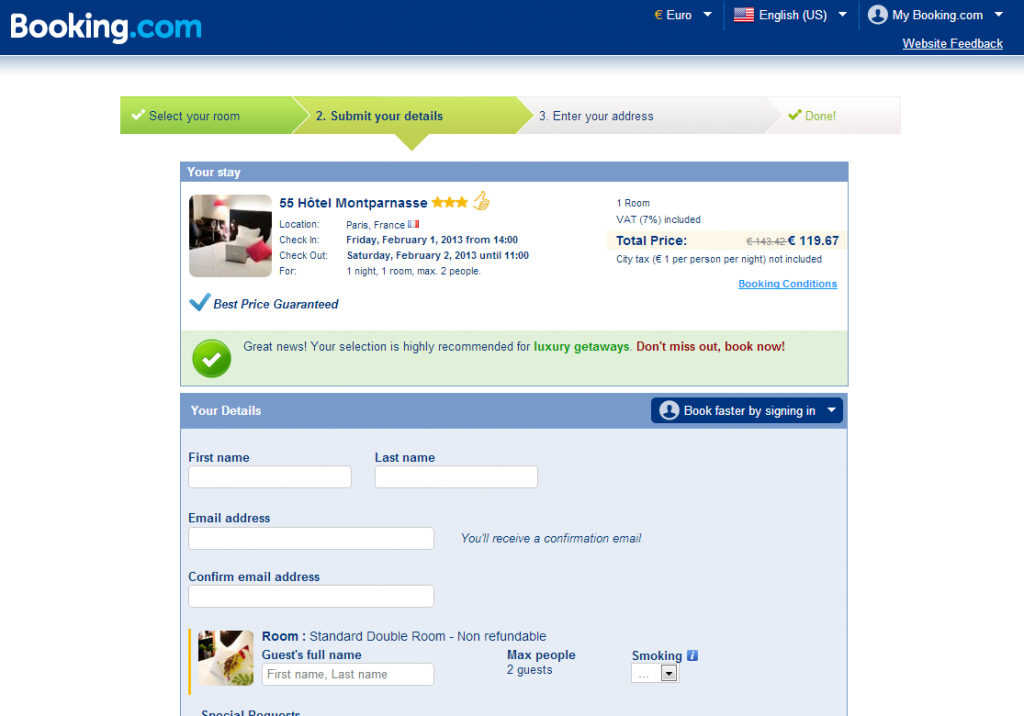 People tend to abandon less if they know more details about the order process and where they actually are in the process at a certain moment.
4. Clear Call To Actions
How can I get this product in the cart? If your visitors ask this or similar questions, something is totally wrong. It is of crucial importance that your 'add to cart', 'next step' and 'order' buttons really stand out. You like to pull your visitor in your buying funnel to order the product they are interested in.
A good example of an effective call to action you can find at Walmart.com: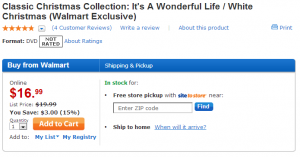 Your attention is definitely drawn toward the orange 'Add to Cart' button!
5. Be Clear About Shipping Costs
Many visitors come to your website, add some products to their basket and navigate to the order process to find out what the total costs are. If you negatively surprise your visitors with high shipping costs in the final step, you will definitely see your shopping cart abandonment rate to rise.
My advice is to notify your potential customers as early as possible about any shipping costs that are incurred.
For example, please check out Bol.com (one of the biggest Dutch Internet Retailers):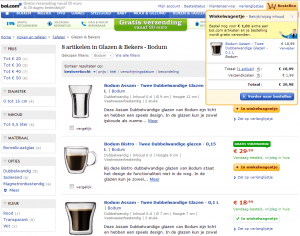 They are doing a great job here:
Informing prominently on the website that orders over € 20 are free of shipping charges

Include a 'gratis verzending' (free shipping) notification for products above € 20
Immediately show the shipping costs when you add a product to your basket
Tell you that if you order additional products worth X (€ 20 – current order amount) you won't be charged for shipping
What a great way of doing business online!
6. Add Product Pictures To Basket
Potential buyers are sensitive to images. They see a product, fall in love with it and then possibly place an order at your website. If you show them only prices and quantities in the shopping cart overview you might lessen the chance of buying. Pictures of their desired products in the basket help a lot to persuade them to the final buying click.
I am a runner, so I decided to take a look at how Nike.com is doing it, well, not bad at all: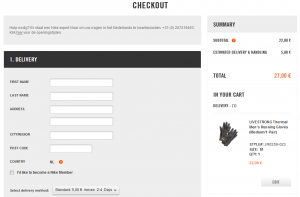 7. Add Customer Testimonials
Would you be more willing to buy if a lot of people are positive about a certain product? I guess you are! We are all influenced by the opinions of others, so please make good use of it. Of course, it is important to offer great product combined with a great service. If you do so, your website visitors are more convinced to buy.
Check out Amazon.com, they are doing really great on this one:
Wow, this book seems to be great. Why would I add this one to my cart and end up not buying it? Yes, if implemented correctly, customer testimonials will reduce your abandonment rate.
8. Leverage The Potential Of Cross- And Upselling
One of my favorite Key Performance Indicators (KPI's) for companies that sell online is Average Order Size. If you can increase the number of products that people buy in one time you are a winner! So make sure to leverage the cross- and upselling opportunities to the maximum.
Ok, let's take a look at Amazon.com one more time: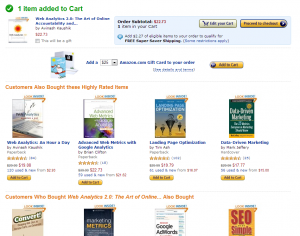 Do I need to say more?
9. Save Your Cart
Sometimes a website visitor just stops by to see what products you are currenly offering. If the moment is not right for buying, a 'Save Cart' button for later is a great option to include on your website.
Dell.com uses this button very effectively:
10. Offer Multiple Payment Options
Last but not least, more than one payment option. Do you want to lose 10% of your potential customers because you don't offer PayPal as a payment option? I am not sure about the percentage of online buyers that is currently using PayPal as their primary payment option, but I just want to illustrate that the payment options are directly related to shopping cart abandonment rate stats.
If you offer the four most used payment options for the country where you are located you will do great!
It is not that hard to lower your shopping cart abandonment rate, just follow a few rules of thumb!
Ok, this is it. Please let me know what you think.
One last thing... Make sure to get my extensive checklist for your Google Analytics setup. It contains 50+ crucial things to take into account when setting up Google Analytics.