Hi and great to see you here! I am Paul Koks, owner and editor of OnlineMetrics.
I have helped dozens of companies to turn more visitors into customers.
This website contains 100+ articles that help you grow your knowledge and business.
Before you start exploring my website I recommend to get my FREE eBook first.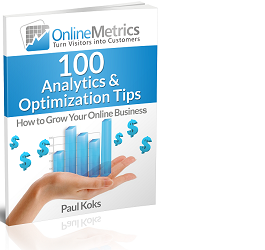 "FREE ANALYTICS TIPS EBOOK AND UPDATES"
Get 100 actionable tips to speed up your data analysis and optimization. Your email address is 100% safe.
"Paul's eBook is Gold! Tons of high quality information about everything you need to know about analytics and how to optimize your business online." Arjan Bakker, Surface 604